Carl Hayden's Adrien Armstrong, beyond perception
October 9, 2022 by Noah Furtado, Arizona State University
---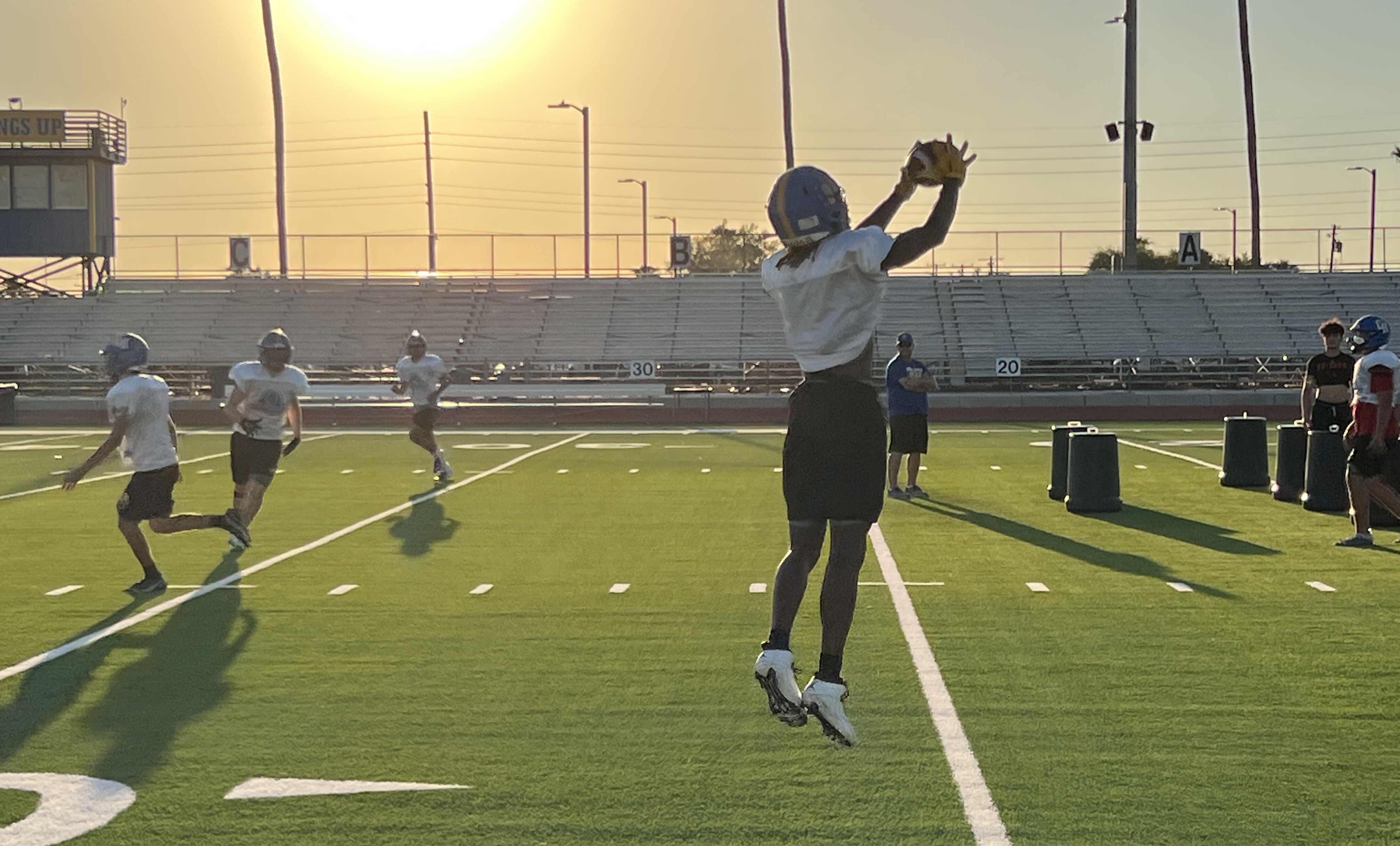 Noah Furtado is an ASU Cronkite School of Journalism student assigned to cover Carl Hayden for AZPreps365.com
Carl Hayden has a two-sport student-athlete. His name is Adrien Armstrong.
To family, teachers, teammates and coaches, he's a smiley young man who energizes 6 a.m. basketball workouts, excels in the classroom and elevates late afternoon football practices.
Every day.
He's a second-year basketball captain. He's a starting wide receiver. He's an upstanding student.
Every day.
He's Adrien.
Every day.
But for many years, most knew him to be nothing more than a tall, broad-shouldered black athlete with dreadlocks that shaded his eyes and skewed his facial features.
"Just how I look, people don't walk up to me," Armstrong said. "I got to walk up to them."
Such was always his reality. He just didn't always know what to do with it.
"I ain't going to lie, when I was younger, I never really understood why," Armstrong said. "It actually made me mad, like, why don't people want to talk to me? I'm just like, y'all, for real?"
The 6-foot-3, 180-pounder explained how he's always towered over his peers, a physical disparity that seemingly perpetuated an intimidating perception. He said his dark complexion and soft-spoken personality didn't help.
The result?
Armstrong struggled to make friends despite his parents' adamance that communication was the remedy.
"They always told me like, 'You really got to talk to them, that's just how it is in this world. You're a tall, built black man. People (are) not going to walk up to you just trying to start a conversation. You got to present yourself in the correct way,'" Armstrong said.
The ongoing challenge remained unsolved until he transferred from Fairfax to Carl Hayden as a high school sophomore. He bookmarked the change as a turning point in his journey to understanding.
Rodney Brown, his new basketball coach at the time, said it took a semester.
"Just the atmosphere and the culture at Carl Hayden as far as when it comes to students, it was different from where he was coming from," Brown said. "He didn't have to be that quiet kid. He didn't have to be that shy kid no more. He didn't have to step back and let others be leaders."
Brown named Armstrong a team captain his junior year, when his parents' longtime message apparently became most evident — he finally figured out how to show the big-hearted and intelligent person previously concealed within an uncertain exterior.
"I can't expect things to come to me, like ever, especially in how America is today," Armstrong said. "I got to go out and get it, so that's what I've been doing. I've been going out and getting everything I want."
Even when he lugged around a boot for months after sustaining a stress fracture in his foot during an AAU spring game, he couldn't be kept from working out.
Brown said Armstrong continued to put up shots on one leg while improving what he could in the weight room before he was cleared for full activity in July, which marked the first of two months that underlined notable strength advancements.
And the development came just in time for football season.
Coach Steven Arenas said Armstrong was a surprise addition — he hadn't played a high school snap. But Armstrong noted his decision to return to the field after many years away from the sport as the mere result of a whim.
Though it was "for fun," Arenas said he's approached it with the same vibrance that's made him the Falcons' leader in catches and receiving yards.
"The way he carries himself, it's a maturity beyond his years," Arenas said.
Armstrong was a product of how others saw him, until he learned what was within his control.
He's Adrien, after all.
"He knows who he is now, he's comfortable with himself and he's just enjoying life now," Brown said.