Kibia twins: From new shoes to new heights
October 10, 2022 by Beatriz Martinez, Arizona State University
---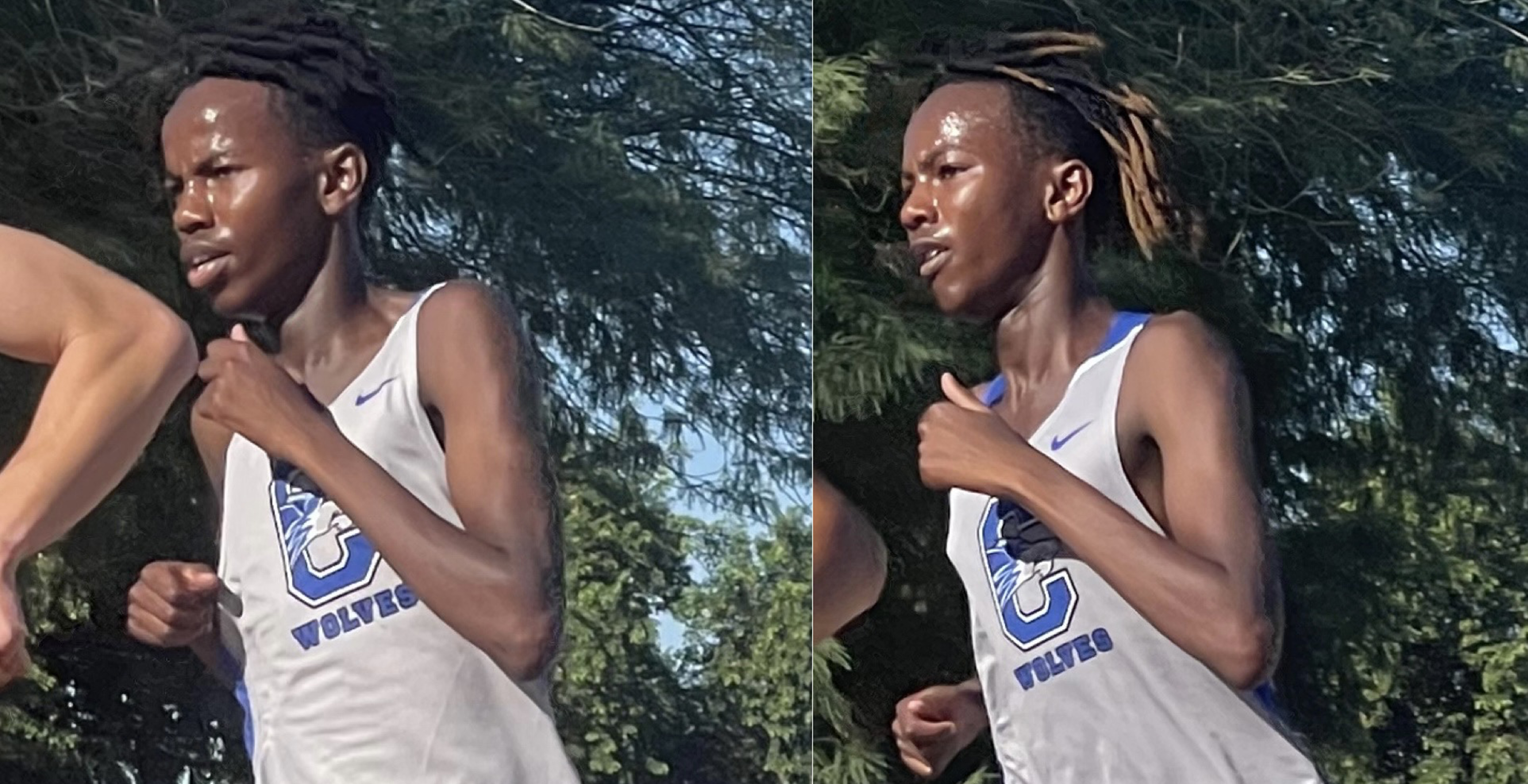 Beatriz Martinez is an ASU Cronkite School of Journalism student assigned to cover Chandler High School for AZPreps365.com
Chandler twins Francis and Gibson Kibia had a late start to their running career, completing their first cross-country season last year as juniors. What they didn't envision is getting recruited by Division I colleges.
In 2010, the Kibia family moved from Kenya to the U.S. for better opportunities.
"Life in Kenya is hard, " Gibson said. "Life out there is corrupt. You can go to college out there and get a degree but you can't get a job. That's why we came here, for opportunities for me, Francis, and for them (parents), too, so they can have a better life."
Frida Kiiru, mother of Francis and Gibson, didn't know she was having twins until she arrived at the hospital.
"When we were in Kenya, health care was not free," Kiiru said. "I didn't have money to pay for doctor's visits. My stomach was big but my mind wasn't there. My husband and I were thinking about how we were going to pay for rent and how we were going to get food. In Africa, we pray to God. God is the one."
Joseph Muigai, father of Francis and Gibson, admits life has been comfortable since their arrival in Arizona.
"Coming to America, it's the greatest land in the world," Muigai said with a big smile on his face. "People take it for granted. Getting established here was easy. Here you don't have to worry about the small stuff like food, clothing and shelter."
Muigai wishes he could spend more time at home, but while he's away for work on the road he trusts that Francis and Gibson step up and take leadership.
Family portrait of the Kibia family. (BeatrizMartinez/AZPreps365)
"Me and Francis do everything together," Gibson said. "We both clean, make sure to feed my little brother when my mom is at work. We do everything our mom says. We'll go grocery shopping. We all work together to help each other out. It's not just one person."
It seems as if the running talent was inherited from the women in the family. Kiiru and the twins' grandmother, Phlomena Muigai, ran cross-country and track and field in high school.
In 1972, Phlomena gained much attention after winning the girls 400-meter in Kenya.
"She got a certificate and earned money," Gibson said. "She used that money to get food and stuff. Our grandparents at that time were really poor."
Kiiru would have run at the collegiate level if colleges in Africa provided sports opportunities.
"Colleges in Kenya don't have college teams," Gibson said. "You have to turn pro. That's how you get your money. If you get a sponsor, that sponsor could feed your whole family and pay for your housing."
Francis and Gibson never had the desire to run. Their passion was always basketball.
They played their freshman year at Hamilton High School but they learned basketball wasn't going to be their outlet.
"My mentality going into high school was to play basketball," Gibson said. "But I just didn't see any progress. I played freshman year, I wasn't any good. It was my dad's idea. He told me I should run because I'm good at it."
Joseph knew all along that running was Francis and Gibson's strength.
The twins transferred to Hamilton's arch rival, Chandler High School, after their freshman year since they lived in close proximity.
It was about this time two years ago that Francis and Gibson attended their first cross-country practice.
"Our first practice we came in Vans," Gibson said. " Well, he (Francis) ran in Vans and I ran in five dollar Wal-Mart shoes. I even broke them that day. We ran hills and it hurt. Coach Matt ended up giving us shoes to run in because we didn't have any."
Chandler cross-country coach Matt Lincoln noticed the twins' potential right away.
"It seemed like they had the ability to be pretty good," Lincoln said. "But as good as they are now, not until probably that track season, five or six months later, I was like, OK, these two have something here."
Francis and Gibson fell more in love with running during track season.
"I didn't really like cross-country because it was just three straight miles and it just hurt," Francis said.
At the AIA State Track and Field Championships for Division I boys, Gibson finished fifth in the 3200-meter final with a career best of 9:24.76 and sixth in the 1600-meter with a time of 4:20.18.
Trailing six seconds behind, Francis finished 15th in the 1600 and 12th in the 3200 with a career best of 9:37.36.
Lincoln's favorite memory with the twins so far is when they shared that they wanted to quit after the first week of practice. But, after receiving the new pair of running shoes they felt they would have been "robbing" him so they made the mutual decision to stick with it.
Gibson competed in one cross-country meet his sophomore year, running 18:18.20 in the 5K at the Crossroads Park Sectional meet.
"Our summer heading into junior year, we were actually committed," Gibson said with Francis nodding his head.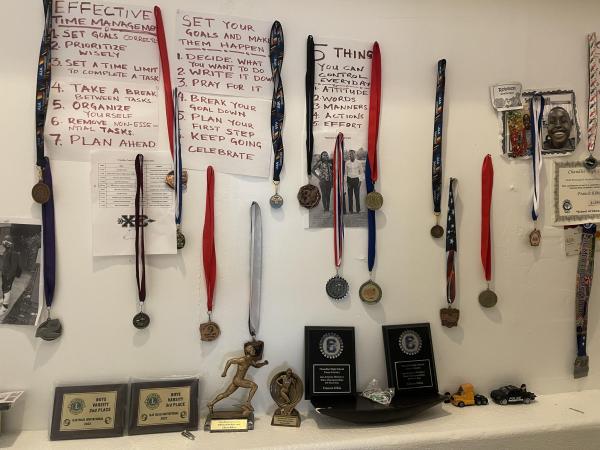 Wall displaying Kibia twins awards and medals along with quotes written by father, Joseph Muigai. (Beatriz Martinez photo/AZPreps365)
In Gibson's junior year he improved his personal best by two minutes and twenty-five seconds (15:54.30). He placed seventh at the AIA State Cross-Country Championships for Division I boys with a time of 16:34.60.
Francis began his cross-country career his junior year.
"In the first month of cross-country practice, I didn't want to continue," Francis said. "I felt like I was running long-distance for no reason."
In his first season he accomplished a personal best of 16:03.00. In the state meet he finished 29th with a time of 17:20.20.
Gibson is currently ranked third in state for all divisions with Francis right behind him in fourth.
They are both currently being recruited by Oklahoma State University and Arizona State University.
"I didn't even think cross country or track was going to get me anywhere," Francis said. "I thought I was just going to get good grades and then either go to community college or a university."
Francis has gained a great appreciation for cross-country seeing how it's opened a new door for a potential athletic scholarship.
Joseph said one important value he instilled in his boys is hard work. He's proud knowing they're getting recruited by Division I colleges.
"I want them to meet the world," Joseph said. "I want them to take what they've learned here at home and go out in the real world and take charge."
Kiiru doesn't know what the future holds for Francis and Gibson but for now she holds them accountable and pushes them to do better.
"If they go out of state, they are good," Kiiru said. "I trust them. I raised them well. They can go anywhere as long as they're going to get an education."
The twins are looking forward to the state meet. They aim to close their senior cross-country season with a memorable performance.
"We can pull one and two at state," Gibson said with Francis laughing in agreement.
The AIA State Championship meet will be at Cave Creek Golf Course on Nov. 12.