The unbreakable spirit of Talli Copple
October 10, 2022 by Kevin Nix, Arizona State University
---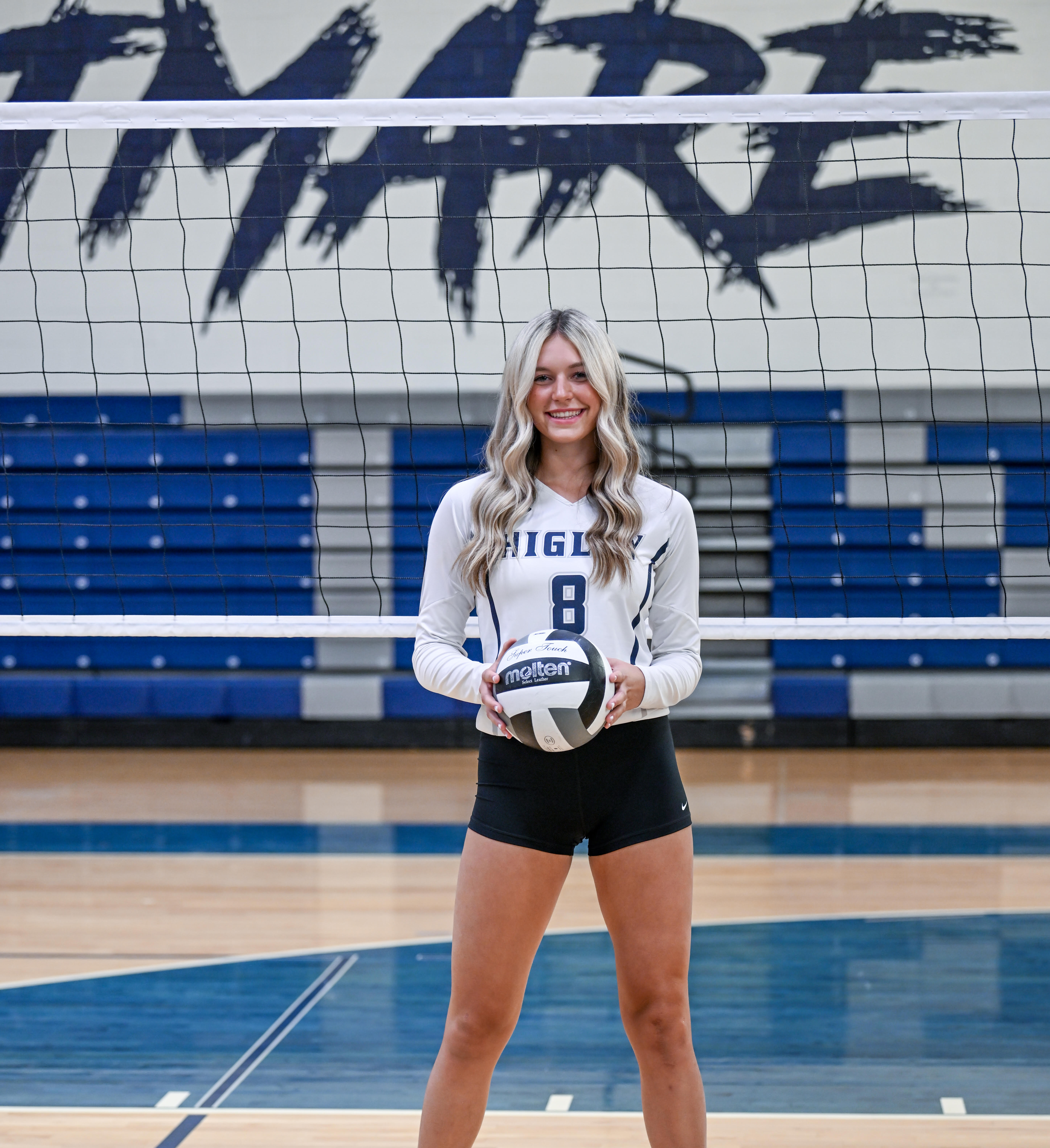 Kevin Nix is an ASU Cronkite School of Journalism student assigned to cover Higley High School for AZPreps365.com
Higley Knights senior Talli Copple plays in constant pain.
She's also had injuries plague her to the point where she has only played one full year of high school volleyball.
Growing up, Talli moved around a lot. She was born in Utah, spent her youngest years in California and her elementary school years in New Mexico. She moved to Arizona in her eighth grade year.
Talli's injuries began in the eighth grade. She got appendicitis and had to get her appendix removed. She broke her arm in two different places during a practice, which forced her to miss her entire freshman season. After three surgeries on her arm, she recovered in time to make varsity her sophomore year, but during the first practice she tore the ACL in her right knee.
She also has recurring stomach and digestive issues on top of everything else, so she never gets to feel fully healed and healthy.
"It's become a part of how it is now," Talli said. "A lot of days after school I have to come home and rest, and it's usually pretty hard for me to get everything done in the day. School's pretty hard for me to get through. I leave after fifth period, but a lot of times it's just really exhausting."
When she was recovering from the torn ACL she couldn't take painkillers because her stomach couldn't digest them. It quite literally added insult to injury.
Talli avoided other injuries her junior year and was named team captain her senior year. Her resiliency and positive outlook make her an inspiration to her teammates.
"She always has a really positive mindset, on and even off the court," senior Emma Schenk said. "No matter what she's going through, like we'll hang out some days and no matter how she's feeling she's always speaking positively about other people, her life and things that are going on, so she's definitely a positive person, always seeing the good in things."
That positive attitude translates into success on the court. Listed at 6-foot on MaxPreps.com, Talli is an outside hitter who has netted 122 kills and 22 aces as of Oct. 9. She averages 3.1 kills per set over 39 sets played. Her skill makes her a fearsome athlete and someone who should not be taken lightly.
When she's on the court, she puts the pain to the back of her mind so she can focus on playing to her highest potential.
However, there are days where Talli is in so much physical pain, she cannot get out of bed. She routinely has to miss a school day when her stomach disagrees with her. Undeterred by this, she still finds time to watch hours of game film each week and analyze her performance to try and improve for her next match.
Talli has an unbreakable spirit, something Knights coach Tyler Kraemer marvels at.
"I would see her every now and then," Kraemer said. "I'd ask her, 'Hey, how's it going?' and she would always smile, and she would always say, 'It's going good', like she never complained one single time to me, ever. And if I was in her shoes, I would probably be saying how bad it sucked, I wish I was playing and they look like they're having fun. Like, she was never ever negative one single time to me, and she had every right to be."
Talli wants to play college volleyball, but she has a backup plan to study abroad in Europe for one semester, then attend Utah Valley University when she returns.
Her parents have been there every step of the way, and they more than anyone else have seen her grow as a person.
"As a father, I couldn't be more proud and more grateful to be her dad," Brad Copple said. "She sets a great example for our family, for all those that know her, for her willingness to continue to persevere with a smile.
"I feel like Talli's done a great job in showing compassion to everybody because she knows what it's like to be hurting when nobody knows. She knows what it's like to not be able to do what you feel like you love most, play volleyball. I feel like she shows so much more compassion to people because she's been able to face so many trials herself. She knows how to love and show kindness to others."
While volleyball is just a game, Talli Copple's everlasting positivity and perseverance will stay with her for her entire life. And that is definitely something to smile about.