Pinnacle boys volleyball offers students cheaper alternative
October 15, 2022 by Ryan Sykora, Arizona State University
---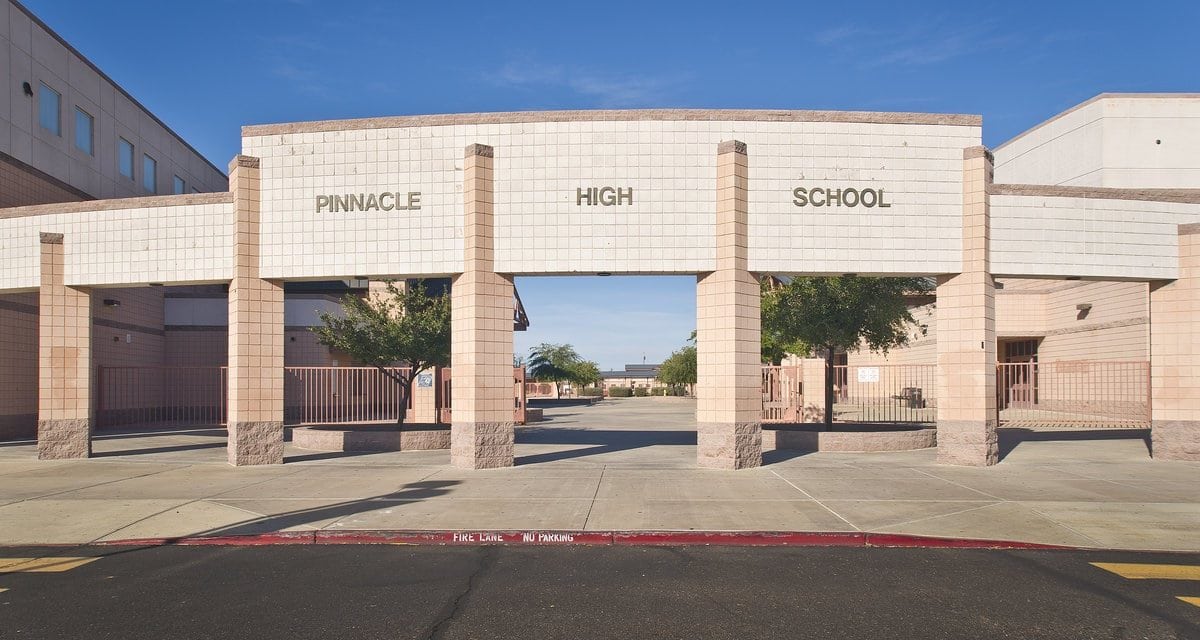 Ryan Sykora is an ASU Cronkite School of Journalism student assigned to cover Pinnacle High School for AZPreps365.com.
Adam Gramlich is Sam Oppenheim's tutor at a Paradise Valley Mathnasium.
Perhaps an unlikely starting point for a story about two Pinnacle High School juniors in the midst of creating something that's almost alien to nearly all 29,000 students in the Paradise Valley Unified School District.
They're starting a boys' volleyball club.
Oppenheim, a volleyball player since his freshman year of high school, is a true volleyball devotee now. He's the club president.
Gramlich, a basketball player at Pinnacle, hasn't played volleyball since he was a child. He's the official treasurer and unofficial operations director of the group.
About a month ago at a football game between Pinnacle and Queen Creek, the two students and some of their family members were running concessions and doing odd jobs in and around the Friday night fixture.
"Yeah, so we've been volunteering with football," Gramlich said. "Who have been super supportive of us. We're at their concession stand during their busiest games, and in return, they're donating a portion [of the proceeds] to our club."
Starting a club has forced the students to get creative with their recruiting and fundraising techniques.
"Nothing comes free in the world," Gramlich said. "A lot of our costs that we're gonna have to look at is into gym space, jerseys, and equipment, which is frankly, not cheap. So how we've been trying to combat that is we are charging fees to the club members in order to participate in more of our season-type approach."
The sign-up fee for club program is $125.
"It might sound like a lot, but it's not close to an athletic fee that they would pay at the school [for AIA]," Gramlich said. "So it covers their season cost so we can pay for the gym space. Then it would take $25 on top of that to cover the cost of the jersey.
As a high school basketball player, Gramlich knows the athletic fee to play an AIA-sanctioned sport is on the pricier side.
"Two hundred dollars per sport," Gramlich said. "And that doesn't include the equipment that you would need for that sport, which can raise that price. It doesn't include team events, doesn't include many other things, not even attending. Sometimes when I play, and I want to go watch the varsity team play. I have to pay to get into that."
As of 2020, the publicly listed AIA 'varsity sports participation fee is $223.
So the smaller fee is certainly enticing for many who want to get involved in something at their school that revolves around athletics.
The boys club team is also moving towards a potential partnership with a local travel volleyball program, AZ Kings. The Pinnacle boys volleyball club could receive coaching and instruction from some of the top instructors in Arizona.
Howie Long, president and operations manager at AZ Kings, believes in the idea of the growth of boys volleyball in this part of Phoenix so much, he's willing to make a big bet on the idea that Oppenheim and Gramlich are cultivating at Pinnacle.
"I'm paying the coaches out of pocket right now to help out these kids in the clinics," Long said. "It's about bigger things than money."
Gramlich got the connection with AZ Kings and has done a sterling job in setting up the club, thus repaying the trust given to him by Oppenheim when he began his search for a partner.
"My first task was immediately finding people to start this club with," Oppenheim said. "Adam was my go-to right away."
Since April 2022, when Oppenheim approached him with the opportunity, Gramlich has been primarily focused on not only the operational cost and money side of the club, but also the scheduling of meetings and many important team discussions.
"My mind is based solely around mathematics, finance, stuff like that," Gramlich said. "I'm not sure if that's something that Sam enjoys, but he's better interpersonally. He's better at communicating with people. That's not something that I'm necessarily good at."
Gramlich's unique mind, the one that revolves almost entirely around numbers, made him the perfect choice for Oppenheim when looking for a partner to help get his idea off the ground floor.
"I gotta say, I wouldn't be where I am without him," Oppenheim said in response to Gramlich's quote. "Because I might be the one that had the idea but Adam has been the one that's been working behind the scenes to make it happen."
The two have hopes of getting Pinnacle boys volleyball fully up and running for those coming into the high school after they are long gone.
"We're starting it for someone else," Oppenheim said. "So that one day we can watch Pinnacle boys volleyball actually be a sport."
They both understand this could be the beginning of something special.
"Bringing that sport to Pinnacle is huge," Gramlich said. "Because it's just opening up the doors, especially for kids who may not have any experience playing a sport at all."
The way it becomes an actual AIA-recognized sport is simply through district interest.
As of October 13th, 2022, the Pinnacle boys volleyball club has over 50 members.
That's more than just an interest.
That's greater enthusiasm for the club than anyone could imagine.
The tutee and his tutor at that Mathnasium would certainly nod in agreement as they looked over a pair of calculus worksheets.