Xavier freshman Victoria Head refuses to let up
October 15, 2022 by Connor Zody, Arizona State University
---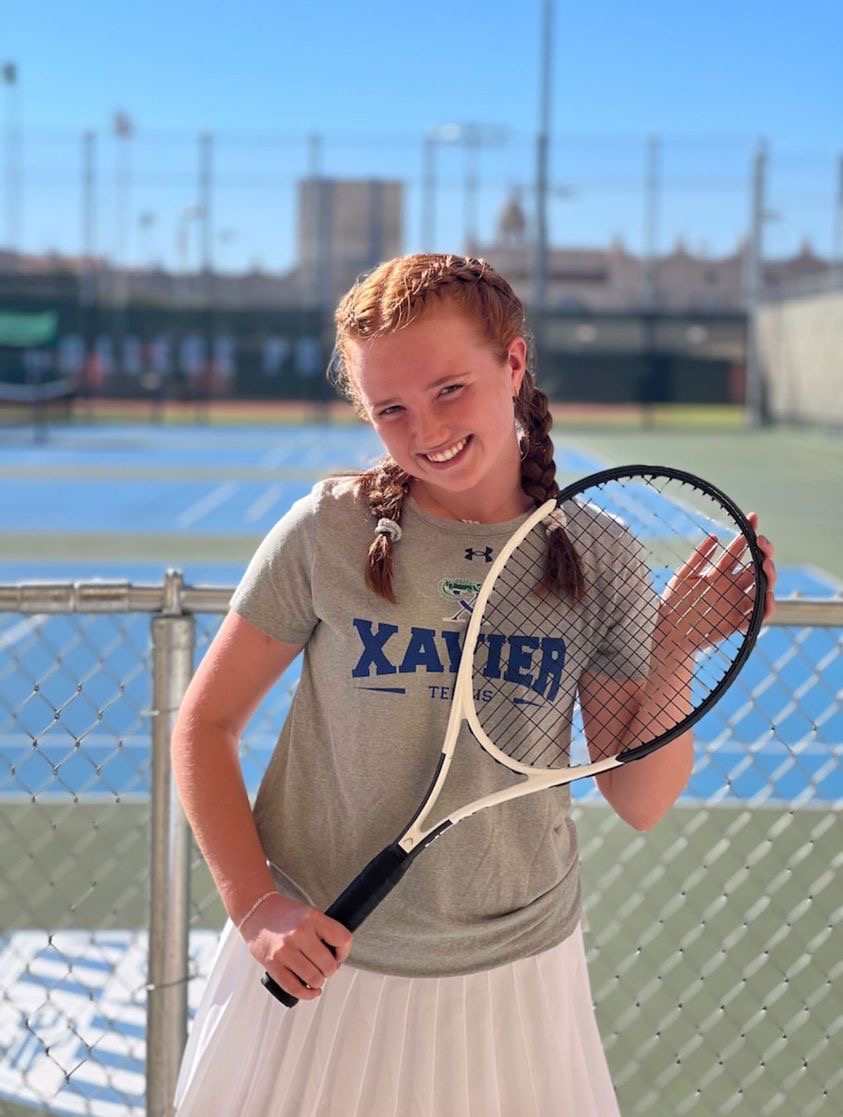 Connor Zody is an ASU Cronkite School of Journalism student assigned to cover Xavier College Prep for AZPreps365.com.
Xavier College Prep freshman tennis standout Victoria Head is an asset for the Gators and refuses to let up.
Head is 7-0 on the season in singles matches, including two shutout victories. She doesn't stop there, though, as she plays in doubles matches following singles. Her outstanding performances continue to generate momentum. Much of her success is a result of mental preparation moments before a match begins.
"Honestly, I just kind of have a pep talk with myself and hope for the best," Head said. "Because for tennis you have good days and you have bad days, and sometimes your practice doesn't determine how well you'll play in the match. But confidence is key because if you have a lot of confidence, then you should just feel comfortable with yourself and your ability and how you're able to play. So I feel like it's a mental game."
When it comes to doubles, Head relies on more than her own capabilities.
"For doubles, it's more like the confidence and having the trust in the other person," she said. "And all of the girls on my team, we're all really good friends, so, it's nice because I trust them all so much, and so I trust their ability in playing, too."
With any sport, it takes years of work behind the scenes before results really show. The Head family is from England and has strong roots there. Victoria's mother, Caroline Head, is of invaluable help along her tennis journey. They began playing together when Victoria Head was 4 years old.
"We just started to play on the courts in England on the weekends," Caroline Head said, "and it's just really nice to see a child who finds their passion or something they really enjoy doing."
Victoria Head's parents took her to Wimbledon when she was younger, which also played a role in her choice to pursue tennis.
"It's such a special event," Caroline Head said. "The atmosphere there is pretty incredible, when you watch a game and people cheering, and she's always loved it from a young age."
Caroline Head mentioned that the competitive spirit is a more prominent force in America, but Victoria Head had no problem adopting that mindset. Her goal in every match is to win and improve upon previous matches.
Victoria Head's enthusiastic leadership has an immense impact on the team, and it's something that even her mother has learned from.
"I was just watching her lead the warmup and the stretching," Caroline Head said. "It's not something I would ever have raised my hand to say 'Can I lead?' I like that she takes the lead, it's really courageous, and it sort of makes me push to step out of my comfort zone."
"Victoria is awesome!" exclaimed assistant coach Amy Gallo, who also cherishes the player's leadership. "She's very communicative, she's always here, she's always cheering on her teammates, she's always communicating with us. She's kind of got that natural-born leadership in her, like, she's a natural leader, she really is. I love her to death. And I love her attitude."
With this in mind, Victoria Head knows she has a chance to make the varsity team in the spring, no easy feat for a freshman. But she doesn't let it get to her head. She knows that there is more to life than tennis, and she understands the importance of staying in the present.
"I mean, honestly, varsity would be amazing, but I don't really know," she said. "I think with a sport there comes stress and balancing the academics as well. So I think my goal would be to have a fun season, and to be able to manage the academic life as well and still be able to stay on top of everything."
As a player, teammate and leader, Victoria Head will have many eyes on her as she continues to thrive at the game she loves.