Sunrise Mountain badminton wins big against Raymond S. Kellis, 9-0
October 16, 2022 by Brenden Paul, Arizona State University
---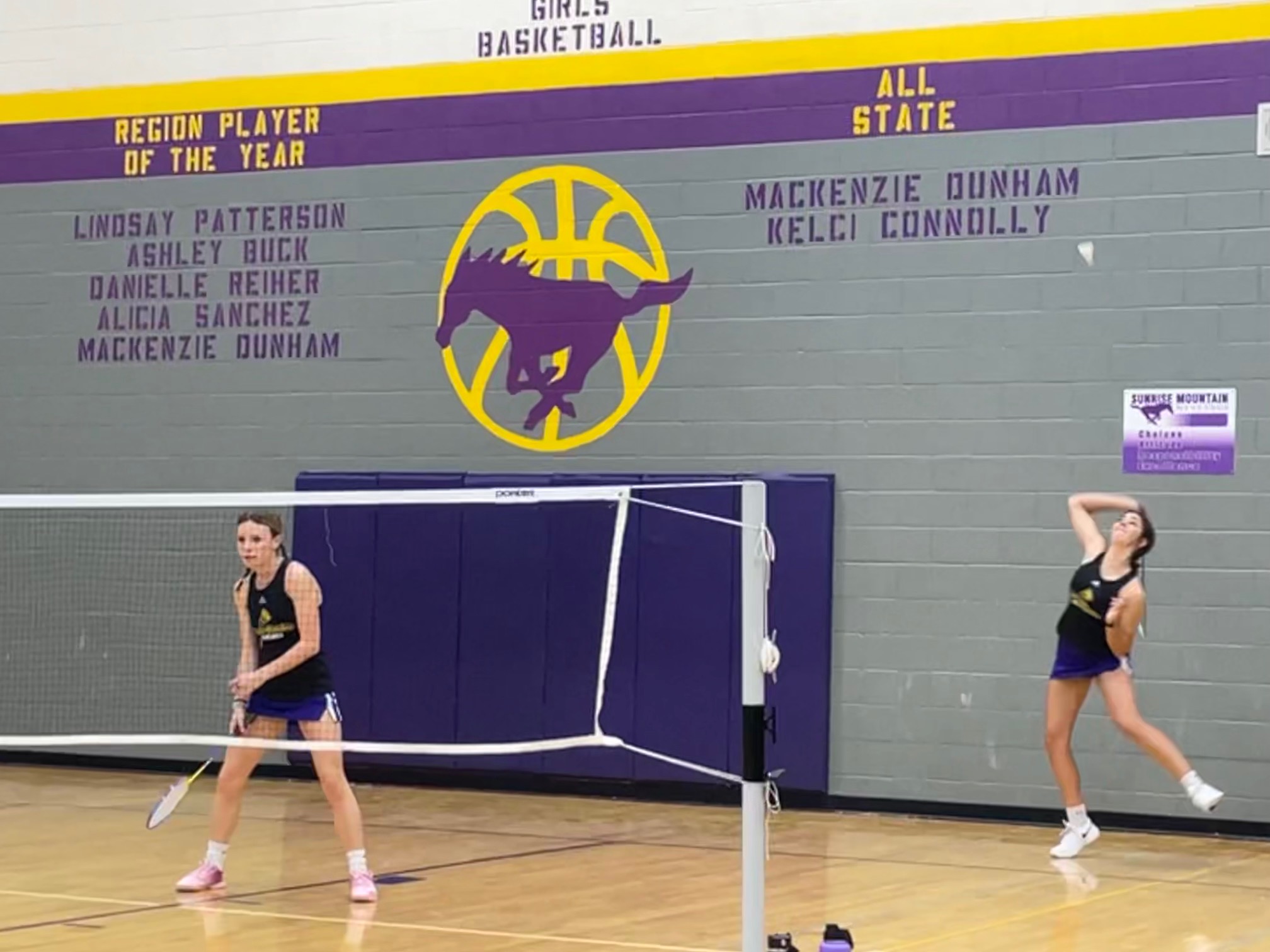 Brenden Paul is an ASU Cronkite School of Journalism student assigned to cover Sunrise Mountain High School for AZPreps365.com.
Sunrise Mountain High School's badminton team closed its home regular-season schedule with a dominant 9-0 win over Raymond S. Kellis on Tuesday night in Peoria.
Before the match, the Mustangs honored their three varsity seniors, Hattie Hearnen (#2 singles, #1 doubles), Camille Martin (#3 singles, #2 doubles), and Mabel Dinnell (#3 doubles) with heartwarming words from their coach and fellow teammates.
As for the match, the Mustangs made sure to put on a show for their home supporters, as the team played well across the board. At No. 1 singles, Rylan Rhodes played two fantastic sets en route to an easy 2-0 match win against Raymond S. Kellis' Angelic Williams (21-10, 21-6).
Hearnen had equal success as she was dominant throughout her sets, earning the 2-0 sweep easily over Zharria Range (21-4, 21-13).
Martin started off hot with an easy first-set win 21-10 but dropped the second set 22-20 in heartbreaking fashion. Martin was able to finish strong and came out on top with a big 21-7 win in the decisive third set.
"I think adjusting to who I'm playing, and using the adjustments coach made for me was key to my game today," Martin said. "Down the road, I think I can work on adjusting myself during the game without having someone to tell me."
Junior Hannah Winschel had a strong showing as she won her two singles sets with ease (21-7, 21-6).
"I think focusing and thinking about where I'm going to hit the birdie, and playing to my opponent's weaknesses were key for me today," Winschel said. "In doubles, communication was key. Camille and I were a lot louder and we really clicked today."
Sophomore Ruthey Figg found similar success as she defeated Stephanie Carreon with a convincing performance in her two set victories (21-3, 21-14). Senior Annabel Johnson closed out singles with a bang, as she took care of Laisha Gallindo in two sets with back-to-back 21-6 victories.
In #1 doubles, Rhodes and Hearnen were a duo on a mission as the two held Kellis' #1 doubles pair of Williams and Range to single digits in both sets to earn a 2-0 sweep (21-3, 21-8).
The #2 doubles pair of Martin and Winschel put on a clinic as they followed in Rhodes and Hearnen's footsteps with a convincing 2-0 sweep (21-4, 21-13).
Finally, at #3 doubles, Johnson and Dinnell took control of their match early and never wavered as they earned a dominant 2-0 sweep (21-3, 21-11), and completed the overall 9-0 match sweep for Sunrise Mountain.
Head coach Missy Carter said she was pleased with what she saw in the match.
"I think the team is starting to use the tools we teach them in practice, and they're becoming second nature, rather than them having to remember them," Carter said. "I think over the next few weeks we're going to do some fitness. Some repetitive things, like practicing our serves, and making sure we are practicing those good shots. Just trying to make sure these things become second nature and the players don't have to think about it."
The Mustangs have just over two weeks to prepare for the state tournament, which will begin on Friday, Oct. 21.