Badminton state champs crowned in singles, doubles
October 22, 2022 by Jose Garcia, AZPreps365
---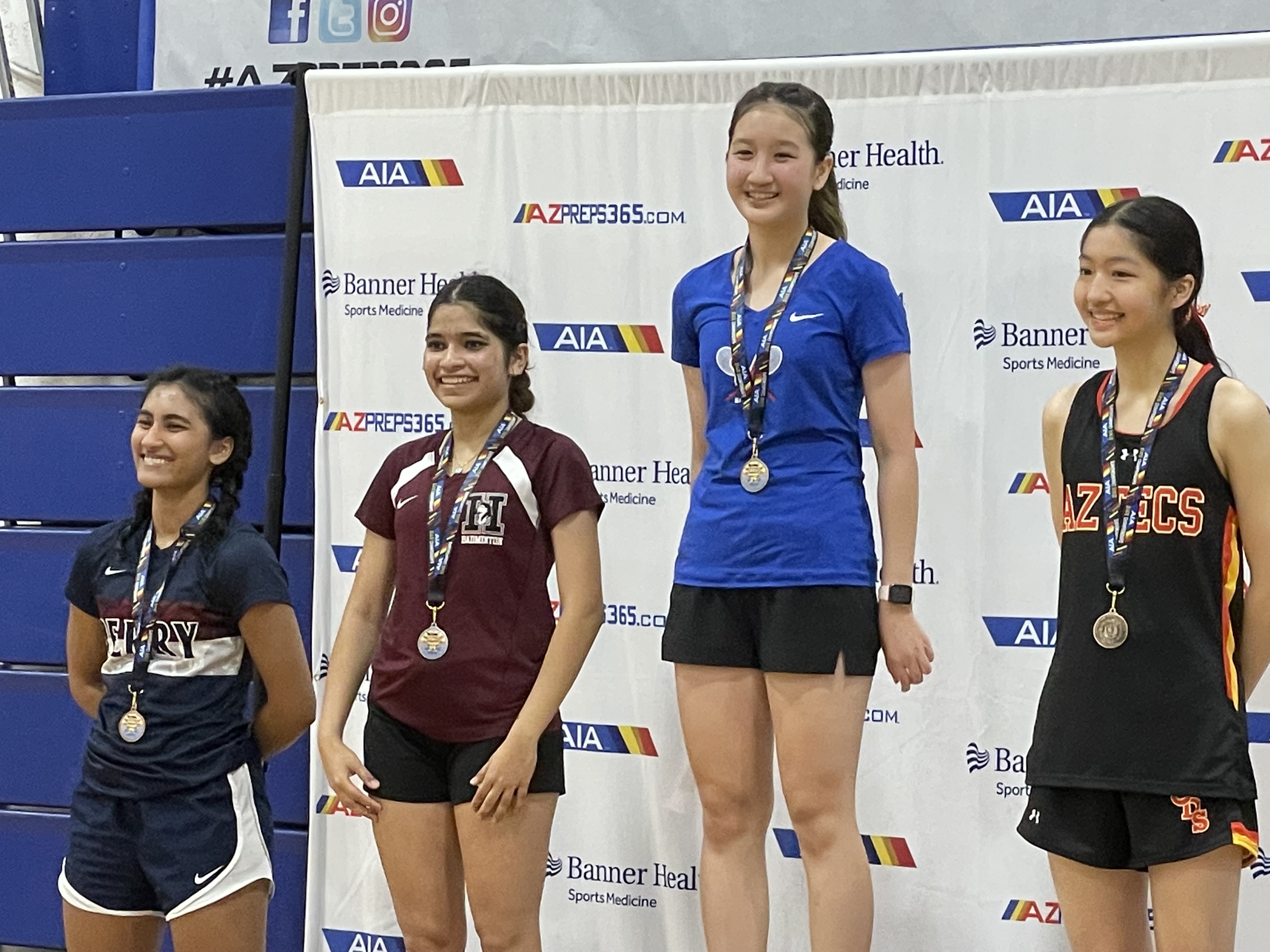 Medals were awarded.
Hugs were shared.
And a tear or two were shed.
Arizona's singles, doubles and Unified badminton state championships concluded Saturday at Independence High. After the matches, the medalists received a well-deserved round of applause on the court from their support groups.
Sunrise Mountain is home to this year's Division II doubles champ. Hattie Hearnen and teammate Rylan Rhodes didn't drop a set this season en route to the crown, defeating the No. 2 seed, Prescott's Riley Crockett and Elle Long, 22-20, 21-18 in the final.
Hearnen and Rhodes, the top seed, didn't trail in the first set, when they led 20-16. But Crockett and Long battled back to tie it at 20.
A service error and a smash from Hearnen, however, ended the set in Sunrise Mountain's favor. The second set featured more of Hearnen's power and Rhodes' athleticism.
Rhodes is also her team's emotional sparkplug. When Hearnen clinched the second set with yet another smash, Rhodes immediately jumped into Hearnen's arms.
"I accomplished everything that I have been working for the last three years," Rhodes said. "We just build a bond this whole year.
"I'm the crier. The screamer. The angry one. I'm all that. I'm all over the place."
The tall and powerful Hearnen also was all over the place but on the court, just like her teammate, making plays until they won.
"I can barely move," Hearnen said. "It doesn't feel real. I haven't processed it yet. It feels good."
Mesa Mountain View's Mangpor Luanvorawat also experienced that winning feeling Saturday.
The D-I No. 1 singles seed didn't disapoint while defeating a determined opponent, No. 2 Samiya Bodhankar of Hamilton, 21-19, 20-22, 21-15 in the D-I singles final.
"Mangpor came out of nowhere," Mesa Mountain View coach and alum Cameron Ohoro said. "I didn't know about her until my (athletic director) came up to me and told me about her. She's just an amazing player and just so graceful while playing."
This was the first time this season that Bodhankar and Luanvorawat dropped a set.
Luanvorawat led only 16-15 in the final set before taking control the rest of the way.
"I am so proud of myself," said Luanvorawat, a foreign exchange student from Thailand. "After I lost the second set I just kept telling myself, 'You can do it. You can do it.'"
In D-II singles, the No. 2 seed claimed the top prize.
Denmark native Mathilde Jacobsen of Verrado flashed her power throughout the season and in the final, where she defeated No. 1 Megan Townsend of Prescott 21-6, 21-12. Another No. 2 seed, Hamilton's Saba Shakir and Nihira Sane, cruised to a 21-6, 21-6 victory over unseeded Amiya Hernandez and Robin Bui of Perry in the D-I doubles final.
Hernandez and Bui handed Jordyn Mee and Tricia Despain, Basha's dynamic duo, their first loss of the season in the semifinals after a back and forth three set battle.
The badminton fun isn't over, though.
The Division I and II team state tournaments start on Monday.