Brophy Prep won a state championship for the ages
October 27, 2022 by Andy Morales, AZPreps365
---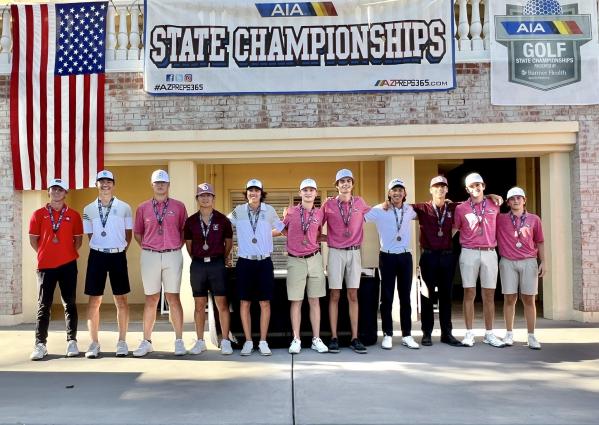 Boys medalists from right to left. (Andy Morales/AZPreps365)
Brophy Prep talked about hitting the fairways and greens entering the Division I state championship held Wednesday and Thursday at the Omni Tucson National and the Broncos did just that – they hit a lot of them. The Broncos led the field by 16 strokes after the first round, an incredible 18-under-par performance, and the team ended the competition Thursday afternoon with a 34-stroke victory over Hamilton thanks to a record-setting 31-under mark of 529.
Courses differ on yardage and difficulty, but the closest a team has ever come to that score was Brophy in 2011 when the Broncos shot a 15-under 561 at Randolph North to win the seventh championship in program history and the first for current head coach Jon Shores. Shores won again in 2018 and the victory on Thursday gave him his third trophy and the ninth for the Broncos to put them in a tie with Canyon del Oro, Hamilton, Red Mountain and Snowflake for number two all-time behind the 11 championships won by Arcadia and Thatcher.
Hamilton shot a respectable 3-over 563 to take second place and Liberty took third with a team score of 580.
Individually, Brophy junior Tyler Spielman shot a 17-under 123 to win his first state championship. He became the fifth Bronco to win and the first since 1999. Former Pinnacle standout Zach Wright shot a 15-under 125 in 2011 and that record held up until Thursday. Spielman was almost untouchable but his senior teammate Charlie Palmer shot an 8-under 132 to take second place and Hamilton senior Vincent Cervantes took third place with a 4-under 136.
Cervantes won the D-I championship last year but the field was chasing Spielman to the point where the top nine finishers all ended under par. All five Broncos earned a medal to go along with the team trophy. Besides losing Palmer to Princeton, the Broncos will lose Trevor Karber to the University of San Diego. Karber tied for fourth place with a 137.
Hamilton. (Andy Morales/AZPreps36