What motivates Marcos de Niza's three-sport athlete Jamaal Young II?
November 13, 2022 by Dylan Ackermann, Arizona State University
---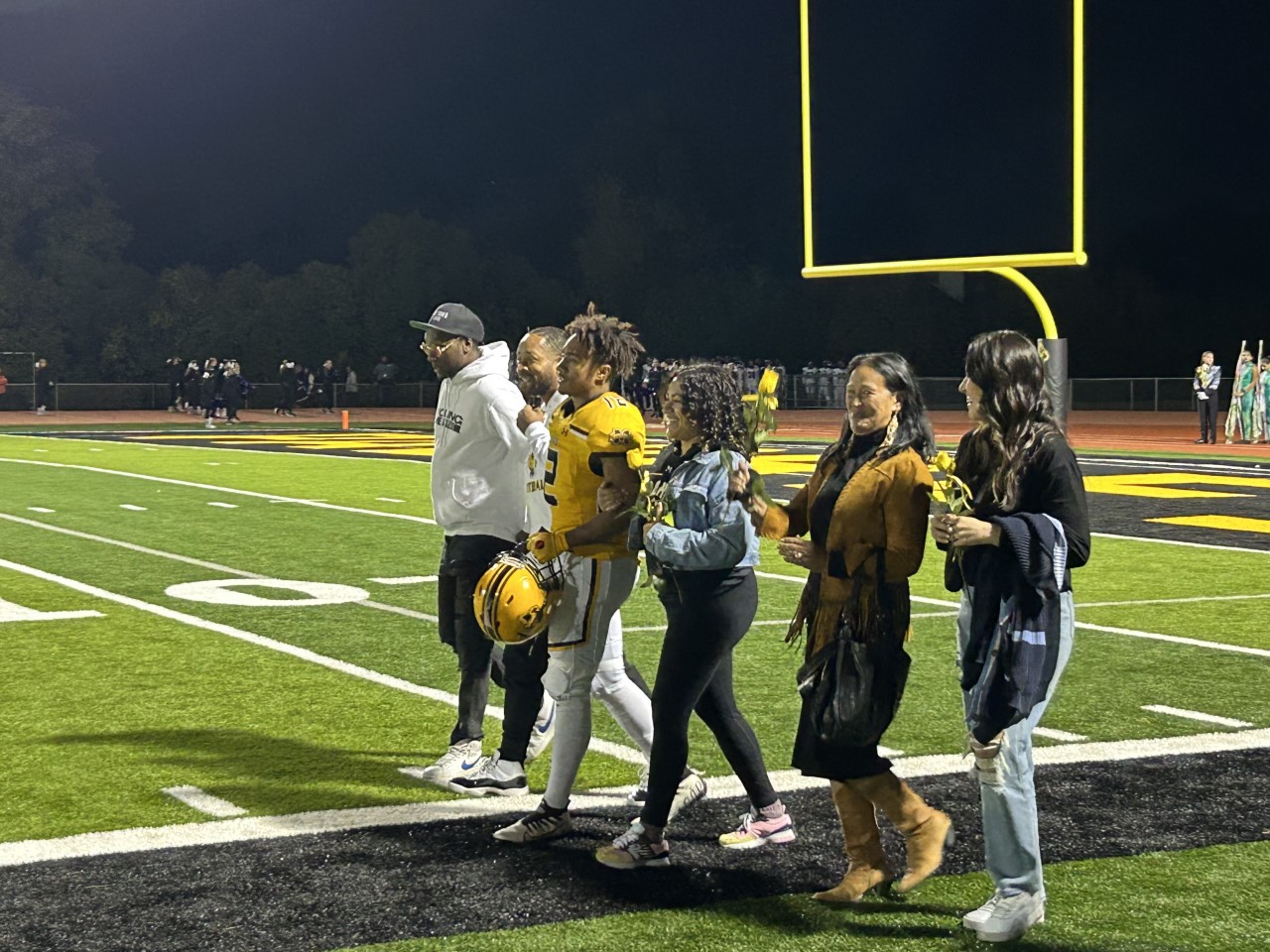 Dylan Ackermann is an ASU Cronkite School of Journalism student assigned to cover Marcos de Niza High School for AZPreps365.com.
Jamaal Young II has gone above and beyond for sports.
As one of Marcos De Niza boys basketball's best guard, their best track and field sprinters and football co-captain, Young has never let anything stop him from competing.
While three-sport athletes still exist, there are not as many in this age of specialization. Finding those who are elite in three sports might be lost.
Young was both the Padres basketball team's assist leader and the Division III track and field 200 meter state championship runner-up last season. This year, he leads their football team with 13 touchdowns and 97.3 receiving yards per game (his 876 total is 24th in the state in that category), as well as helped the Padres to their 9-1 record and first 4A Desert Sky region title in school history on Thursday.
Young showcased the resiliency after he suffered a high-ankle sprain two games into the 2021 football season.
"The high ankle injury really taught me the effect injuries can have on your mental health," Young said. "I wasn't playing well because of that. I was still holding myself to a high standard like I didn't just sit out for two months."
Marcos de Niza athletic director Lenica Ruiz understands the challenges of participating in three sports, injuries aside.
"An athlete who participates in three sports will only have the summer to specialize in one of their three sports," Ruiz said.
Young missed all of last football season, and only had two days to prepare for the basketball season that followed.
"It made me think I wasn't cut out for the next level," Young said. "I felt like track was the only thing I was good at, and there was no future for me in football or basketball because of how demanding those sports are on the body."
Although Young's multisport experience is far from easy, the benefits seem to outweigh the negatives.
"The benefits of playing three sports is that each sport makes you better for the other," Young said. "I feel it builds character and hard work principles. It also taught me how to lead, realizing that camaraderie is the most important piece in leading a team."
Young also notices the positives of multisports athletes from an academic standpoint.
"First of all my time management skills have gotten way better," Young said. "In college, sports are year round and the season never fully stops. I am accustomed to that year round training already, so I think it's going to be a smooth transition."
Ruiz offers one piece of advice for those who strive to be like Young.
"The one piece of advice I would give to a student who is thinking about playing about three sports is be ready to lean in on a variety of experiences, and be prepared to test your limits both physically and mentally," Ruiz said.
Young isn't taking anything for granted coming into his final year.
"I'm only in high school once," Young said. "These sports memories are some of the funnest and funniest memories I will make and have made, so that's why I continue to want to do all three sports."
Young is a superb student who holds multiple athletic collegiate scholarships.
Football receives the most attention. However, track and field holds a special place in his heart.
"My favorite sport is track and field because I have full control over my success," Young said.
He added, "I've also put in so much more time working, lifting and practicing with my teammates for football, more than any other sport. Every single game means so much."
Marcos de Niza football head coach Anthony Figueroa has seen the motivation and commitment from Young, who said he hopes to play "at least two sports" in college.
"He knows that this is that year for him to put his name, to put his stamp, to make a move," Figueroa said.