#6 Liberty rallies past #3 Gilbert
November 8, 2022 by Les Willsey, AZPreps365
---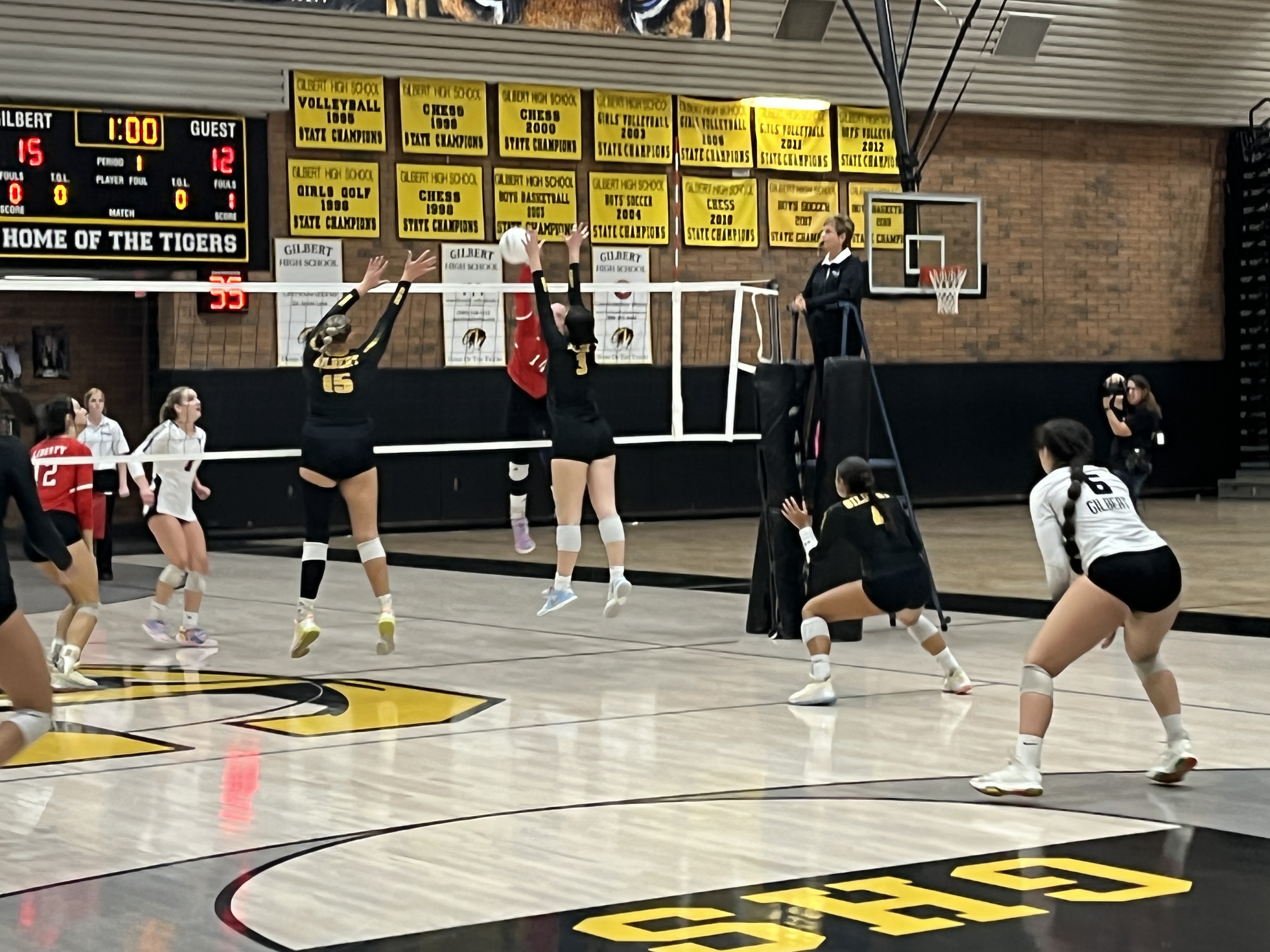 Liberty began Tuesday's 6A quarterfinal match with Gilbert feeding outside hitter Ellie Trimble -- its attack leader -- often. No surprise there. Trimble registered five kills for a 5-3 lead. The Lions went on to win a tight first set with Trimble notching 10 kills.
Trimble added an encore in the decisive fifth set with six kills as sixth-seeded Liberty outlasted third-seeded Gilbert. Scores were 27-25, 20-25, 20-25, 25-7, 15-11.
Liberty (26-6), which reached the quarterfinals last year where it was eliminated by eventual champion Hamilton, gets another shot at Hamilton in Thursday's 5 p.m. semifinal at Hamilton. #2 Hamilton defeated #7 Sunnyslope in straight sets to advance and continue its pursuit of a third consecutive state championship. Gilbert, which was eliminated in the 5A semifinals last season by eventual champ Millennium, finished 2022 with a 26-8 record.
Trimble, a junior, finished thef five-set battle with 29 kills. In step with Trimble was sophomore Tristen Raymond, Liberty's second-leading attacker. Raymond totaled 10 kills. Gilbert spread its attack among four players - Sydney Mahon (12 kills), Raegan Richardson (11 kills), Becca King (10 kills) and Andi Nothdurft (8 kills).
Gilbert seemingly had momentum with its 2-1 set lead and the home crowd behind it. Liberty swiped that momentum quickly in the fourth with no drama. Gilbert never led in the set and called time down 9-2 and once more as the deficit widened at 15-4. There was no hint of a rally, just a look forward to the fifth set.
The fifth set was tight with six ties through the final tie at 6-6. An ace by Raymond put Liberty ahead for good, 7-6. Liberty led 12-7 when Gilbert showed life and pared the deficit to 12-10 with a Mahon block and kill. Liberty settled down after a timeout to nail down the match. Two Raymond kills and a block accounted for the final points.