Rattlers putting the student in student-athlete
November 17, 2022 by Tia Reid, Arizona State University
---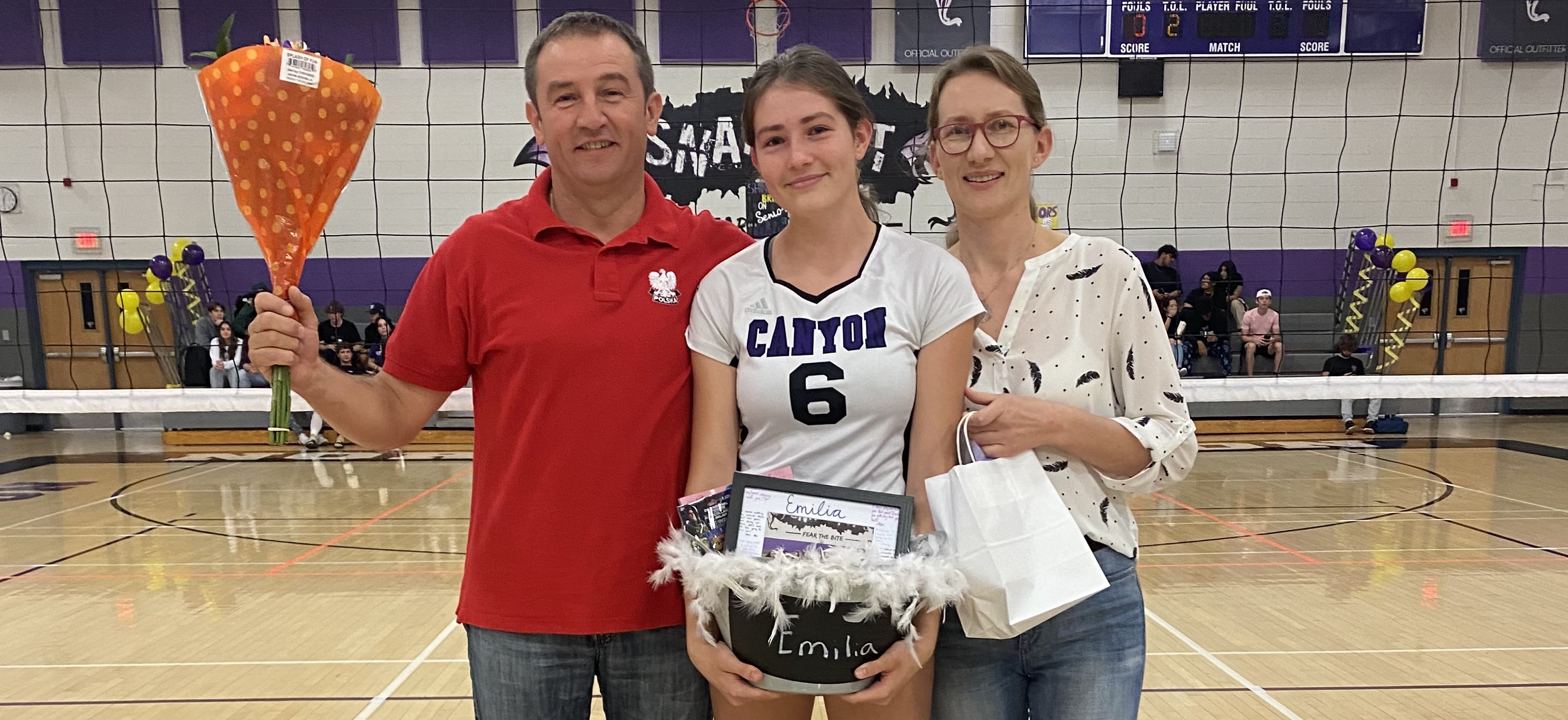 Tia Reid is an ASU Cronkite School of Journalism student assigned to cover North Canyon High School for AZPreps365.com
At North Canyon High School, athletic director Comfort Beene implemented a new award that emphasizes students' success on the field and court, and in the classroom.
Prior to the start of the fall season, Beene reached out to each coach, letting them know that at some point in the season, one of their athletes would be honored and given the title of Student-Athlete of the Week. When asked, each coach was supposed to nominate one of their athletes to be recognized. Winners were posted on Instagram @nchsrattlers.
Both girls volleyball senior outside hitter Emilia Betlej and cross-country senior Louis Diaz collected such honors during the fall season.
For girls' volleyball head coach Kinsey Pease, there was no hesitation when it came to nominating senior outside hitter Emilia Betlej.
"Emilia was the very first athlete that was nominated for their program, so as soon as I asked Coach Pease, she was like, 'No brainer, let's do Emilia,'" Beene said. "And Emilia, honestly, you just look at her, and you feel her energy. She is a great person all around. She truly puts others first. She really is a walking, breathing example of that humble athlete that truly just wants to be better and better for everybody around her and not just herself, and she's a great student as well…"
As a multi-sport athlete and a hard worker in the classroom, Betlej embodies the true meaning of a student-athlete. Earning the award was another memorable accomplishment to add to her outstanding senior season.
"I felt really proud of myself because I really put my heart out when I'm playing volleyball and in the classroom as well," Betlej said. "I try my hardest to make my parents proud. I work hard for myself…This year I'm going to remember, most of all, all the awards I got, being a starter, and just having my team to have my back. I'm going to remember all of it."
Diaz won the award on Oct. 21 following a third-place finish at the Paradise Valley District XC Championship.
While on the surface Diaz comes across as more of a silent leader, Beene said she believes that Diaz exemplifies how all teammates should act.
"Louis himself is truly just an outstanding person," Beene said. "His heart, I mean if you watch him at a cross-country meet, he's pumping up everybody. 'We got this! You got this!' And that's how he is in the classroom. That's how he is every single time I encounter him. Even if I'm somewhere and he doesn't know, I'm watching, and I'm listening. He's just that genuine soul."
Diaz said winning the award is something to be proud of, especially with all the work he puts into school and athletics.
"...It's something that's difficult to do, especially for an athlete and a student at the same time," Diaz said. "It's hard to balance both, so I do take pride in doing well in both and having the ability to get after it for each thing and balancing it."
Diaz's ability to balance both school and sports comes from building habits in his previous years as a top student and elite athlete. However, despite all his practice, he's still working on maximizing his time to succeed even more.
"Habits that I've picked up throughout my years of cross-country and track and school is always putting the homework first and doing it before I do anything else, so if I have practice, I do it right after practice," Diaz said. "I don't wait until later at night, so then, I don't lose my sleep. [Getting enough sleep] is also a big habit that I still need to work on, but I'm starting to work on it now because I think that's an important factor of doing sports and doing school, so I'm starting to pick up that habit of going to sleep early and getting my homework done before I have to go to bed."
Outside of Betlej and Diaz, Beene said that all of North Canyon's student-athletes could be deserving of the award at any given time. The Rattlers give it their all in every aspect of life.
Beene said she hopes that by honoring two athletes each with this award, she will inspire them to continue their excellence.
"Getting that praise because you did so well in the classroom and you're getting recognized for it now, I want them to know that they can have hope to move forward in anything that they do," Beene said.