Saint Mary's looks for return to dominance after its last-second 4A semifinal loss to Mesquite
November 18, 2022 by Keith Hall, Arizona State University
---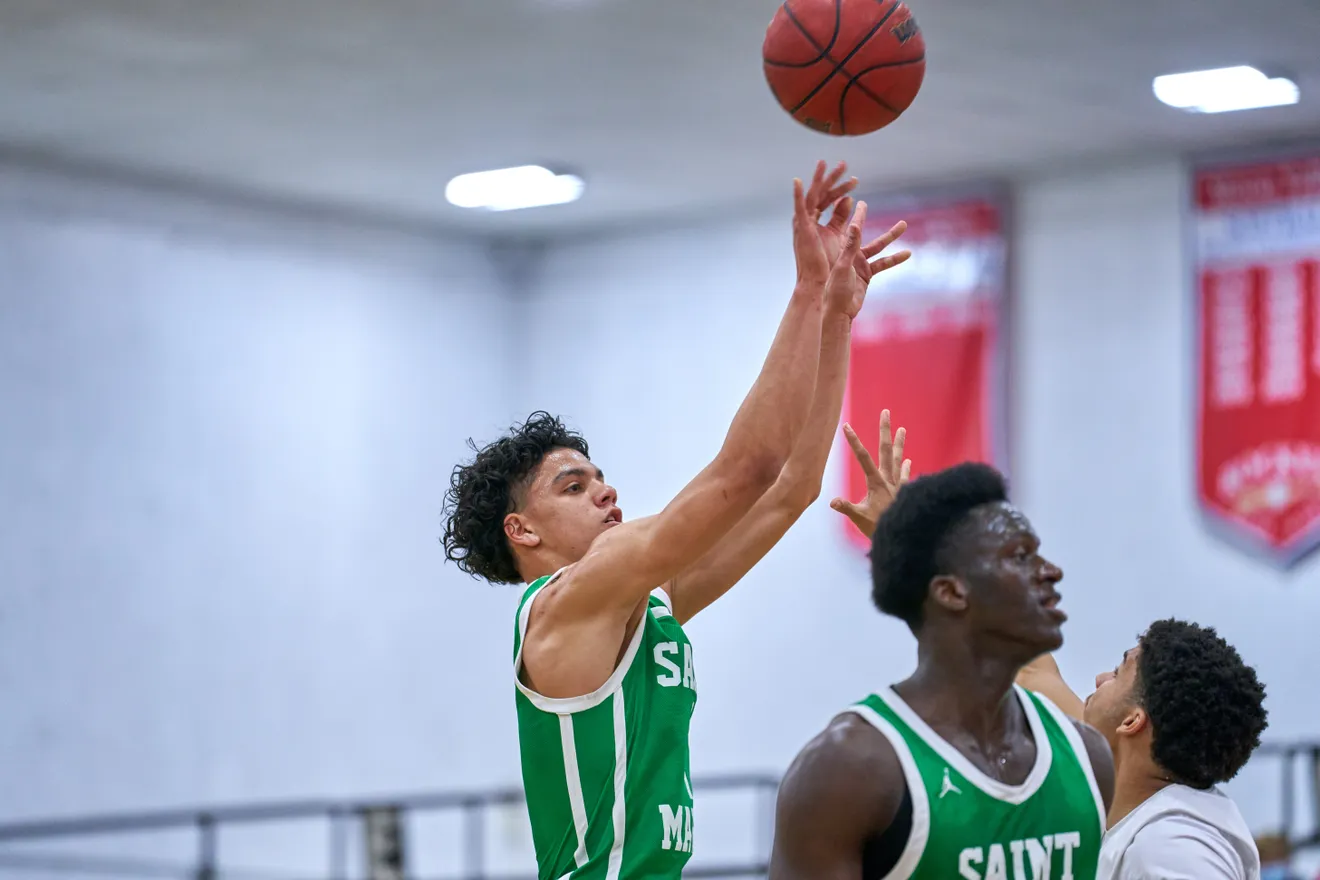 Keith Hall is an ASU Cronkite School of Journalism student assigned to cover St. Mary's High School for AZPreps365.com
Saint Mary's will be one of the state's top teams that is one of the favorites to win the 4A title this season. But the Knights' regular season schedule is filled with tough competition to match their talented roster.
Their season begins Notre Dame Prep on Saturday, Nov. 19.
The Knights are looking for redemption from last season after their perfect 9-0 record in the 4A Desert Skyline region, 19-8 overall record, and fell in the conference playoff semifinal appearance on a memorable one-point loss on a last-second shot by Mesquite in February.
The shot of the century in Arizona high school basketball. Nate Calmese lets loose from halfcourt Swish. At the buzzer. Mesquite shocks St. Mary's 74-73. pic.twitter.com/fEaKToH2EN

— Richard Obert (@azc_obert) February 23, 2022
"We've got a new group of guys this year. Overall, we've kind of moved on," St. Mary's head coach Damian Lopez said. "It's unfortunate the way everything ended, but what's done is done. It's time to focus on the team we have now."
Lopez is entering his sixth season with the Knights.
This season, the Knights have officially switched regions from the 4A Skyline region to 4A Desert Sky.
They have three tough matchups against out-of-state opponents when they face off against Regis Jesuit from Colorado on Dec. 2, Gray Collegiate from South Carolina on Dec. 8, and Milton from Georgia five days later.
Lopez is a fan of these out-of-state games, and assists in developing a competitive schedule that he says are "fun to play."
In addition, the Knights have two local high-profile games against Perry on Jan 7, led by five-star recruit in sophomore wing Koa Peat and senior guard Cody Williams
Later that month on the 28th, the Knights will play against Southern California powerhouse Mater Dei. That will take place at the prestigious Nike Extravaganza showcase n Santa Ana, California. Future Hall of Famers such as Kyrie Irving, Carmelo Anthony, Kevin Durant, and Kawhi Leonard played in this event during their high school days.
A notable player to watch for the Knights is Styles Phipps. The 6'1 junior point guard earned Regional Player of the Year honors. He holds offers from Auburn, Hampton, TCU, Portland, and San Diego. With a big season expected out of Phipps, offers will continue to flow in.
Phipps developed his game this offseason focusing on improving his overall skills, his defense, and being more vocal on the floor with an increased role. When asked about his individual goals, Phipps answered, "Not really much, just to play my hardest." He added that he'd love to win Arizona Gatorade Player of the Year.
St. Mary's, located north of downtown Phoenix, looks to hold its dominance and finish the season off on top.
The end goal Phipps has for himself and his teammates is simple.
"Definitely to win it all. State championship," he said.
Other notable players on the Knights' roster are 6-foot-6 wing Caspian Jones, 5-foot-10 guard Kenny White, and 6-foot-4 wing AJ Muandumba.
Phoenix basketball fans are also looking forward to watching the revamped group in action.
"I watched Saint Mary's play in the semifinal last year. I want to see them win it all this year," local high school basketball fan Isaiah Davis said.