LaHann, McCaskill lead Desert Mountain cross country to top-10 finishes at state championship
November 21, 2022 by Tyler Bednar, Arizona State University
---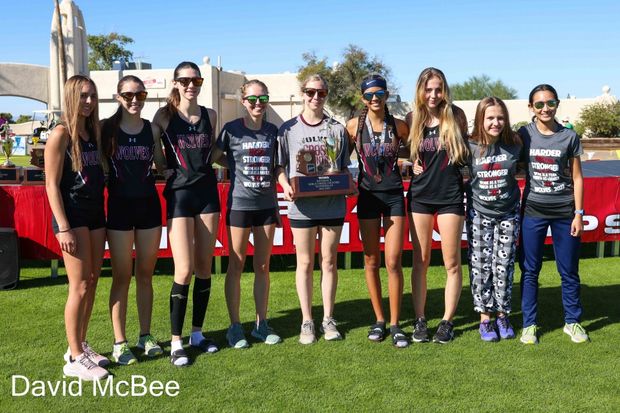 Tyler Bednar is an ASU Cronkite School of Journalism student assigned to cover Desert Mountain High School for AZPreps365.com
Desert Mountain High School cross-country ended its season at the 5A State Championship at Cave Creek Golf Course Nov. 12 in Phoenix. The girls' team placed second overall, scoring 144 points as junior Kaia LaHann placed fourth individually. The boys' team placed ninth overall with 287, as two runners, senior Brady McCaskill and sophomore Conor McGlynn, medaled in the race.
LaHann started the race strong. Through the first mile and a half, she maintained the lead. Through the final part of the race, LaHann dropped in placement, but she finished well, taking a fourth overall finish and a seven-second personal record. LaHann completed the 5K in 19 minutes, 31.20 seconds. LaHann's performance earned her First-Team All-State for 5A Arizona cross-country.
LaHann said she used the hill well, resulting in her passing some other runners.
LaHann's rise this season has helped Desert Mountain maintain itself as a top program in Arizona running. LaHann placed 34th overall at the 2021 5A State Championship, with a 21:19.30 finish in Desert Mountain's third-place team finish.
Junior Hailey Wilkinson placed 26th overall, completing the run in 20:46.10. The beginning of Wilkinson's season was delayed due to injury. The state race was only her third event of the entire season.
Wilkinson competed in the 2020 and 2021 state championships, with two top-30 finishes.
Wilkinson's comeback late in the season helped propel the team to its second overall finish.
Junior Ella Larsen completed the race 35th overall in 21:02.00, her third-fastest finish of the season.
Larsen's drastic improvement from 2021 helped Desert Mountain place well throughout the season. At the 2021 state championship, Larsen finished 22:28.90, 67th overall.
Larsen finished her races a minute faster in the 2022 season than in 2021.
Sophomore Mallory McCray and senior Shelby Roberts finished 4-5, helping Desert Mountain secure the second-place finish.
McCray placed 41st overall, finishing in 21:12.30, her third-fastest 5K time this season. McCray battled injury, limiting her performance this season. At the 2021 state championship, McCray finished 18th overall.
Lastly, Roberts finished the final event of her Desert Mountain career with a 49th overall finish at the 2022 state championship, racing in 21:32.70.
Roberts raced a 27-second PR at the race, an impressive finish to her career at Desert Mountain.
Wilkinson and McCray both battled injury throughout the season, and cross-country head coach Kevin Kemmerle noted their efforts at the state race.
"[Wilkinson and McCray] ran tough, gutsy races," Kemmerle said. "They kept at it and were really there for the team. Mallory and Hailey really crushed it and stuck with us."
Much of the girls' team is sophomores and juniors, so the team will continue its rise next season.
On the other side, the boys' cross-country team placed ninth at the 5A State Championship, behind McCaskill's sixth overall finish and McGlynn's 18th overall finish.
McCaskill finished the race with a time of 16:27.9, his second-fastest 5K of the season. His finish awarded him a First-Team All-State honor for 5A.
"Coach [Kemmerle] was telling me a lot about not starting out too slow," McCaskill said of his state race. "On the first mile, I just went for it and kind of dropped the main pack. They eventually caught up to me, but I thought that helped me place well."
McCaskill was an important racer for the Wolves throughout his entire career at Desert Mountain. McCaskill raced in the state meet in every season of his Desert Mountain career, notching three top-30 finishes.
McGlynn completed his sophomore season with a 40-second PR at the state meet, finishing the race in 16:51.7. His placement awarded him a Third-Team All-State finish for 5A. The state run was his only race under 17 minutes this season.
"For me, confidence was a lot," McGlynn said of what helped him. "I had my music playing, I ate well, and I put myself out there and kept it."
Overall, McGlynn finished the season as the No. 2 runner for Desert Mountain.
As Desert Mountain's cross-country season comes to a close, a new season approaches. The track and field season begins in the spring 2023 semester.