Canyon del Oro holds off St. Mary's 13-7 in 4A action
November 18, 2022 by Andy Morales, AZPreps365
---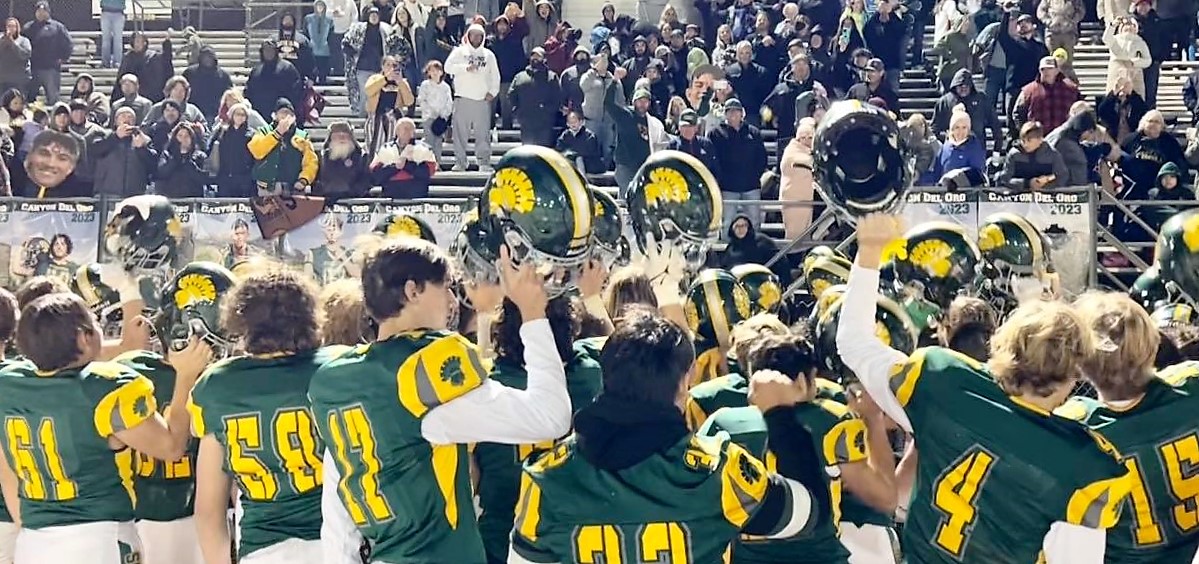 No. 6 Canyon del Oro held off No. 11 St. Mary's 13-7 Friday night to advance to the 4A quarterfinal round where the 9-2 Dorados will host No. 14 Thunderbird. Thunderbird (9-2) upset No. 3 Marcos de Niza 17-14 to set up the match with Canyon del Oro. The Thunderbird Titans are also 9-2 on the year.
St. Mary's ended the season with a 7-4 record and the Knights came within ten yards of advancing to the quarterfinals for the second year in a row. Down 13-0 with 7:45 left in the third quarter, the Knights took the ball over from the Dorados on downs and the team drove 70 yards to cut the lead down to 13-7 on a short run from David Galindo but the drive took over 10 minutes off the clock.
The Knights attempted an onside kick, and it failed initially, but the Dorados fumbled the return to give St. Mary's the ball back at the 49 with 8:49 left in the game. Time and distance became a factor but the Knights were driving for a winning score only to be stalled by a fumble that put the team in a long situation near the Dorado's 20 yard line. Galindo hit PJ Lewis for 11 yards on fourth down but the team needed 12 yards to keep the drive alive and Canyon del Oro took over at their own 10 with 1:49 left and the team ran the clock out for the win.
Canyon del Oro took a 6-0 lead (kick blocked) on a short run from Jordan Thomas with 3:07 left in the first on a drive that featured two fourth down conversions. St. Mary's responded with a drive down to the Dorado 11 yard line but an incomplete pass in the end zone on fourth down gave the ball back to Canyon del Oro. Thomas scored on the next drive from 17 yards out on a fourth down play to put the Dorados up 13-0 with 47 seconds left in the first half.
"This is our second time playing them, eight quarters against them and we gave up 15 points against a tough offense that looks like that," Canyon del Oro head coach Dustin Peace said. "So for us to be able to stop that twice shows a lot of character with our backs against the wall."
Thomas rushed 17 times for 104 yards and two touchdowns to lead Canyon del Oro and Tristen McClelland threw for 32 yards as the Dorados only put up 170 yards of offense in the win. Galindo rushed 24 times for 75 yards and a TD to go along with 50 yards passing with Lewis pulling in 43 of those yards. The Titans ended with 154 yards of offense.