Using his arm and Legg
November 21, 2022 by Justin De Haas, Arizona State University
---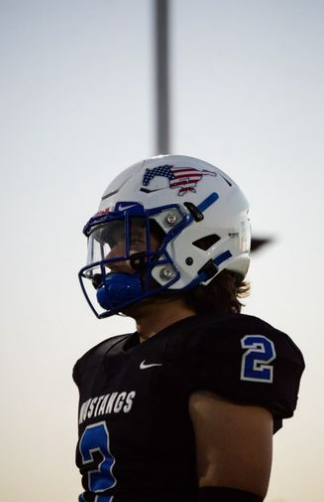 Justin De Haas is an ASU Cronkite School of Journalism student assigned to cover Dobson High School for AZPreps365.com
Dobson High School senior quarterback Jordan Legg always dreamt of leading the Mustangs on the gridiron.
Legg started playing flag football for Rhodes Junior High School in seventh grade. Legg's parents did not want him to play tackle football, so Legg made a compromise that he would be the kicker when he attended Dobson High School.
But despite starting off as a kicker, Legg had aspirations to play quarterback.
"I've lived next to Dobson," Legg said. "All my brothers went to Dobson. I've always wanted to play football at Dobson. There was no other high school that I really wanted to play for. It was always a big goal of mine to be the quarterback there."
Legg started kicking for the varsity team in his freshman year. Kickers don't get much action during practice, so Dobson head coach Bill Godsil asked Legg if there were any other positions he could play. Legg seized the opportunity and told Godsil that he was also a quarterback.
He didn't have experience playing quarterback for an organized football team, but Legg always had a strong arm when throwing the pigskin around with his friends.
"He got thicker and stronger and to see that transformation where in his sophomore year, he was very viable to be our quarterback," Godsil said. "He started sophomore year, midway through the season. We were looking for a spark… Jordan came in and got a victory in his first game out there against Westwood. He's been our starter ever since."
According to MaxPreps, Legg has led the Mustangs with 22 touchdowns and seven field goals in his four years at Dobson.
Legg shocked his parents when he told them a week before the Westwood game that he would be starting at quarterback for the Mustangs. Fortunately for Legg, his parents' fear of injuries has not come to fruition: Legg has started at quarterback for the Mustangs in the past 2 ½ seasons.
He did, however, sustain an avulsion fracture after kicking at Kohl's Western Showcase in May 2022.
"Right after the camp where I was ranked 4.5 [stars]," Legg said. "It was actually the day those rankings came out, I fractured my hip while I was kicking. That kind of put a toll on me for about 10 weeks… That's a little bump in the road I had to overcome. It sucks because I missed a lot of camps over the summer and coaches would have seen me more. Trying to get over that bump and just keep going."
Despite the lack of exposure from missing out on camps during the 2022 summer, Legg still has a few options for being a kicker at the next level.
Legg's first offer came from Papago Junior College, which is affiliated with Dobson's football program. Legg received his other offer from Lawrence University in Appleton, Wisconsin. Legg also said he is considering the idea of walking on for a Division I school.
Legg may not know where he will play next, but what is known is the impact that he has made on the Dobson football program.
"He's made a huge impact as a person," Dobson senior linebacker Michael Delligatti said. "He's a role model to a lot of our guys on the team. He's someone you can always look up to. He's someone you can always go to if you ever need any help. I'm so glad we had him."