Casteel nips Gilbert in overtime
November 22, 2022 by Les Willsey, AZPreps365
---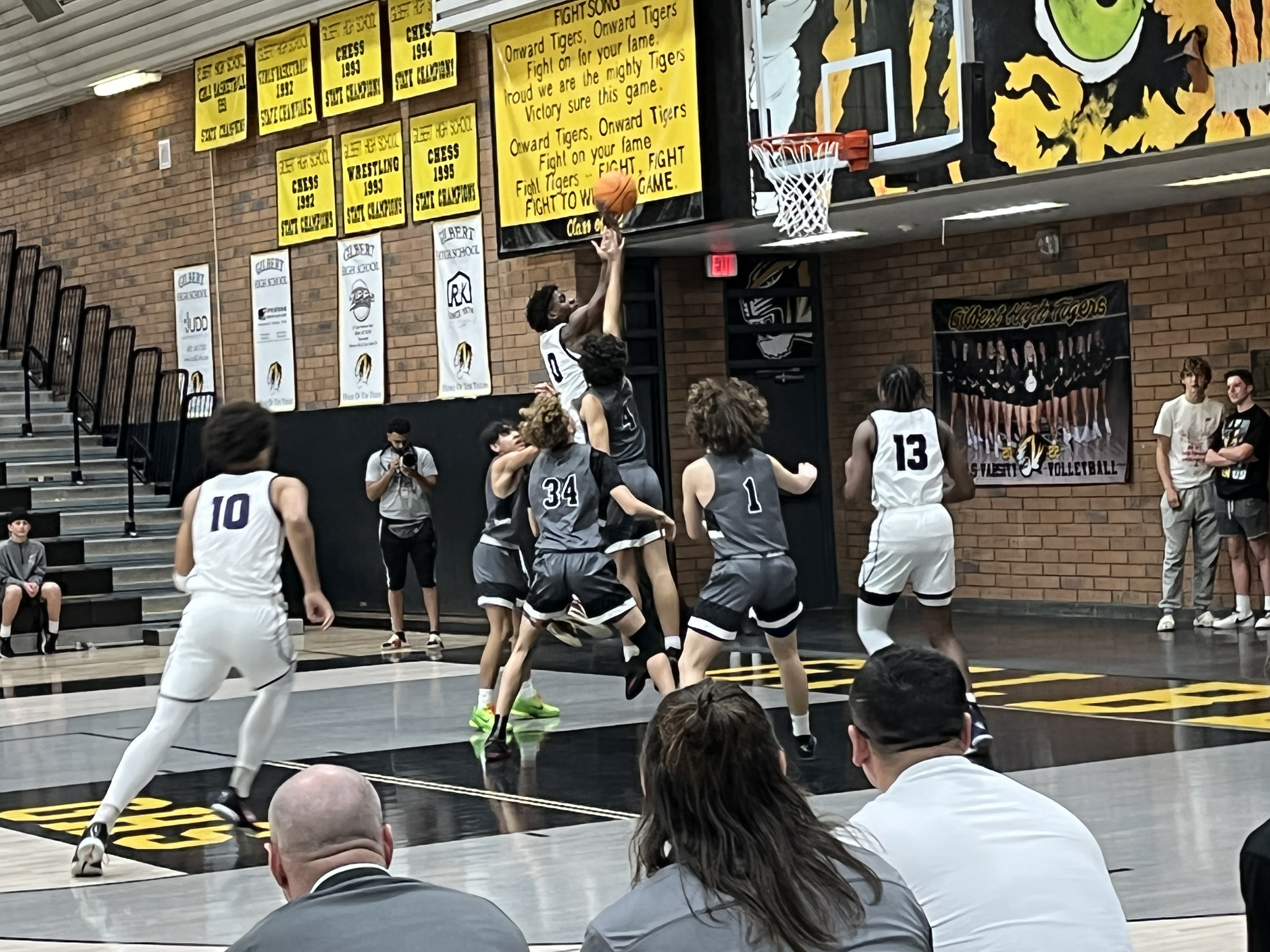 Host Gilbert High and Casteel locked up Tuesday in the best game of the second day of the annual Welcome to the Jungle Tournament.
Casteel was a tad better, rallying from 11 points down in the third quarter to take a 46-44 overtime win over Gilbert.
Five players combined to score Casteel's seven points in the extra period. The final tie was 42-all. The Colts took the lead for good on a 44-42 on a runner in the lane by Nate Ko. with 46 seconds left. One free throw each by Aiden Schmidt and Sean Chance sandwiched around a layup by Gilbert's Jaelen Green had Casteel up by the final score with 9.4 seconds left. Gilbert offered up two shots to tie or perhaps win. The first was by Green blocked in the lane with 3.4 seconds left. The last shot was a desperation attempt just inside half court by Jaden Acuna.
Ko led Casteel's balanced scoring with nine points. Schmidt followed with eight and a trio added six points each - Caden Zurek, Ryan Zeidner and Amare King. Golden Thibaudeau paced Gilbert with 10 points. Teammattes Nazir Richardson and Green checked in with nine points apiece.
In Tuesday's other Welcome to the Jungle games, Perry blasted Desert Ridge, 77-21; Eastmark handled Corona del Sol, 57-44 and Valley Vista edged Chandler, 63-62. The standings through two days shows Perry and Casteel undefeated at 2-0; Eastmark, Corona del Sol, Chandler and Valley Vista 1-1 and Gilbert and Desert Ridge 0-2.
Another round of games is set for Wednesday at Gilbert High - Eastmark vs. Desert Ridge at 3:30; Casteel vs. Chandler at 5; Gilbert vs. Valley Vista at 6:30 and Corona del Sol vs. Perry at 8. There are no games Thursday (Thanksgiving) The final day's games will be determined after Wednesday with contests on Friday at 12:30, 2 , 3:30 and the title game at 5.