Sunnyside over Mica Mountain at the Inferno Invitational
November 23, 2022 by Andy Morales, AZPreps365
---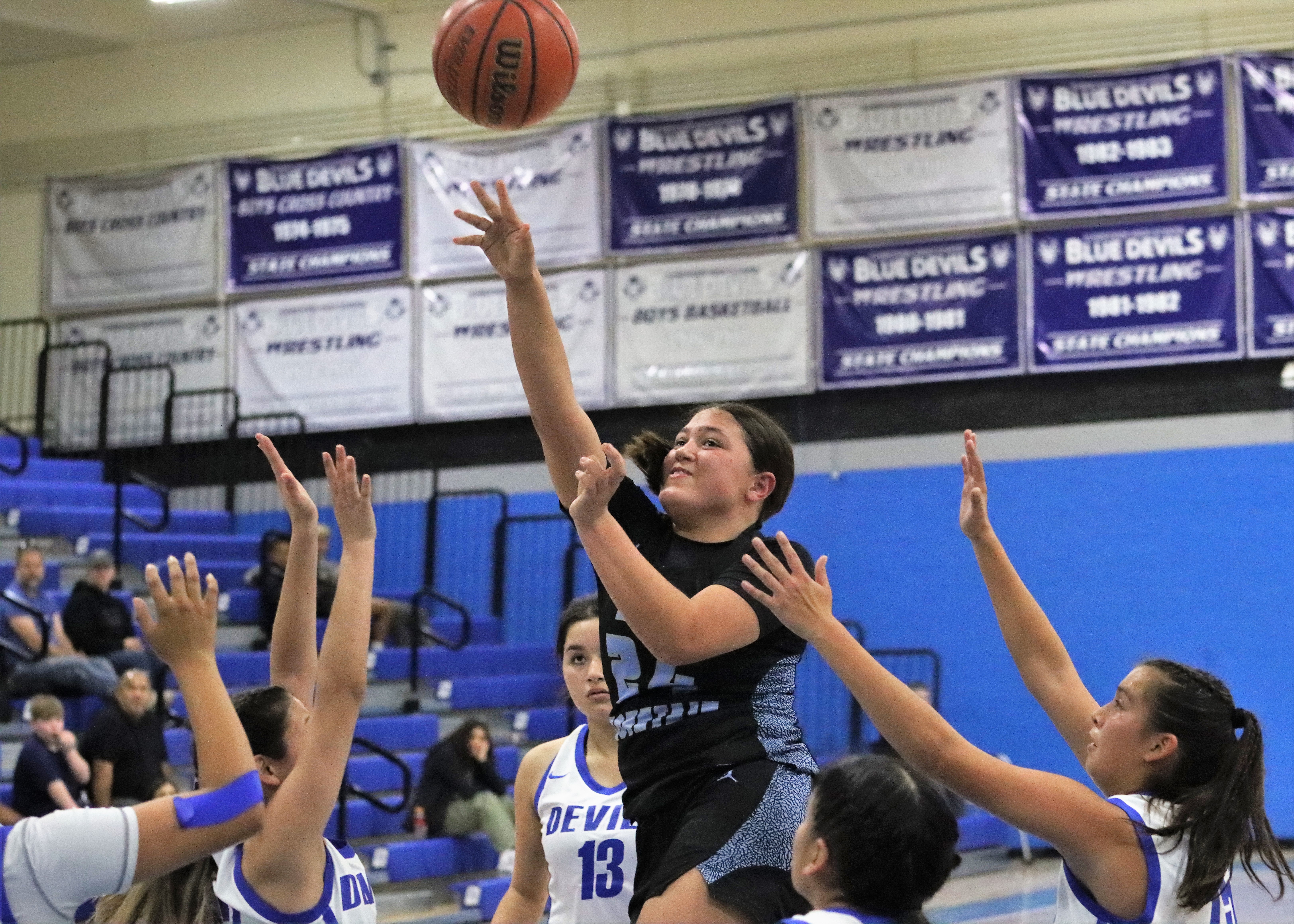 Sunnyside came back from an 11 point deficit Tuesday night to beat Mica Mountain 52-47 in first round action at the Inferno Invitational hosted by Sunnyside High School. The Blue Devils beat Coolidge 57-38 in pool play earlier in the day and the team will play Snowflake in the semifinal round Wednesday at 1 p.m.
Snowflake lost to Poston Butte 45-20 in pool play but the Lobos rebounded to beat Coolidge 53-18 in the first round of the invitational. The other semifinal will feature Poston Butte and Rincon/University and that half of the bracket is set for 11:40 a.m. Poston Butte beat Sabino 60-18 and Rincon/UHS beat Palo Verde 58-22 in the first round.
The Blue Devils got out to a 16-10 lead on Mica Mountain but McKenna Mathie scored 12 points in the second quarter to help spark a 16-2 run to put the Thunderbolts up 26-18 with 5:01 left in the first half. Kayda Lewis scored with 1:45 left to give Mica Mountain a 36-25 lead but a bucket and a free throw from Alana Felix and another free throw from Estefani Cordova cut the lead down to 36-29 at the half.
Mica Mountain was limited to sevens points in the third quarter but a 3-pointer from Isabella Webb put the team up 43-35 with 2:33 left in the quarter. The Blue Devils scored the last five points to cut the lead down to 43-40. Nayeli Nidez-Acuña saw limited action in the first half due to a shoulder injury but the junior made two free throws with 4:56 left in the game to tie the score up 44-44. Webb made a free throw and Lewis scored to put Mica Mountain up 47-44 with 4:05 left in the game but the Thunderbolts were unable to score the rest of the way.
Gabi Delgado cut the lead down to 47-46 and then Desiree Lopez hit two free throws to put the Blue Devils up for the first time since 6:44 in the second quarter at 48-47 with 2:33 left. Gabi Delgado scored again and Lexi Delgado closed the scoring out with two free throws with 38 seconds left and the 52-47 win.
Webb led Mica Mountain with 15 points, Mathie added 14 and Lewis had 6. Gabi Delgado led Sunnyside with 12 points, Felix had 10, Lopez added 7 and Lexi Delgado and Tatyana Vega scored 6 each.
The championship game is set for 6:20 p.m. Wednesday night.