Season Preview: Plenty of powerhouse girls basketball clubs ready to make run for title in northern Arizona (UPDATED)
November 23, 2022 by Brian M. Bergner Jr., AZPreps365
---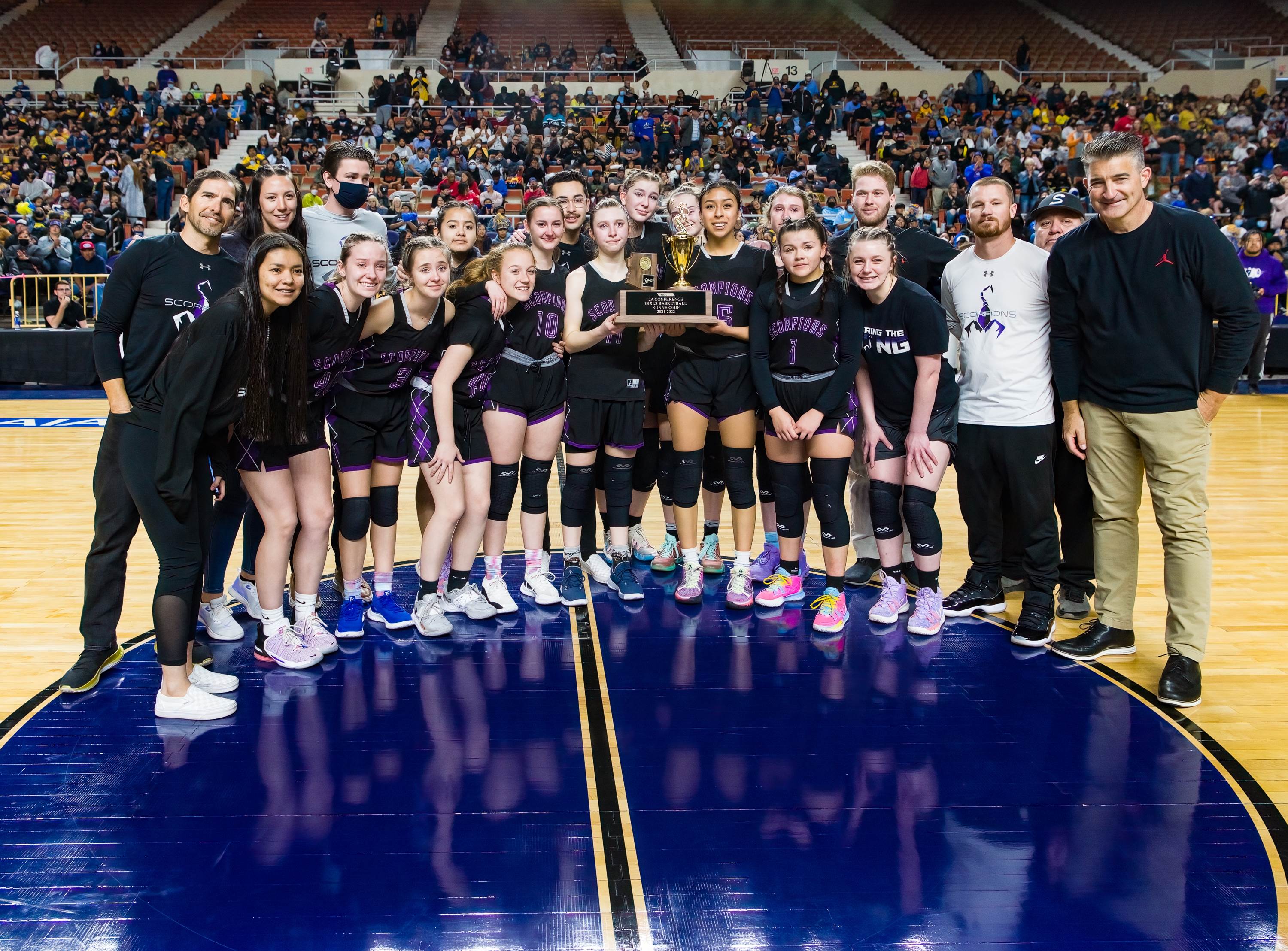 EDITOR'S NOTE: Entries from Camp Verde and Alchesay came after the original article was posted Nov. 23. They are now included below.
SEDONA — For all the tremendous accolades coach Kirk Westervelt and his Sedona Red Rock girls basketball team have earned in the past three years, one item is still missing on the mantel.
A state championship trophy.
Coming off back-to-back 2A state championship loses to Pima in the past two seasons, Westervelt is looking on the positive side.
"We expect another long run in the state tournament this year. Hopefully a third time is a charm," said Westervelt, who is entering his fourth year at the helm of the Scorpions.
The Sedona girls have put together quite a run over the past seven seasons, starting with coach Dave Moncibaez in 2015-16, leading the Scorpions to a 27-7 record and final four appearance.
Moncibaez led Sedona back to the state semifinals in 2016-17 with a 30-2 record and in 2017-18, took them all the way to the finals only to lose to Leading Edge Academy, 50-44.
After a down year in 2018-19, Sedona returned to the playoffs during Westervelt's first season in 2019-20 before notching back-to-back 2A title game appearances.
Sedona lost to Pima in an overtime thriller, 50-48, in 2021, then turned around and lost to the same club 38-36 a season ago.
In 2022-23, Westervelt is hoping to finally get over the hump.
"Our club's strength's are senior leadership," Westervelt said. "[We] are an exciting and up-tempo team to watch."
Leading the way is 6-foot-3 junior first-team All-State center Rachel Roderick, who also won 2A Metro Player of the Year. Helen Westervelt returns for her senior season after being named to second team All-State, while 5-foot-5 guard Annabelle Cook is back for her senior year as well.
Westervelt believes the favorites to win the 2A state title this year include Phoenix Country Day, Pima, Miami, St. John Paul II and his Sedona club.
Sedona (0-1, 0-0 2A Metro) opened the season with a 47-46 loss at Monument Valley on Nov. 17. They play at Grand Canyon on Nov. 28, tipoff is set for 5:30 p.m.
4A-BEARS
PRESCOTT VALLEY — For Having made the state playoffs a season ago for the third time in his first seven years on the job, Bradshaw Mountain girls basketball head coach Rick Haltom wants more out of his club than just making it to the show.
The Bears made it to state as a No. 14 seed, losing to No. 3 Seton Catholic 58-30.
Top returners Ellie Bennett, Giselle Serrano and Kalli Smith are all back in 2022-23. Bennett was the 4A Grand Canyon region Defensive Player of the Year a season ago, helping the Bears go 21-10 overall.
"Our expectations are to make the playoffs and see what happens from there," Haltom said.
The region favorite is likely Flagstaff, which beat Salpointe Catholic for the 4A title 65-48 last season.
Bradshaw Mountain (0-1, 0-0 4A Grand Canyon) opened the season with a 53-31 loss Nov. 22 against Seton Catholic.
3A-FALCONS
WHITERIVER — The defending 3A state champion Falcons from Alchesay have only one thing on their mind entering the 2022-23 campaign.
Repeat.
They might do exactly that with several top returners coming back for another run at a title, including Jazlyn Nosie, who averaged 13.9 points, five rebounds and 4.4 assists per game a season ago. Other returners include Jaylyn Nashio and Jenieth Sanchez.
Head coach Rick Sanchez, entering his fifth year on the sidelines for Alchesay, a group that went 26-9 overall and beat Chinle 66-64 in overtime for the title last season, said with "God's amazing grace, I expect to win it again," when asked about his expectations this winter.
"We have a veteran team that plays hard," Sanchez said.
The Falcons (1-0, 0-0 3A North) opened the season Nov. 22 with a 64-27 win over Holbrook. Next up, Alchesay travels to Snowflake on Nov. 29. Tipoff is set for 6 p.m.
3A-WILDCATS
CHINLE — Suffering a 66-64 overtime loss to Alchesay in the 3A state finals a season ago, the Chinle girls basketball team is looking to return to that level despite losing three starters in the offseason.
Returning guards Shaundinn Yazzie, a senior, and sophomore Qoah Yazzie, look to have outstanding seasons this year for the Wildcats.
"We look forward to their leadership as we will have a young team," fifth-year Chinle head coach Francine McCurtain said about the Yazzie guards. "We expect those two to put in 100 percent effort in all areas of the court."
McCurtain expects the 3A North to be challenging again this season, including Tuba City, Monument Valley, Window Rock and Ganado.
"I feel like our region is one of the toughest and strongest," McCurtain said.
The Wildcats (0-1, 0-0 3A North) opened the season Nov. 18 with a 49-47 loss to Winslow. They play host to Holbrook on Nov. 29. Tipoff is set for 6 p.m.
3A-COWBOYS
CAMP VERDE — Entering his 26th season as head girls basketball coach for Camp Verde, Mark Showers has seen his fair share of winning teams, and rebuilding ones, too.
This winter, the longtime coach said he's looking forward to seeing how his club grows.
"It will be fun to see this group of girls blossom as the season goes on," Showers said. "Our expectations are to learn, learn and learn some more. Most of the girls I have this season are new to the progam."
The Cowboys finished 8-10 overall a season ago, a far cry from the group that won 27 games, went undefeated (12-0) for a 2A Central region title and made it all the way to the 2A state chamionship before losing 51-50 to Thatcher in 2019-20.
But that was then, and this is now.
Returning to Camp Verde this season include senior guard D'Ana Aranzamendi, senior forward Erica Graves and junior forward Marisol Salas Zorilla.
Showers expects Scottsdale Christian to win the 3A North Central this year, and to pick among a group of 3A North teams (Chinle, Monument Valley, Alchesay, Page, etc.) for the 3A title come February.
Camp Verde (0-1, 0-0 3A North Central) opened the season Nov. 21 with a 48-23 loss to Glendale Prep. Next up, they'll host Northland Prep. on Nov. 29. Tipoff is set for 5:30 p.m.
1A-FROGS
SALOME — In each of the past four seasons, Salome girls basketball was shown the season-ending door early in the first round of state.
Head coach Bryan McCarty hopes to change that this season.
"I expect we will have to learn how to win with this group and it may take a few games to really get rolling," McCarty said.
Senior guard Bryanda Navarro, junior center Kaniece Thomas and junior Yareli Quirks all return in 2022-2023 after leading the Frogs to a 16-4 overall record a season ago.
McCarty, who enters his seventh season as coach this winter for the Frogs, believes some of the top teams in 1A this season include St. David, St. Michaels, Rock Point, Bagdad and of course Salome.
"We are dealing with injuries to starters so we have to figure some rotations out, but I expect us to compete for a region title and to work to get into the playoffs," McCarty said.
Salome (1-1, 0-0 1A West) opened the season with a 32-20 loss to Wickenburg on Nov. 16 and a 27-13 win over Anthem Prep. on Nov. 22. Next up is North Valley Christian on Nov. 28. Tipoff is set for 5:30 p.m.
Brian M. Bergner Jr. has covered professional, collegiate and high school sports for more than 20 years. Follow him on Twitter @AzPreps365Brian. Have a story idea? Email Brian at bbergner@azpreps365.com.