Campo Verde tops Estrella Foothills at Fear the Hop
November 23, 2022 by Les Willsey, AZPreps365
---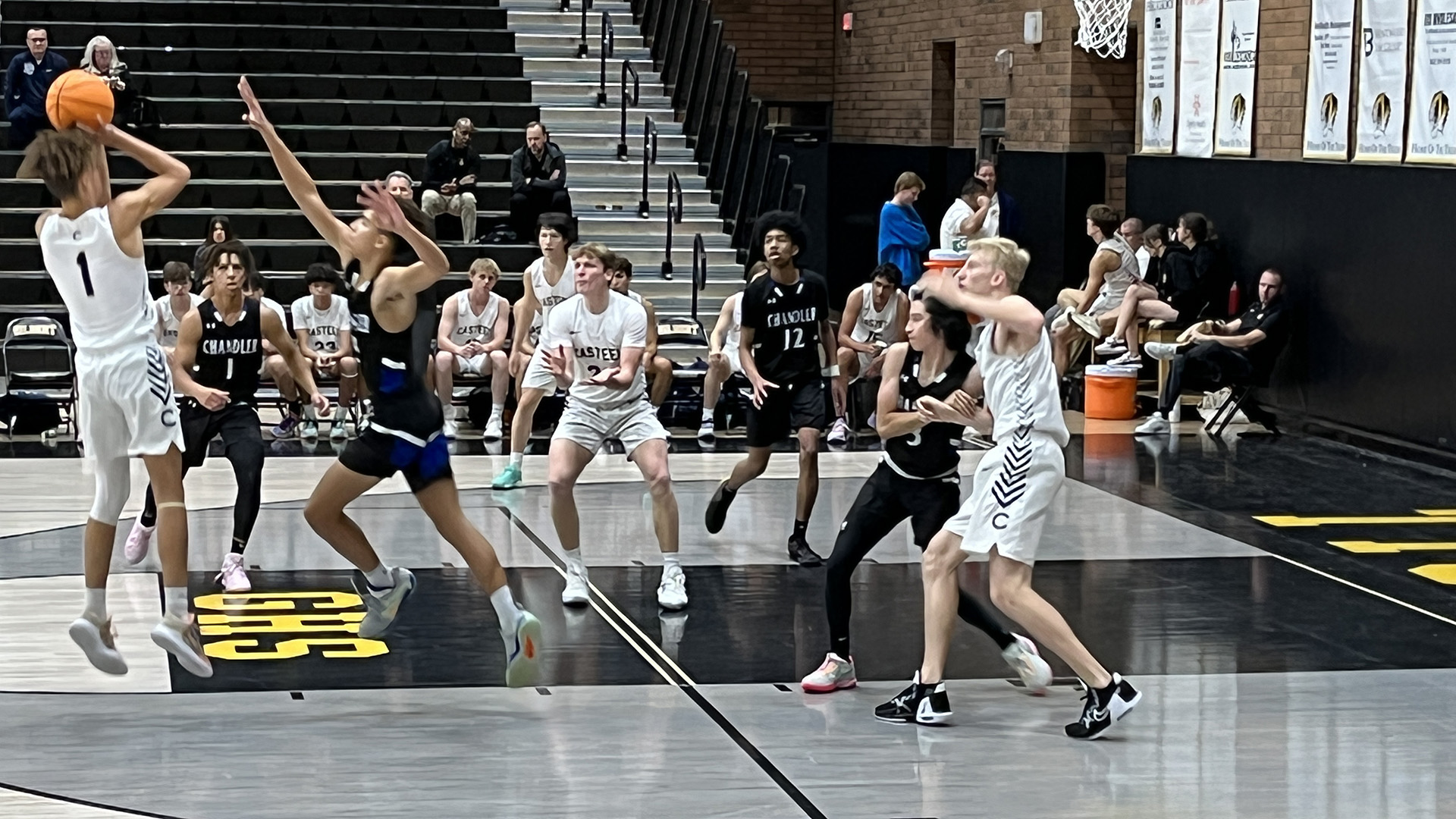 The Campo Verde Coyotes didn't have a dominating presence of Wednesday's opponent Estrella Foothills. Few teams do possess a seven-foot post player - in this case Estrella Foothills senior post Noah Amenhauser.
Campo Verde's winning formula was balanced scoring and maintaining the lead nearly the entire contest in a 63-56 quarterfinal victory in the Fear the Hop Invitational hosted by Mesa High.
The Coyotes are 2-0 in the tournament having defeated Tolleson in their first game on Monday. They and the rest of the tournament field take Thursday off for Thanksgiving and return to action on Friday. Their semifinal foe Friday is Desert Mountain with the game set to tipoff at 6 p.m. Desert Mountain advanced with a 55-45 victory over Hamilton. The other semifinal matches ALA- Gilbert North against Mesquite.
A trio of players scored in double figures for Campo Verde -- Cohen Ferguson (19 points), Isaiah Kai (14) and Ty McDowell (11). Two others were a basket or trey shy of double digits - Brandon Curtis (8) and Garrett Ahern (7). Amenhauser finished with 35 points, 20 in the second half for the Wolves. Amenhauser is a Grand Canyon University signee.
Campo Verde trailed only once - 5-4 in the game's first 90 seconds after a three-point play by Amenhauser. A solid last five minutes of the second quarter allowed Campo Verde to take a 39-27 lead at halftime. Estrella Foothills closed to within 45-43 late in the third period, but a 7-1 run finished by a top-of-the-key three from McDowell allowed the Coyotes' breathing room.
Amenhauser netted all 12 of his team's points in the fourth quarter. EFH pared Campo's lead to four three times in the final quarter. The final Wolves' rally was thwarted by a Ferguson steal and layup plus a free throw and an Ahern layin with 28 seconds left for a 61-54 lead.
WELCOME TO THE JUNGLE TOURNAMENT
Two teams emerged unscathed after three games -- Casteel and Perry. Casteel's tourney wins are over Valley Vista, Gilbert and Chandler; Perry's triumphs are against Eastmark, Desert Ridge and Corona del Sol.
The schedule for Friday's games, all at Gilbert High - 12:30 - Desert Ridge (0-3) vs. Chandler (1-2); 2 p.m. - Gilbert (0-3) vs. Eastmark (2-1); 3:30 p.m. - Valley Vista (2-1) vs. Corona del Sol (1-2); 5 p.m. Championship - Casteel vs. Perry.