Pima wins 2A championship over Morenci 50-19
November 27, 2022 by Andy Morales, AZPreps365
---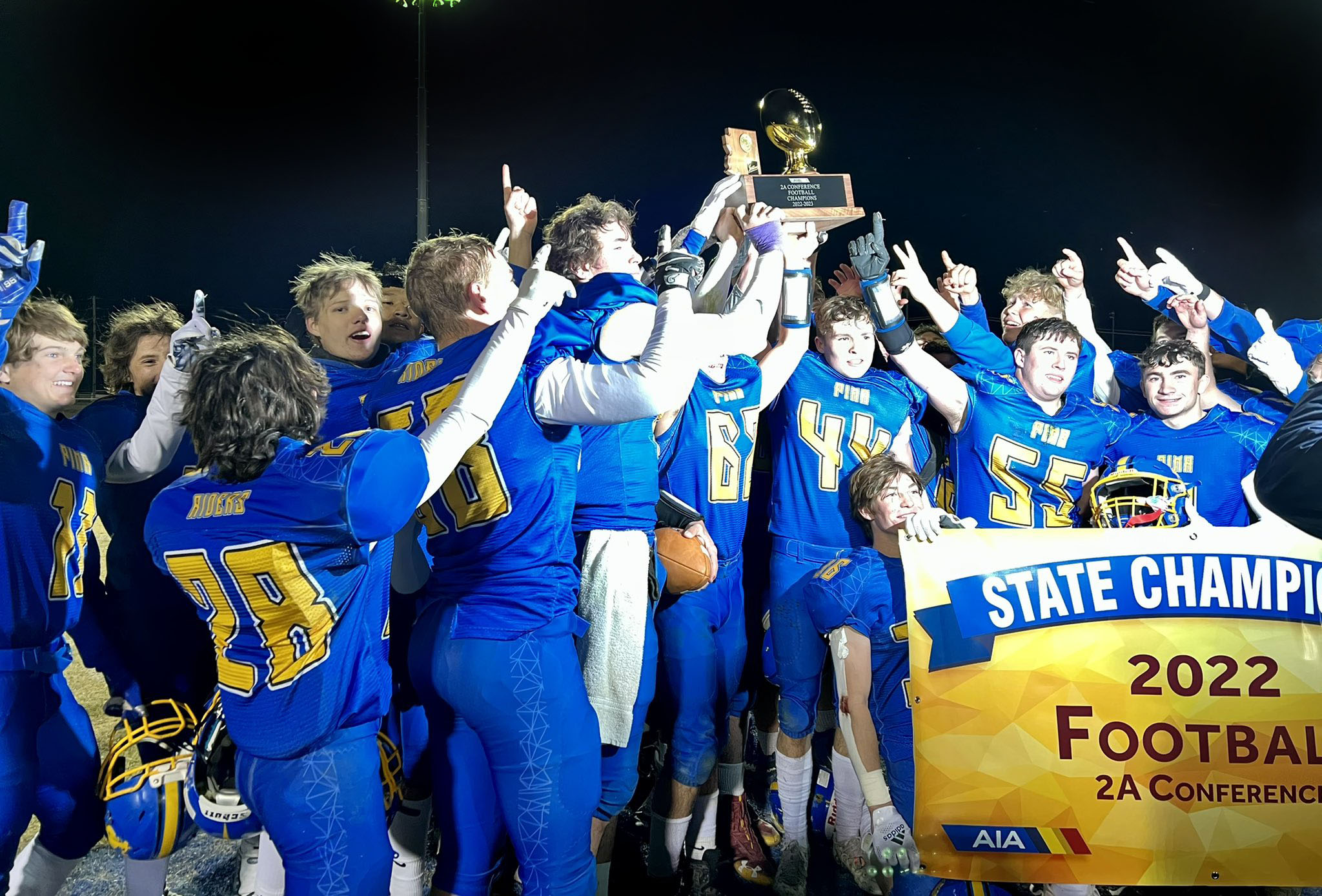 SAFFORD – Top-ranked Pima beat No. 2 Morenci 50-19 Saturday night to win the 2A state championship. The Roughriders made their 19th championship appearance since 1961, which is second only to the 25 appearances by Blue Ridge, and the program picked up the tenth championship in program history. Only Blue Ridge (15) and Saguaro (13) have more championship trophies, with Saguaro and Snowflake still alive in the Open Division and 4A Conference semifinals respectively.
CHAMPIONSHIP APPEARANCES
25: Blue Ridge
19: Pima
15: Saguaro (2022 Open Division)
14: Snowflake (2022 4A Conference)
14: Mogollon
13: Hamilton
13: Mesa Mountain View
13: Round Valley
12: Thatcher
STATE CHAMPIONSHIPS
15: Blue Ridge
13: Saguaro (2022 Open Division)
10: Pima
9: Snowflake (2022 4A Conference)
9: Thatcher
8: Mesa Mountain View
8: Santa Cruz
8: St. David
8: St. Johns
The 50-19 final score against Morenci fails to tell the complete story of what actually took place early on the Safford High School football field Saturday night between the two best teams in the 2A Conference. To begin with, the game was moved from Desert Vista High School, located in the far southwest Phoenix area, to Safford on Monday, Nov. 21 to accommodate the heavy community support in the eastern part of the state and the move appeared to be a complete success visually, with an over-capacity crowd, and the atmosphere was electric thanks to the hard work put in by AIA Board Member and Safford Athletic Director Toni Corona and her crew.
The play on the field mirrored that atmosphere with the Roughriders going 63 yards on their first possession to go up 7-0 thanks to a 21-yard run from senior RB Wyatt Wiltbank. The Wildcats took over at their 33 and junior RB Michael Casillas broke free on a 43-yard run to tie the game up 7-7 with only 7:18 left in the opening quarter. One had a feeling the first team to be stopped would have a difficult time keeping the pace the rest of the way and an 18-yard TD pass from Sr. QB Seth Russell to Sr. WR Grant Ashby on a fourth-and-8 situation put Pima up 14-7 with 4:523 left was followed by a punt from Morenci.
This momentum changer was stopped by a Pima fumble at the Morenci 2-yard line to end the first quarter but the Wildcats were forced to punt again down 14-7. Russell found Ashby again, this time on a 4-yard jump pass over the middle on another fourth down situation to put Pima up 20-7 (missed extra point) with 7:27 left in the half.
Morenci punted again but a 50-yard interception return from Sr. Derek Saenz set the Wildcats up at the Roughrider 8. A fumble two plays later gave the ball back to Pima and the missed opportunity ended the half 20-7 in favor of Pima.
Pima came out of the half and Russell scored on a 16-yard run to put the Roughriders up 27-7 with 10:02 left in the third but a 62-yard run from Saenz moments later cut the lead back down to 27-13 (failed 2-point conversion). Jr. RB Tubby Smart changed momentum for good when he took the ensuing kickoff 90 yards to put Pima up 34-13 with 7 minutes left in the quarter.
The multiple missed opportunities to change the game started to weigh on the Morenci and another punt resulted in a 10-yard run from Wiltbank to put the Roughriders up 40-13 (missed extra) with 2:29 left in the third quarter. Casillas scored from close to cut the lead down to 40-19 (failed 2-point) with 9:16 left in the game but Wiltbank ripped off a 62-yard run 12 seconds later to give Pima a 47-19 lead.
A short field goal from Jaxon John ended the game 50-19 for Pima and the team ended the year with a 13-1 record with the only loss coming against 3A Conference runner-up Thatcher in the second week of the regular season. Morenci spent most of the season ranked No. 1 in the 2A Conference after taking second place to Arizona Lutheran in the 2A state final last year and then starting out the 2022 campaign with a 9-0 record.
Pima beat Morenci 21-20 on Oct. 28 on a six-yard TD pass in the final moments of that game and the ranking switched at that point and the Wildcats ended the season with a 12-2 record and back-to-back runner-up finishes.
Morenci head coach Joe Garcia took the Wildcats to a championship final in his third and fourth year at the helm and COVID concerns in 2020 might have prevented an earlier championship run. Garcia, a Duncan grad, moved over to Morenci from Willcox so he is well-versed in what it takes to thrive in a small-town atmosphere.
"We have a good group of kids that have really bought in and worked hard and being in Morenci, we're pretty rural, kind of the middle of nowhere," Garcia said. "Football's pretty important there. Kids work super hard in the off season. They have a solid weight program. They come to seven on sevens weekly. We have a football camp they do. Kids really just, they went all in this year. This year was special for, they really love time and the success they've had is a direct result of that.
"You know every week they go to bat for their community. They all come out on Friday nights in Morenci," Garcia added.
Morenci has seven championship appearances with a state championship in 1976 under Cliff Martin.
Josh Wilkins broke a five-game losing streak to Morenci dating back to 2017 but those losses weren't on his watch. The first-year head coach spent some time as the Roughrider JV coach and plenty of time as the youth coach for a majority of the current squad that produced a 2-0 record against Morenci in his opening season.
"They are like a band brothers," Wilkins said. "We've been together since the sixth grade, this group right here and the first time taking the field, I told them, 'When you guys learn how to play football, you're gonna be state champions,' and thy saw it all the way through. When I took the job back in March, I had them all over to my house and I said, guys, this is it. This is what we've been working for all these years, and I know you're state champions. We have to put in the work and we have to make it come true and they, and they did it. That was our goal all year."
Wilkins took a moment away from his interview to take a championship photo with his son, Sr. Tucker Wilkins.
"We have a love, love relationship. I coached him for years. He works for me," Wilkins said about coaching Tucker. "Out on the field, he's a player and he steps out and he performs. He's like the little engine that could and no one ever told him how small he was and I'm glad about that because he plays like lion out there. It's a great feeling to be able to be on the field with him."
The Pima boys basketball team is expected to compete for a state title this year after ending last year in the semifinal round and, in a small-town, expect to see many of the same faces and many, many of the proud fans.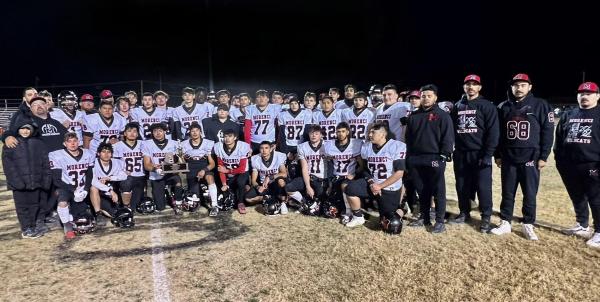 (Andy Morales/AZPreps365)