Multi-faceted Hall is doing it all at Westwood
November 28, 2022 by Taylyn Hadley, Arizona State University
---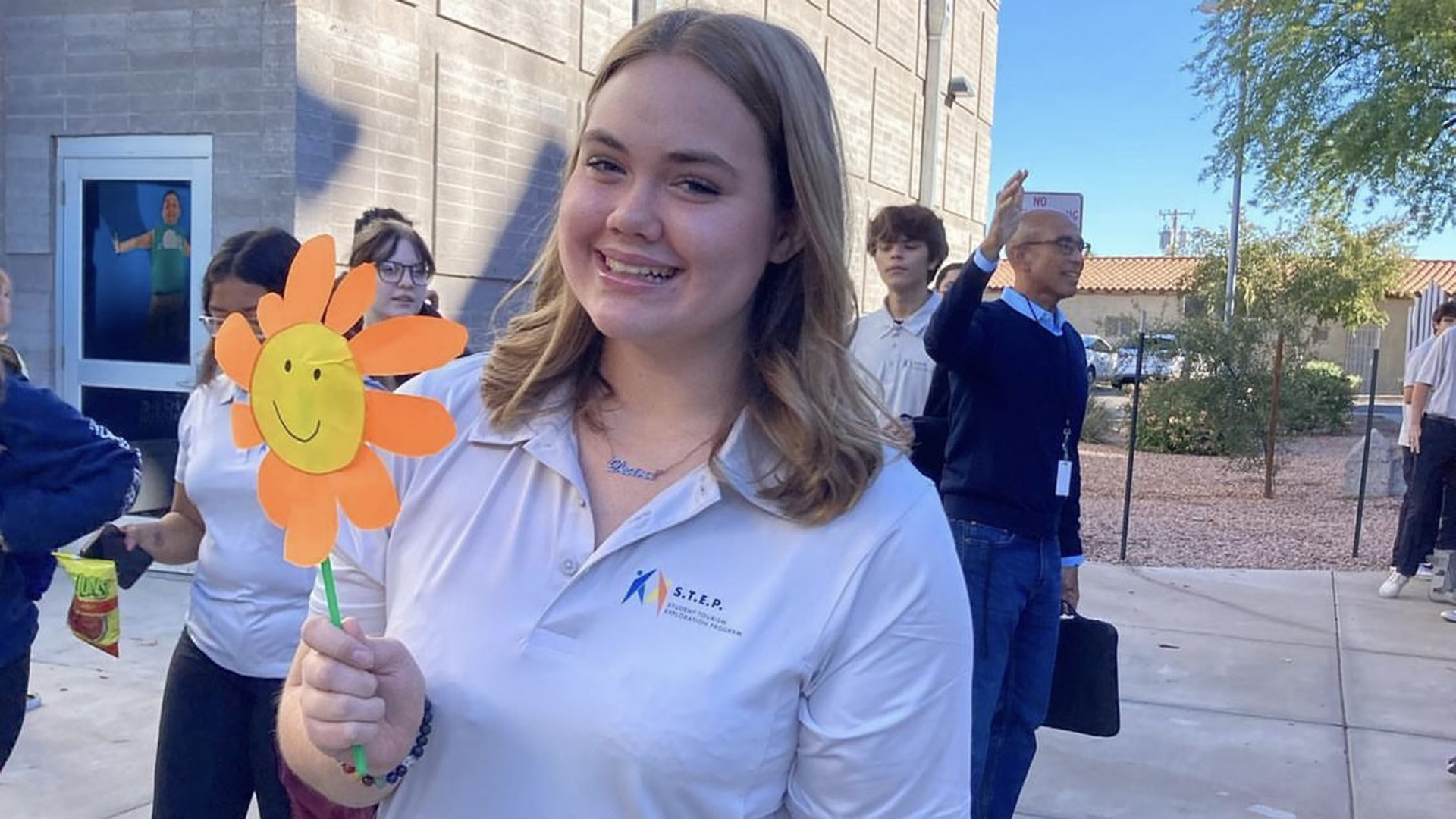 Taylyn Hadley is an ASU Cronkite School of Journalism student assigned to cover Westwood High School for AZPreps365.com
Desiree Hall hopes that this wrestling season will be a substantial one in her recruitment for colleges. She is striving for a scholarship in wrestling but faces a massive barrier given that there are not very many colleges that currently offer wrestling at a divisional level for women.
Granted, Hall strives to do more than just be an athlete. Coming off a successful golf season and making her way into her second year of wrestling, she is also balancing her academics and being a leader for the Westwood Warriors.
Hall is a wrestler, golfer, student council member and is pursuing her honors degree, yet she still wants to achieve more.
The junior wants to be known as more than just a stellar athlete and takes the time out of her personal agenda to contribute to her legacy at Westwood.
Hall started playing golf around the time that she was five years old.
"Golf was something that I really liked," Hall said. "I loved it, so I stuck to it."
Hall tees off for the Warriors. (Photo provided by Desiree Hall)
In her third year golfing for the Warriors, Hall just missed qualifying for the Div. I state tournament but took the extra time off in between seasons to prepare for what is to become a busy winter.
While Hall loves the environment that surrounds golf, she is the most passionate about wrestling, a sport that she just picked up for the first time last season.
Hall never wrestled prior to her sophomore year because she was self-conscious about being a heavyweight. Thankfully, she eventually decided to suit up and give the sport a go because she quickly learned that not only did she love it, but she was also very good at it.
"I did pretty good last year for it being my first," Hall said. "I made it to state but did not win any matches there."
In the first round, Hall faced Payton Welt from Mohave who would eventually go on to win the girls state championship.
Although not the result that she was hoping for, Hall could not overlook the fact that she had qualified for state in her first season.
This is the first year that Westwood has split the wrestling program into two, creating a girls division separate from the boys.
Wrestling coach Tyler Cowger had noticed the spark that Hall held on the mat since day one and has been impressed by the drive that she contains in her determination to improve.
"Wrestling seems to be her passion," Cowger said. "She is going on her own to wrestle around the valley and get more competition outside of what we are doing now."

Hall takes down her opponent during her sophomore wrestling season. (Photo provided by Desiree Hall)
A contributor to Hall's fire on the mat comes from the leadership that she has built through her time in Westwood's student council. She joined at the end of her first year at Westwood when she described herself as still being "a pretty quiet freshman."
Her time in student council and role in becoming a leader has vividly come out through her athletics. Not only does she keep her teammates up to date on current events around the school, but she also makes sure to take on a leadership role amongst her teams.
"From day one I could tell that she was a leader," Cowger said. "She is definitely one of the leaders on the team and I would consider her a team captain at this point."
The most important attribution to Hall's student-council role is that it is evident that she is not just in it for the experience or the bonus points on a resume, but because she truly cares about her school and strives to make a difference.
To add another notch to Hall's day, she is also taking part in Westwood's IB (International Baccalaureate) program and honors classes.
Desiree's mom Marina McNew could hardly put into words how proud she was of her daughter's hard-working persona. As she described the success that Hall has already achieved, she could not help but tear up and get emotional.
"It means a lot to watch her accomplish what she has," McNew said. "I am impressed to watch her every day."
The proudness was evident upon McNew's face as she took a second to think about all that Hall has on her plate on a daily basis.
"The fact that she can do so much and still wants to do more all of the time (is impressive)," McNew said. "It is just the two of us… we work to find the time to fit everything in."

Hall promotes game day at Westwood with other members of student council. (Photo provided by Desiree Hall)
As Hall is working through her junior year, the question of what she wants to do after high school is starting to arise. With her impressive GPA and challenging honors classes, it would not be difficult for Hall to get into most colleges.
However, most colleges do not have girls wrestling programs which is a deciding factor for Hall.
Cowger comes to Westwood from Southern Oregon University where the NAIA just sanctioned girls wrestling in 2019. He believes that Division I wrestling cannot be too far behind given the rising popularity and demand of the sport.
The AIA first sanctioned a girls division in 2018. Since then, they have added two more weight class brackets at their state tournaments. In 2020, they had enough girls to introduce team placement to the state tournament as well.
Currently, most colleges operate their women's wrestling program on a club basis. Some clubs offer scholarships, but others do not.
Arizona State University is at the top of the list for Hall and does have a club team. Hall has high hopes that they can implement a Division I program for women's wrestling before she graduates.
"I think that she's at a high enough level to be on a (college) team," Cowger said. "She is good enough to start on a team her freshman year and really make some noise."