Seton Catholic Preparatory girls golf looks to build on great season
November 30, 2022 by Tommy McDonald, Arizona State University
---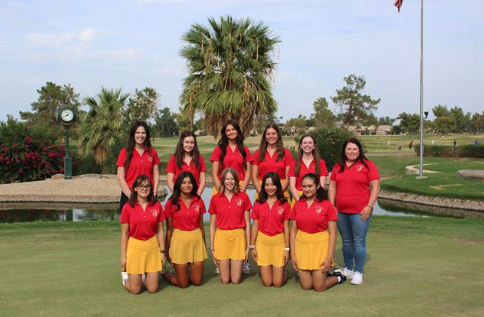 Thomas McDonald is an ASU Cronkite School of Journalism student assigned to cover Seton Catholic Preparatory for AZPreps365.com.
Seton Catholic Preparatory's girls golf team qualified for the Division II State Championships for the first time since the 2015 season.
The team went on to finish Omni Tucson National's Cataline Course in seventh place with 699 points behind champion Cactus Shadows, with most of the team being underclassmen and appearing at the tournament for the first time.
Freshman Cynthia Lang led the way for the team, finishing the two-day tournament with 159, a tie for 14th place. Right behind her was senior captain and four-year state competitor Lauren Jarvise, who finished with 169, a tie for 29th place.
Though this was Jarvise's first time qualifying for the state tournament with a team, she was the only member with state experience. She said it was nice to be at the state invitational as an individual, but better with the team, having and giving that extra support.
"There was definitely a different feeling, going as a team," Jarvise said.
Behind Lang and Jarvise, Izzy McGlone finished with 173 for a tie in 38th place, and Jamie Gryskiewicz finished with 198 for 65th place.
Jarvise's mother, Stephanie Jarvise, said this Seton team was "a great group of young ladies."
"They support and encourage each other through each shot and at every match while maintaining a healthy sense of competition and having fun while doing it," Stephanie Jarvise said.
With the season finished, Seton girls golf head coach Toni Stevenson looks ahead to a bright future for her team. She said she would like her team to be in the race for a state title in a few years, with Lang competing for an individual title.
"You never know what to expect," Stevenson said on the pick of the two freshmen, Lang and McGlone.
With the team returning to state, Stevenson said that their seventh-place finish didn't show how good this Seton team really is.
Stevenson said she understood that some nerves came into play. The tone became a lot more serious and players that usually cracked jokes weren't during the state tournament.
In many ways, this was a great experience for the team, especially with the young team being able to look up to Jarvise, a player who has been in the state competition every year in high school.
As Jarvise leaves, she said she hopes to watch the team compete and grow.
"They have a great few years ahead of them and I look forward to watching them play and compete," Jarvise said.