Here and Gone
December 2, 2022 by Erik List, Arizona State University
---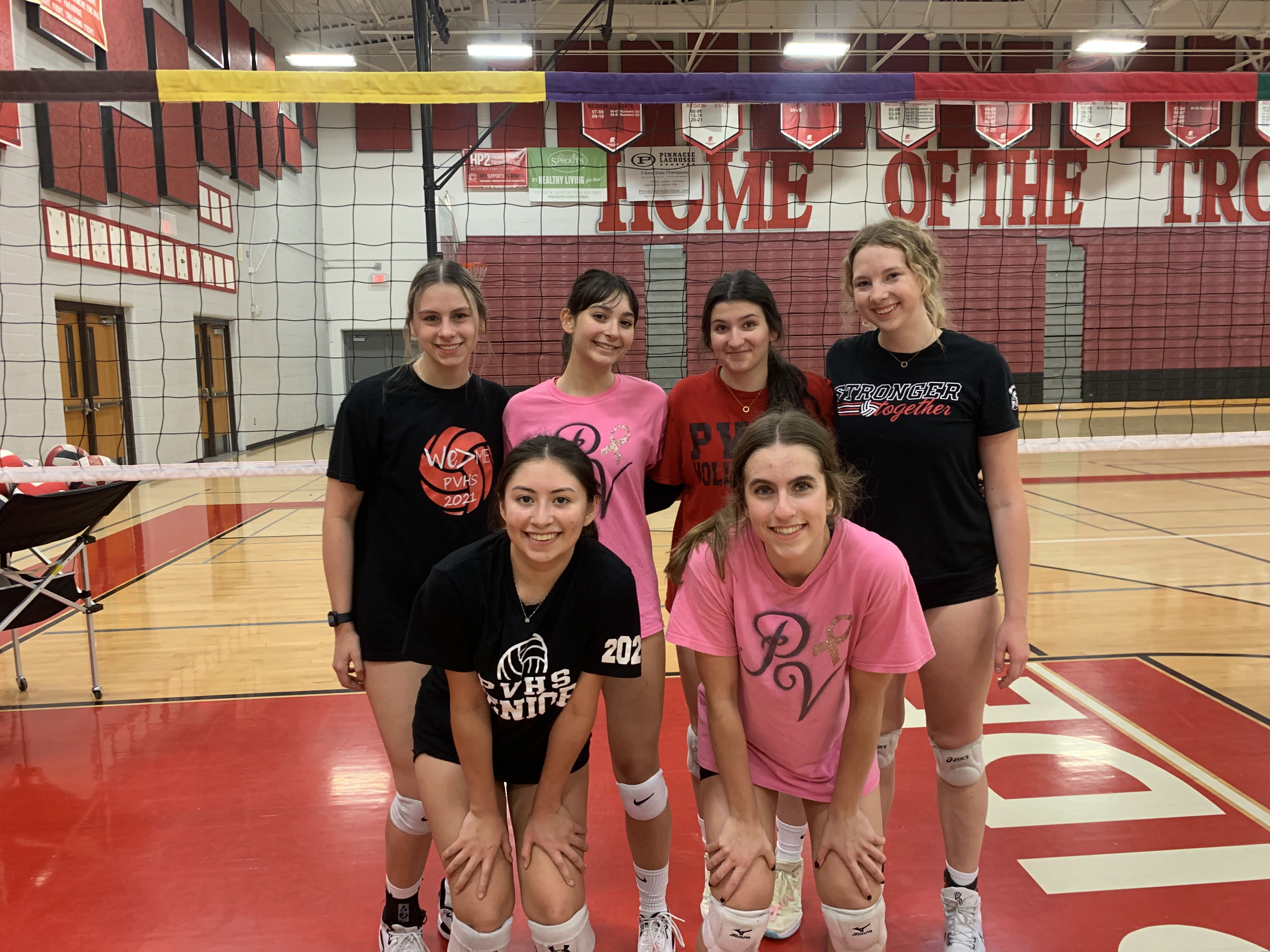 Erik List is an ASU Cronkite School of Journalism student assigned to cover Paradise Valley High School for AZPreps365.com.
Here and gone.
The Paradise Valley girls' volleyball season is over.
The Trojans finished with a record of 9-19 overall and 2-10 in the 5A northwest section. The last practice has been wrapped up, and the gear has been put away into the storage locker to sit and wait until the next season.
Head coach Jessica Spencer ran the final practice effortlessly, allowing her players to have fun and choose the drills and games they want to play for the last day. The gym was full of all three teams for the final day of practice leading into the final game, Thursday night, October 27.
The varsity volleyball team ran drills and practiced in their usual area – the far side of the gym. Spencer stood next to a cart full of volleyballs throwing one back onto the court when the first ball went out of play.
It is a relaxing day in the sense as this was meant to be fun.
"The last practice, I tried to make fun by letting the seniors choose their favorite drills," Spencer said in an email. "If I knew we were going to move on to play-ins or state, then practice would have been a bit more serious."
For six seniors, this will be the last time most of them will play organized volleyball, except for Sofia Curran, who is looking into playing college volleyball.
A bittersweet moment that, alas, falls on every athlete at some point. The jersey gets hung up for the final time to hang as a reminder of what once was.
"This is my fourth year here and the most seniors I've had, so it's kinda sad to watch the six that I've had for four years go and leave me," Spencer said. "But they're moving onto bigger and better things."
Gone, but never forgotten.
"A few of us cried at the banquet," Spencer said in a later interview. "I've gotten to know them and their families and watch them grow up to become young women and not just little baby freshmen, so it's kinda emotional for it to actually be my fourth year with those seniors."
For Spencer, this has been the first time she has had a group of seniors with her for four years now, and to watch them get ready to move on and go to college can be a sad experience, especially after coaching a few of these players before high school.
While the season saw the Trojans with a less-than-desirable end, missing the playoffs for the first time in Spencer's career, and since the 1990s. The vibe around the team and graduating seniors was still upbeat for their final ride as they now leave and venture on to different things.
This vibe was a natural bond formed while the team motto was "stronger together."
"This team is like my best friends," senior Audrey Kennedy explained. "This is my safe space. They make me feel accepted and comfortable, they make me feel loved. We all just really love each other. We've gone through a lot this season, the seasons been quite a roller coaster, but our bond has gotten stronger."
Kennedy transferred to Paradise Valley during her sophomore year from Arizona Agribusiness and Equine Center High School. Now, as she finishes her career at Paradise Valley, she is set to attend Grand Canyon University, but she does not plan to play volleyball for GCU.
Kennedy is "ready to move on."
Kennedy finished the season second on the team in digs per set at 2.1 and assists with 174. She was third on the team in total digs with 164.
Curran was also a transfer to Paradise Valley her junior year.
"I transferred from Pinnacle High School during my junior year to here, and I loved it; it was the best decision I've ever made," Curran stated. "The team is incredible, they're so supportive, they welcome you in, I've loved playing here and made so many close friends, and it's been just the best experience I could have ever asked for."
Curran is still in the pursuit of playing college volleyball and has not decided where she wants to play, but one school she has looked at is Master's University. Curran finished third on the team in both serving aces with 37 and aces per set at 0.5.
The rest of the graduating seniors have been at Paradise Valley for their entire high school careers.
Darian Villa made her way from the freshman team to the varsity team.
"I started on the freshman team my freshman year, and it was really fun to get the high school experience," Villa commented. "Then, after that, I was on JV for the next two (years) then my senior year, I was on varsity. It's just been really nice, having that competitive drive, but we're like a family here, so it's pretty cool to be competitive with each other but also play with each other."
After high school,. Villa also plans to attend GCU as a marketing and advertising major and does not have plans to play volleyball competitively either.
"This season has been kinda rough, but overall, I think we've connected really well as a team, so it's been fun either way," she said.
Teammates being more than just teammates has been the feeling around the team the entire year. Everyone is there for everyone else, and that feeling radiates when they're together.
"The team means more than words can explain," senior Abby Peterson explained. "I've learned so much over the past four years, but on and off the court, my coaches have built me up and been there at my highs and my lows, and it's going to be sad when it's all over, but I'm excited for what the future holds."
Peterson's future right now points to her attending BYU Provo, where she hopes to major in graphic design with no plans of continuing volleyball, putting her 10-year career to rest.
"It's bittersweet, it's been very physically challenging, and I feel like I've grown so much, and I keep learning every time I'm here," Peterson said. "Even though it's the last practice, I'm still learning so much."
Peterson was the leader on her team in hitting percentage at 0.152 and second in both kills per set and kills with 1.7 and 135, respectively.
Unlike some of her teammates, senior Bella Valverde plans to stay around Arizona and attend either Northern Arizona University or Arizona State University with hopes of becoming a high school teacher, most likely.
"I want to go into a teaching program at either NAU or ASU, then hopefully teach high school, and then be able to coach volleyball in the high school," Valverde dreams. "I really have a passion for this sport, and this season has been a little rough, I will admit, but I love these girls, and it's a family here; no matter if we win or lose, it's always fun with them."
Bella was in the top three of all statistical charts this year except receptions. She led Paraise Valley in serving aces (43), assists (202) and kills (157).
Being a Trojan all four years have been a bonding experience with the coaches, as Bella, like some of her fellow teammates, has been with the coaching staff since they took over four years ago.
"This team this year has definitely been my favorite year out of all four," senior Mary Jane Borowski said during the final practice. "We were more than just a team to each other. We became really good friends with each other. We built bonds that helped us do a lot better on the court as we all had connections with each other."
Borowski, like other teammates, is done with volleyball after this season. She is also done with school as she graduates in early December.
"I'm not too sure on my plans with college," she said. "So, I have a couple months to figure (it out). I'm just going to work, (and) save up money to figure out what I want to do."
Borowski led the team in total blocks with 31 and was second on the team with a hitting percentage of 0.070.
With the season over and awards were handed out to three seniors. The Trojan Leader Award was awarded to Valverde, the Trojan Coaches Award to Borowski, and the Trojan Impact Award to Curran.