Community is key to Xavier Prep's long dominance on the golf course
December 3, 2022 by Willem Krick, Arizona State University
---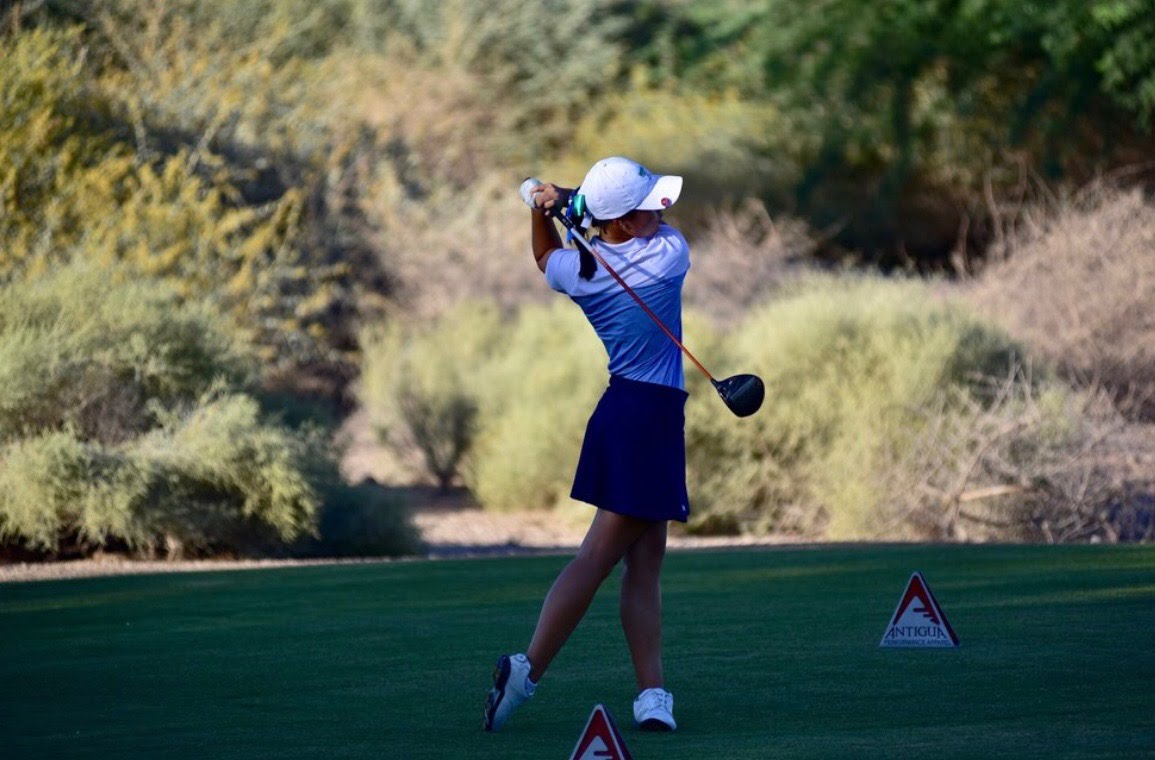 Willem Krick is an ASU Cronkite School of Journalism student assigned to cover Xavier Prep for AZPreps365.com
Xavier Prep girls' golf is one of high school sports' great dynasties.
The Gators have won 37 state championships since Sister Lynn Winsor took over as head coach in 1974, including a stretch of 16 in a row, according to AZPreps365.com.
To find out more about what has made the program so dominant over the past (almost) 50 years, I talked with Sister Lynn, co-head coach Tui Selvaratnam and current ASU junior Ashley Menne.
The Gators' golf program starts and ends with Sister Lynn. She is Xavier's athletic director and one of two head coaches for the golf team. For the last 49 seasons, Sister Lynn has enjoyed winning, but her primary focus has been on keeping the team environment as fun as possible. When I talked with Menne and Selvaratnam, they both cited that focus on fun as being the cornerstone of the program's success.
"When I was there [from 2016 to 2020], we had a really, really good team, but [the coaches] didn't put a lot of emphasis on winning. As a team, we all kind of wanted to push each other," Menne said. "I think we pushed ourselves, but we had fun doing it. While we were competitive, we were still close."
"It's so rewarding to see how girls who have graduated, played college golf and gone on to their careers. We've created a family atmosphere - it's like a sorority," Selvaratnam said.
Over the years, the Gators' emphasis on fun spawned several traditions that create a sense of community and help the team bond. Senior day, 'Hit Me" (which involves players trying to hit Sister Lynn while she stands on the second green at Pheonix Country Club in protective gear) and baking cookies for the host golf courses are the favorites for Menne and Selvaratnam.
"We did a lot of things," Menne said. "'Hit Me', senior day, and the ice cream event were so much fun."
During Selvaratnam's tenure at Xavier, she said that only "three of [the players] have come close to hitting Sister Lynn" during "Hit Me."
Sister Lynn provided the rundown of how it all started. She said she was at a tournament early in her coaching career, helping one of her players when someone from the next group almost hit her. That sparked the idea that's grown into today's version of 'Hit Me'.
"[It's] good for team bonding," Sister Lynn said. Every time one of the players fails to get within a certain distance of her, everyone yells out "loser!" and holds up a sign that says the same thing.
She says it is more of a psychological challenge for players than a physical one because they don't want to hit her.
"In their minds, they don't want to hit me," Sister Lynn said.
Even though the players aren't likely to hit Sister Lynn, she still takes the necessary steps to stay safe, just in case. She typically wears a football or softball helmet during the event.
Other traditions popular with the team are Jaws vs. Claws and the Paldo Verde Cup. Lynn said that Jaws vs. Claws involves the coaches dividing the players up into two teams. The teams then play against each other in a scramble format (where each team member hits a tee shot, then the players decide whose shot they will play until the ball is holed). In the Paldo Verde Cup, golfers are only allowed to use three clubs while they compete.
"It's fun for the kids and the coaches," Sister Lynn said.
Sister Lynn does all of these things for one simple reason: to "make the kids happy", and she believes that "happy kids are successful kids."
Community is at the center of everything at Xavier, and not just on the golf course - it extends to all areas of the school.
"Xavier College Prep is a community. When you're in it, you're in it forever," Sister Lynn said.
Menne echoed Sister Lynn's sentiment. It wasn't the championships or accolades she remembers from her time as a Gator, but the moments away from the spotlight.
"The practice rounds for states, driving down to Tucson, that's what I'll remember most," Menne said. "It was just a blast when we would get to golf."
Menne is grateful for her time at Xavier because she said it provided her with a fantastic foundation for her future success in college, both as a student and athlete.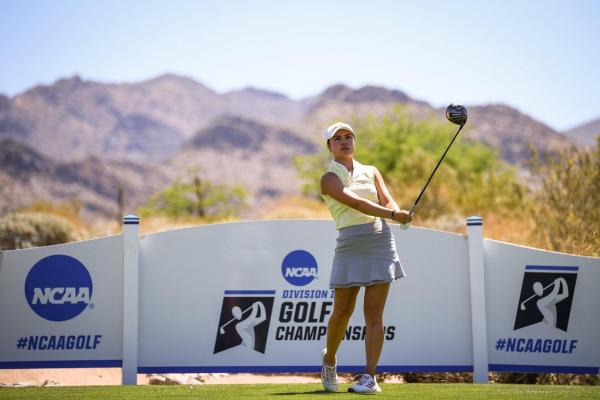 Since graduating from Xavier, Menne has enjoyed a successful first two seasons at ASU, highlighted by a fourth-place individual finish at last year's NCAA championships and two top-10 finishes in the team portion of the event. (Photo by Thomas Fernandez)
"I have a really good foundation because I went to Xavier," Menne said. "Everyone at Xavier cares so much. I still keep in contact with Tui and Sister Lynn. It's more like a family than anything."
While Sister Lynn loves her role at Xavier, she said it does have challenges, the most prominent being the length of the season, player selection and having to keep up with changes in technology.
"Girls golf is in good shape [in Arizona]. The changes have been good. [Before] the i-Wanamaker system, you had no idea [how the team was doing] until after the fifth kid. Now you can follow everything. You have to keep up with the changes," Sister Lynn said.
Even with the challenges managing the program presents, Sister Lynn is happy to see the progress that has been made for girls since she joined Xavier. She is also grateful to have been part of a school that's been at the forefront of much of that progress.
"When I first started coaching, [there were] very few female coaches," Sister Lynn said. "There's been so much more activism [in recent years]."
According to Sister Lynn, the simple act of just getting started is the key to creating meaningful change. She is also grateful to have been part of a school and in a state that has been at the forefront of much of the progress.
"We can't be afraid to challenge [things]," Sister Lynn said. "We started so girls could compete and get to know each other. Somebody has to get out there and get it going. The administration and AIA, particularly Dean Visser, have been so supportive. The state does a darn good job [at advocating for girls' sports]."
Even with all of Xavier's success and its impact on high school sports in Arizona, maintaining the sense of community inside and outside of the building is the number one priority for Sister Lynn, Selvaratnam and the Gators.
"Tui and Sister Lynn do a good job mentally coaching the girls," Menne said. "They gave me a whole packet at the end of my four years. They not only want you to be a better person but a golfer as well."
"There are a lot of Xavier connections to ASU," Menne said. "Two other girls from Xavier went to ASU as well. They're making a huge impact on every single one of those girls [who played golf at Xavier]. They go above and beyond to help them [play college golf], even if it's a small school. I think that's really special."