How to build a dynasty: North Canyon edition
December 9, 2022 by Tia Reid, Arizona State University
---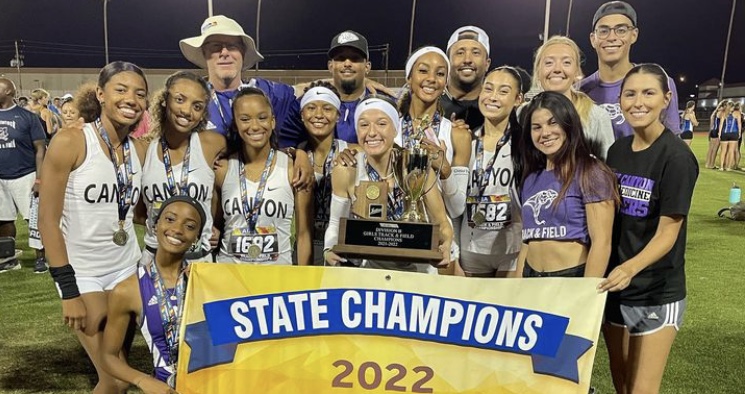 Tia Reid is an ASU Cronkite School of Journalism student assigned to cover North Canyon High School for AZPreps365.com
Dynasties are not a new concept in athletics.
Across professional and collegiate leagues, certain teams continue to churn out championships year in and year out.
At North Canyon High School in Phoenix, girls' track and field head coach Airabin Justin has built a dynasty of his own.
Beginning in 2017, the Rattlers have won every Division II State Title – including a self-awarded 2020 title that was not awarded due to the COVID-19 pandemic. Three of Justin's athletes won Arizona's Gatorade Women's Track and Field Athlete of the Year in 2019, 2020 and 2022, and a plethora of North Canyon alumni are representing the Rattlers on collegiate rosters around the country. Just this past season, Justin was named 2022 U.S. Track & Field and Cross Country Coaches Association Arizona Girls' High School Track & Field Coach of the Year.
Justin, a former professional football player and founder of Showtyme Performance, has been the ringleader at North Canyon since 2011. Before joining the Rattlers, Justin was a coach for Mountain Ridge High School's track and field team. He also served as an assistant coach for North Canyon's football program. While on staff with the football team, Justin was approached by former North Canyon track and field head coach Junior Michael to help out his team. Justin says that because of how much time he spent at North Canyon and his relationships with the students, he decided to make the switch from Mountain Ridge.
Since taking over, Justin has molded the Rattlers into a powerhouse for years to come. When he first arrived, North Canyon's team was heavily populated with long-distance runners. Many of the athletes who ran sprints were only there to bide their time until the season for their primary sport came around, in the fall or winter.
Over time, Justin brought in promising athletes and put the pieces together. With his help and a drop from Division I to Division II, the Rattlers won their first state championship in 2017. Since then, they've continued to excel, bringing in new athletes with more and more talent.
Two athletes from Justin's first state championship team were Jadyn Mays and Dominique Mustin. Both athletes are juniors who compete collegiately at the NCAA Division I level – Mays at Oregon and Mustin at Georgia after transferring from Texas A&M.
In 2019, Mustin represented North Canyon as the Arizona Women's Track and Field Gatorade Athlete of the Year – an honor that recognizes "the nation's most elite high school student-athletes for their athletic excellence, academic achievement and exemplary character," according to Gatorade.
"It was kind of unreal because that year was so special to me," Mustin said. "I feel like good things just kept happening…I think winning that award just kind of topped off that it paid off. The way you're eating, the way you're working out, all the tears that you had complaining about workouts and stuff like that, it all just felt like, 'You did it. Good job. Nothing else matters.' I felt really, really special."
The next year, Mustin watched Mays, her teammate and close friend, do the same thing. Two years after that, Joy Moorer, now a freshman on Colorado's team, put the Rattlers back in the spotlight with another Gatorade Athlete of the Year win.
"Gatorade [Athlete] of the Year is a pretty amazing accolade to have, but it's really just like an add-on to what I've been working hard for," Moorer said. "I'm pretty grateful for it, but with all the things that I've done, that should have been the outcome, honestly."
Justin said it was already amazing to have three such athletes at one school, let alone all three on the same team, at one time.
"That's why it was tough, that 2020 season, because I think we would have been something to watch," Justin said. "But the Gatorade Athlete of the Year is something really special because it's not just the best athlete. You have to be a great athlete, great student, great leader and do all those types of things."
While North Canyon is known for bringing home the hardware in individual competitions, it often prevails when its stellar athletes work together as a team also. According to current and former team members, the numerous state championships would not have happened without the culture that Justin has built at North Canyon.
"We're really like a family, and Coach AJ is also like family, basically," said North Canyon senior J'Neya Hill. "He feels like our uncle, so everything is really close, good vibes. We don't really have any drama, and we know how to work hard, which, obviously, helps us get better at practice, and we make sure that we can compete against each other, not only compete against each other, but also support each other while we're doing that, so I feel like us being competitive, but also supportive is a really big factor of it."
A familial-like culture combined with an intense training regimen allows Justin's athletes to succeed during and after high school competitions. Intense training in the offseason and preseason put his athletes in the best position to accomplish their goals.
"It's very hard. It's definitely not for the weak," said North Canyon senior and Utah commit Gloriah Hussey. "You have to be mentally and physically strong to be able to endure just one of these practices, and not everyone can do it, so I guess that's kind of really cool that we have a group of girls who want to do this and are able to do this."
North Canyon junior and Gloriah Hussey's sister, Oliviah Hussey, added, "Our workouts are very hard. They're not for the weak, and you definitely are not like, 'Oh yeah, I want to go to practice,' but really, in the back of our mind, we know it's going to make us get better, so we are really always looking forward to practice, no matter how hard it is."
Both Moorer and Mustin acknowledged that the grueling practices and training sessions at North Canyon helped prepare them for what they now experience at Colorado and Georgia.
"I think they were very intense, like something colleges would give you, I would say," Mustin said. "Our club team is called Showtyme, so either Showtyme or North Canyon alumni would always say, 'Oh, college gets easier,' because Coach AJ's workouts were so hard, and I think he really made them very aggressive, very intense because it worked."
With Justin's intense training came intense results. Not only did North Canyon produce five consecutive state championship teams, but various athletes from each team have multiple individual state titles to their names.
Since 2017 North Canyon has recorded 14 top-five records at the Division II State Championships and holds nine spots in the top-five all-time records in Arizona. Most of the individual records can be attributed to Moorer, Mays and Mustin. Additionally, the 4x400-meter relay teams have dominated the record books for the last five years.
Despite all of his team's success, winning state championships has never been Justin's main focus. He said his goal always has been, and remains, to get his athletes to the next level.
"When I was growing up, I used to see a lot of different athletes that didn't have that opportunity," Justin said. "They were really, really good, but they didn't have someone that actually believed in them to help them get to that next level. Fortunately for me, my parents and my dad actually pushed me. My uncles pushed me to get to the next level, whereas I saw some of my friends who were really good, equally as talented, and they didn't have that opportunity. So from there on, I've always wanted to help the youth go to college. Let them see that they can do whatever they put their minds to."
In order to help his athletes get to where they want to be, Justin encourages them to focus on school just as much as they do track. He also uses his connections with coaches around the country to put North Canyon and Showtyme runners on coaches' radars at some of the top programs in the nation.
According to Moorer, Justin's reputation and connections with college coaches helped her find her home at Colorado. She said she believes that his use of social media to post his athletes' workouts, progress and accomplishments, combined with who he knows, help make him one of the best-connected high school coaches in Arizona.
Once Justin's athletes get to college, the success doesn't stop. For Mustin, two years in College Station resulted in multiple trips to SEC Championships during the indoor and outdoor seasons. As a freshman, Mustin etched her name into Aggie history, entering the top 10 all-time lists for the indoor 800m (No. 9) and the outdoor 400-meter hurdles (No. 6).
At Oregon, Mays is making an even bigger splash. As a freshman, she was crowned a Pac-12 champion in the 4x100m relay. She also qualified for the 2021 Outdoor NCAA Championships in the same race. This past season, Mays added on an individual qualification for the 2022 NCAA Indoor Championships in the 60m where she finished third. In the outdoor season, Mays won another Pac-12 crown in the 4x100m and took home a fourth-place finish in the 100m. To cap off the season, she competed in the 100 and the 4x100m at the 2022 NCAA Outdoor Championships, winning third in the latter race.
"It's amazing to see," Justin said. "…When she first came in, even watching her do certain things, she had it…It's definitely been very satisfying to be able to watch, and [it's been] exciting to see because she's always back here, too. She always comes back and works out, and all the girls look up to her. Not only the girls but the guys, also. Because of that, it's been amazing, and we always keep it as a family, so the more those kids that go to the next level come back, everyone sees that, and they want to go. A lot of these kids never went to school with her, but they all know her, so it's been awesome."
While Moorer has yet to compete in a collegiate meet, she is excited to get the chance to represent North Canyon on a national stage, similar to how Mustin and Mays have done for the past two years. Being on the same pedestal as them is an honor, Moorer said.
"Coming into North Canyon, I was really just the baby of the team," Moorer said. "It was really just me being there and wanting to train with the greats, so it's just amazing to be able to be considered one of the greats as well. I never really saw it coming, honestly. It was really just me wanting to try to be great but still have fun because I enjoy track. I never really took it as competitively until maybe junior year, so being able to not take it as seriously as I had wanted to at the time and then just becoming really great was like a blessing. Being able to say I'm coming from North Canyon and having my name in North Canyon on the wall next to Jadyn and Dom is pretty amazing."
As for the current Rattler squad, having such brilliant examples of what North Canyon alumni are capable of is inspiring for those who currently wear North Canyon across their chest.
"I feel proud," Hill said. "I knew that they would get there, and it inspires me because they always have inspired me. I'm just proud in also knowing that I worked with some of them, and I still know them to this day and talk to them. I feel like it's important that I have them in my life to be my role models."
With the 2023 season quickly approaching, Justin already has his athletes back out on the track and in the weight room to prepare. On the surface, it seems they've all set lofty goals for themselves, but to them, it's simply the norm.
"As a team, obviously, we want to bring home another championship, obviously," Gloriah Hussey said. "It's going to be a little different this year for the way that they're combining the divisions, but it's still our number one goal to bring home another championship, and, obviously, individuals are cool too, but the team championship is what we're working for."
To Hussey's point, North Canyon has dominated at the Division II level while competing against other schools and teams with similar populations and team sizes. However, beginning with the 2023 season, the Arizona Interscholastic Association will do things a little differently.
According to AIA Director of Sports Information Seth Polansky, each division will still have its own team and individual champions. But the following weekend, each of the five division champions will come together to compete for an overall state championship. Upon winning the Divison II title, this setup will pit the Rattlers against a Division I team that could be three or even four times the size of North Canyon's squad.
Nonetheless, those on the outside looking in believe this year's team has just as much potential to carry on the North Canyon legacy. Hill and the Hussey sisters have already recorded award-winning performances in their time as Rattlers and have several individual and team state championship medals and trophies.
In the eyes of many North Canyon supporters, any one of them, or even a different North Canyon athlete, could be the next to win Gatorade Athlete of the Year and uphold the Rattler dynasty.
"I think they do [have another Gatorade Athlete of the Year]," Mustin said. "They always just are getting somebody new, and Coach AJ is a great coach, so it takes one person with a little bit of talent and dedication, and he can turn them into somebody that the whole state is going to know."
North Canyon Athletic Director Comfort Beene said she also believes the Rattlers have another Gatorade Athlete of the Year amongst their ranks.
"I'm not going to lie to you. I'm very confident," Beene said. "I feel like [that] every year. It's the kids. They're the ones that are saying, 'Hey, I'm going to wake up every day, and I'm going to apply myself. I'm going to dedicate myself to this and my time and my energy to this.' Yes, physically and mentally, you grow, but all of this stuff helps you for outside of [high school]. Three Gatorade athletes of the year and multiple DI athletes, and some on the Olympic teams, it's amazing. Coach AJ is the G.O.A.T."