Unified sports and its impact for the Westwood Warriors
December 10, 2022 by Enrique Rupert, Arizona State University
---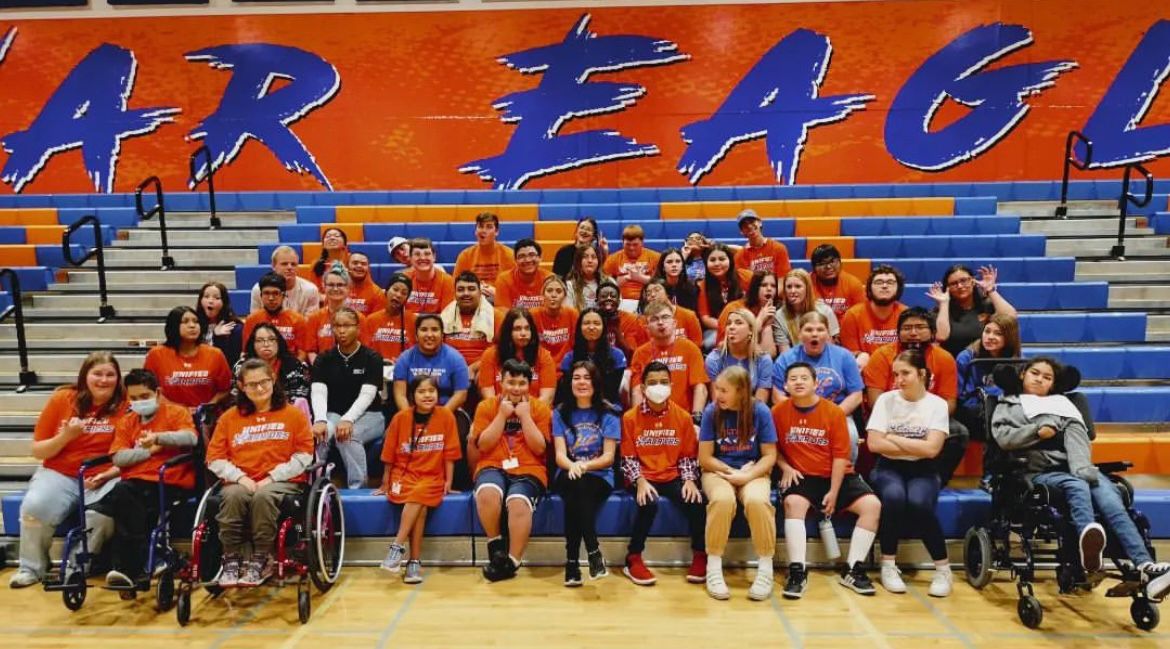 Enrique Rupert is an ASU Cronkite School of Journalism student assigned to cover Westwood High School for AZPreps365.com
When Brady Pond took over as Westwood's athletic director in May 2019, he helped build the school's Unified Sports program, which gives students with intellectual and developmental disabilities the opportunity to play sports.
"The thinking behind it was to find ways to get kids more involved in sports," Pond said. "We also saw there was a lot of underrepresentation from our special education students and Unified Sports was a good way to connect our campus more and to give more opportunities to more students."
In addition, Pond was also influential in setting up Unified Sports across the six Mesa public high schools. In three short years, Unified Sports has seen massive growth at Westwood and throughout Mesa.
"It was very easy to set it up once the district administration knew what it was," Pond said. "They were on board from the very beginning, they thought it was cool and they wanted to be a part of and the same with all the schools in Mesa."
Unified Sports was created by Special Olympics in 1989 to cater to special education students. In 2011, it partnered with the Arizona Interscholastic Association to spread Unified Sports throughout Arizona. Today, they compete in sports such as badminton, spiritline, track, basketball and bowling. In 2022, a soccer program was added to the Unified Sports lineup.
In fall of 2022, all six Mesa public high schools fielded a competitive Unified Sports team. In track and basketball, a total of 60 high schools throughout Arizona have a registered Unified team.
Westwood's Unified Sports director Meg Bowman, who has been at the forefront since the inception of Unified Sports at Westwood, sees it on a broader scale.
"Obviously, the goal is to win," said Bowman. "The bigger picture, however, is inclusion and showing the world that everyone has value."
Westwood has more than 150 special-education students, but the best 15 athletes take part in the competitions.
These 15 athletes and their partners, who are not disabled, take part in all sports across the season, meaning the 15 athletes and partners compete in multiple sports.
All Unified Athletes have a partner who volunteers to participate in the AIA's Unified program. They take part in the Unified Physical Education classes and help train the Unified Athletes for competition. The rule for partners, however, states that they cannot be a partner if they play that sport at varsity level.
These Unified Athletes have measures put in place where they aren't required to stay after school to train as transport is difficult for some. Therefore, their training takes place during school hours during specialized physical education classes.
Schools with a Unified program get some help from the Special Olympics, which provide uniforms and equipment in the first year. Additionally, Special Olympics provide an infrastructure on how to build the program.
Within three years, all schools are supposed to be self-sufficient in three areas: inclusion, leadership and the sports itself.
Westwood going into its third year of the Unified program have successfully become self-sufficient and the school's budget has allocated finances to cover the Unified team's new equipment.
The main reason for starting the program was to provide equal opportunity for special education students and Westwood has successfully done that.
Marah Duran Borboa, an intellectual disability student who has a severe physical disability which makes her mostly immobile, is one such student who has reaped the benefits of the Unified program.
"Marah brings such joy and passion to everything she does," Bowman said. "Last year when we did badminton, we tied a string to a bird and we used a wrap to secure the racket in her hands and taped it on and she just swung her arm a bit and got over 150 hits in a row. The joy on her face was immeasurable, it just shows that you don't have to be competing at state to have worth and value and to be an athlete wearing a uniform, everyone can have that at some level."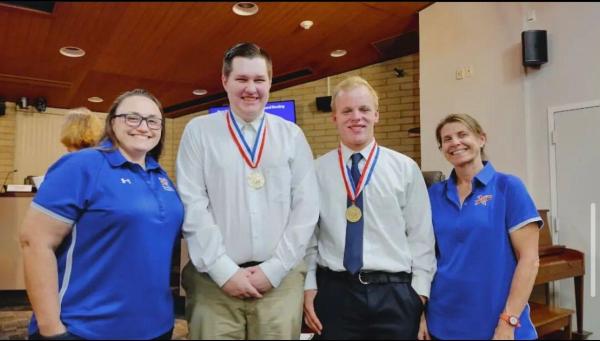 Director of Unified Sports Meg Bowman, Brendon Hammond, Porter Jefferies and coach Heidi Dorn pose for a picture at the Mesa Public School Board Meeting on Nov. 8, where the Unified badminton state champions were recognized for their success. (Photo courtesy Westwood Unified Warriors Instagram @westwoodunifiedwarriors)
Brendon Hammond and his Unified partner Porter Jefferies won the state title in badminton in the Silver division. Hammond's story is a special one, as he never spoke a word until he started playing Unified Sports at Westwood.
"Brendon's biggest strength now is his communication," Bowman said. "From someone who never uttered a word before Unified, to someone whose strength on court is communication just goes to show how important and beneficial it is to have equal opportunity in sports."
Hammond was proud of himself for winning Westwood their first Unified title.
"I won a gold medal," Hammond said. "It felt good, I knew I was the best."
His mother, Jennifer Hammond, is extremely proud of her son and looks forward to watching him take on future challenges.
"When Brendon started playing sports, I was really glad he was getting the opportunity, it was exciting to watch him adapt to learning the rules for each different sport he plays," Jennifer said. "It's been fun to see him interact with partners and how he has learned to work as a team as he was non-verbal until the age of five. He still struggles, but he has conversations and I can't wait to watch him take on challenges and overcome them."
His Unified partner Jefferies got involved in Unified Sports after hearing experiences from people close to him.
"My mom and a couple people I knew had done it before and had a good experience," Jefferies said. "I gave it a try and it's been a nice experience for me as well, it's a lot of fun playing sports and playing with the other students as well."
This year the Unified badminton team at Westwood took five out of the 24 spots at state, winning in the Silver division and having Nathaniel Burke and his Unified partner Brycen Weakland claiming the runners-up spot in the Gold Division.
A major part of Westwood's Unified badminton success this season came due to the varsity girls team helping them prepare. The top badminton girl at the school, Lizeth Torres Nunez, has learned much from becoming a Unified partner.
"I had a lot of friends in Unified already and I thought it would be a good experience," Nunez said. "I've learned things like being patient and I feel so cool when they see me around campus and they say hello. It's been really fun."
Heidi Dorn has coached Westwood's Unified team for the last three years and has worked hard with the athletes, finally being able to reap the rewards.
"We practiced a lot," Dorn said. "We were very fortunate to have the varsity girls help and we took time to figure out which athletes and partners were the best match. We did really well and I was really proud of the group that came second (Burke and Weakland)."
Like Bowman, Dorn doesn't value winning as much as she loves the growth she sees from both the athletes and their partners.
"Just to see them grow, some of them I've had for three years," Dorn said. "It's just fun to watch them grow and get better and not just in badminton, but just to become good people and be social and also to see my partners become good caring people."
While many positives have come out of the Unified program, it comes with its challenges. Special education students have a range of disabilities and sometimes, they are not the easiest to work with.
"It has its ups and downs," Weakland said. "Some days it's really rough because of their disability, they may experience anger and frustration and they express it differently."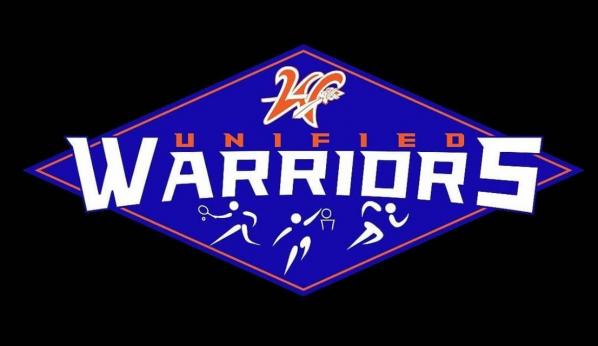 Westwood Unified Warriors logo. (Photo courtesy Westwood Unified Warriors Instagram @westwoodunifiedwarriors)
Additionally, fear of the unknown makes people afraid of things they don't understand and at Westwood it's no different.
"I think our biggest challenge at Westwood is getting our community to understand that unified athletes have value," Bowman said. "They are competitive and they deserve to wear the uniform. I think people are just scared of what's different."
Bowman hopes in the future that culture changes.
"Until they see the magic happen with the athlete and their partner, the relationship is everything," Bowman said. "Once they see that magic, they're all in. You just need to get them to watch one game."
When looking at media sites that cover high school sports, the Unified sections are blank. Pond hopes to see this change in the future.
"I think that it's about educating people and the media can help with that a lot," Pond said. "Letting people know that there are these great things and they can come and support our athletes, the Unified and regular athletes. The media can be very influential in getting positive publicity, so they can see the good things our teams are doing."
Bowman hopes for a similar change from the media in the future.
"I think if we had more reporters willing to take the time, they can really shine a light on something that's way bigger than sports," Bowman said. "It's about humankind and seeing everyone for who they are."