Inner-city schools find new ways to compete in era of open enrollment
December 12, 2022 by Chrystal Stone, Arizona State University
---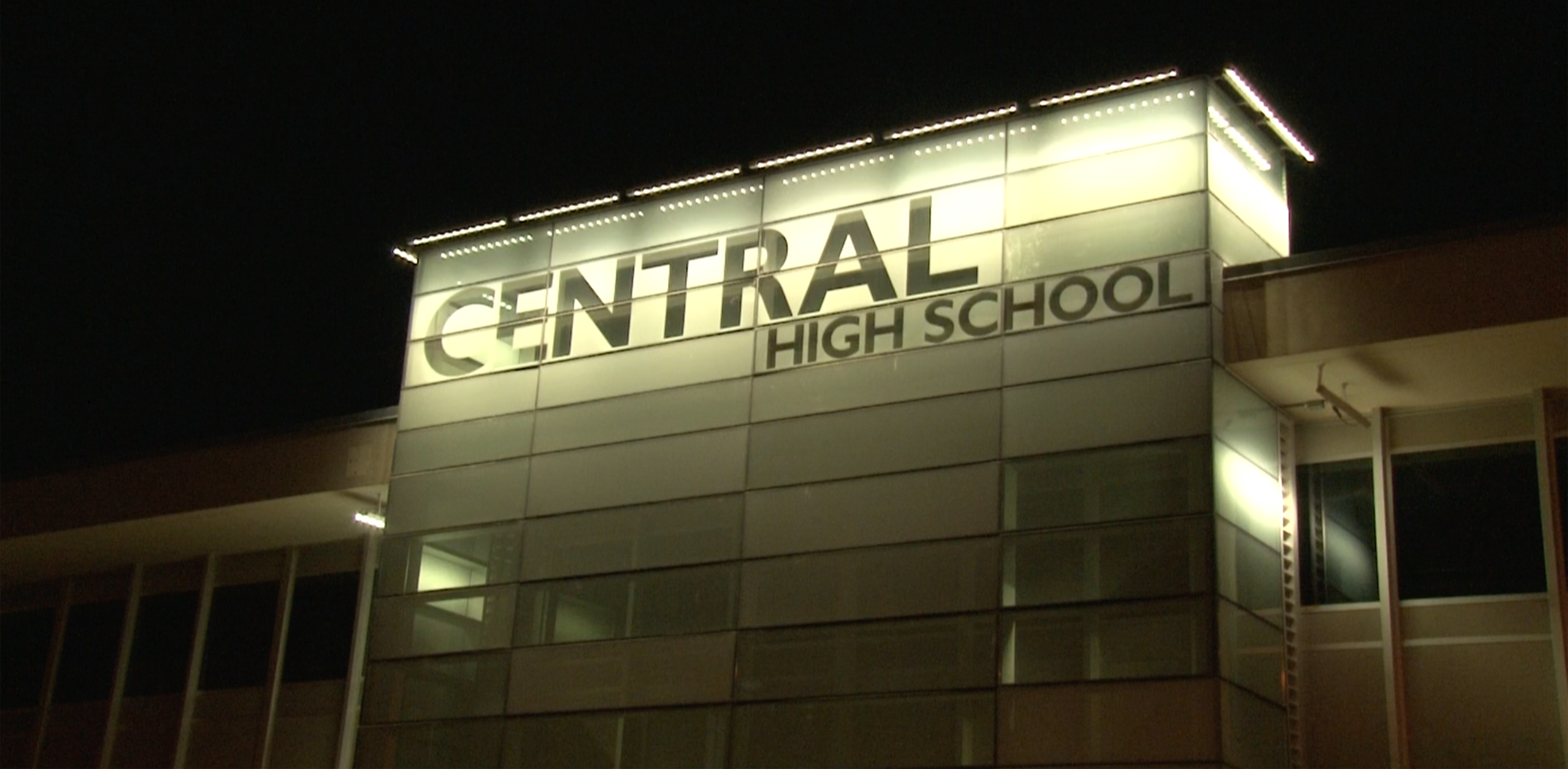 Chrystal Stone is an ASU Cronkite School of Journalism student assigned to cover Central High School for AZPreps365.com.
Over the last five seasons, Central High School's girls volleyball and soccer teams have had a new coach each year. Athletes routinely leave the school, too. Blame it on open enrollment, say two educators.
"I think overall the open enrollment legislation has basically ruined high school sports," says Dr. Zack Muñoz, the athletic director for the Phoenix Union High School District. "When the open enrollment occurred or was passed, it changed the whole dynamic for not just Phoenix Union, but for everybody's districts, whether they benefited, or they didn't."
Jorge Espinoza, recently named as Central's varsity girls basketball coach, says navigating the impact of open enrollment has been a struggle.
"​​You run the risk of losing a player every single year just because of that open enrollment," Espinoza says. "They are attracted to that nice shiny thing. They're going to go."
Taliya Taylor, a senior forward on Central's girls basketball team, says seeing teammates transfer to other schools is hard, but she supports athletes getting better opportunities.
"I don't think it's fair, but we're so used to accepting it and being proud of the person." Taylor says. "We're not happy about the option, but we're happy for them."
Coaches, too, can be tempted to leave to schools in the suburbs that offer better facilities.
"From what I've seen it's that you see that the grass might be greener in a different school," Espinoza said. "Like, some of these schools have these amazing facilities, these new gyms, workout stuff, sponsorships. Like, they have the whole nine. And you have a school that doesn't and you're there, and you're successful, and then you want to move somewhere else."
Henessey Chavez, a senior guard at Central, says when coaches leave, the team's culture can also disappear.
"You're really attached to the coach," Chavez says. "When they leave, it's like someone you love is leaving. It destroys what we built once another coach comes in. It's sad. You're used to what you had before."
When the Arizona State Legislature passed the School Improvement Act in 1994, the goal of open enrollment was to provide families with the freedom to choose where their children would attend school, giving parents the ability to make the best decision for their child's academic path.
But as azcentral's Scott Bordow and Matt Dempsey reported in 2013, open enrollment has also had unintended consequences. After analyzing 91 schools in the Valley, they concluded "programs at wealthier schools have benefited because they can build facilities and provide incentives — better equipment, out-of-state or overseas trips — that programs at poorer schools can't afford."
In essence, open enrollment has widened the disparity gap between the haves and the have nots by attracting high school athletes and coaches out of the inner city to wealthier suburban school districts.
This issue remains a topic of discussion nearly 30 years since the bill was passed. Arizona Interscholastic Association's leadership has met with its Transfer Committee twice this fall to discuss amending its current transfer rule according to the AIA's Executive Board Meeting minutes. The transfer rule has been updated several times over the years in an effort to deter student-athletes from transferring to schools for athletic reasons and, consequently, creating a competitive imbalance.
Resources and competition
Kristin Harris started this school year as the junior varsity coach for Central's girls volleyball team. After the sudden departure of varsity coach Laura Phillips in September, Harris was promoted to the position.
The average time high school coaches stay at their job is one to two years, according to Zippia Inc., an online recruitment service. Harris believes one of the main reasons coaches leave their positions is the lack of financial stability.
"I mean, I love to coach, but later, I'm gonna go and serve tables," Harris says. "And I'm going to make more in three to five hours of serving than I'll make in a week of coaching. But I love it. So I kind of make those sacrifices during the season."
Harris says factors that impede her coaching the most are food and time. Many of her players are not getting enough of either. Some aren't getting proper nutrition and others have to go home after school to help take care of their families.
Harris previously coached at Madison Highland Prep, a college preparatory charter school in the Biltmore area. She has noticed a stark difference in financial resources at Central.
"We always had participation in fundraisers," Harris says of her time at Madison Highland Prep. "We always had, you know, donations, things like that. So the resources that parents sometimes provide in those types of schools are going to allow them to have less stress or strain on other aspects."
Kevin Belcher, Central's athletic director, says no matter where an athlete goes, the state gives each public school the same amount of funding per student. However, the wealthier schools receive additional funding from booster clubs and sponsorships.
The impact of club sports
Loren Woods was the coach of Central's girls basketball team for the 2020-21 and 2021-22 seasons. He played in the 2001 NCAA national championship game as a member of the University of Arizona Wildcats and went on to have a five-year career in the NBA.
He departed Central prior to the start of this season to relocate to California.
"I think that it hurts some of the schools but that isn't the biggest issue," Woods said of open enrollment. "The biggest issue is the club situation. The influence that a lot of those [club] coaches have and they're taking the talented kids.
"Central and a lot of schools in that area…that's their biggest problem. They just don't have those kinds of resources to be able to do the club and the travel stuff and be able to have those two to three years of extra playing before they reach high school."
The influence club sports injects into high school athletics not only aids in developing more skilled athletes, it also gives schools an advantage when it comes to hiring high-quality coaches.
"A lot of districts in the suburban areas are using club coaches as part of their coaching staff," Muñoz says. "That helps bring kids in as well as bring coaches in that have a lot of experience coaching that sport. So the club culture or environment is not as strong in our district."
However, Belcher says the philosophy of club culture conflicts with the purpose of high school sports.
"It's a win-win-win mentality," Belcher says. "It's about the money and putting the best athletes on the team and traveling to win. … And what ends up happening is we lose sight of what athletics in high school is supposed to be about."
A view from the weight room of one of two gyms on Central's campus. (Chrystal Stone/photo AZPreps365)
Winning isn't everything
There is a common theme when Central coaches discuss their decision to coach at an inner-city school and Central specifically.
It wasn't the salary amount, how many state championships the school won, or how many gifted athletes transferred there.
Their interests go beyond the win-lose column. They want to make a difference in their community.
"I'm from the city," Woods says. "Born and raised in St. Louis. I'm from a lower-income, lower-class background. So I always felt like this was a great way of giving back. Because if these kids can see that I was from where they're from, then they can make it too. They have a chance too."
After her time at Madison Highland Prep, Harris welcomed the opportunity to work in the inner-city.
"I wanted to teach at what I consider to be an underprivileged school," Harris says. "If I'm going to do this job, if I'm going to do this career, I'm not doing it for a better paycheck. I'm doing it to make a difference in kids' lives. … Some of these other schools, they might have more resources. They might have more support. They might have more ability, sometimes. But the ones that need us the most are the ones that I want to serve."
Belcher was a coach and teacher at Central from 2002-2007. Prior to that, he spent time in the Paradise Valley United School District. He says returning to Central as the athletic director this year gives him a greater purpose.
"These kids are just like me," Belcher says. "And I want to give back what my coaches gave me. They need someone that cares, that will help them navigate and find a way to get out. To get an opportunity to improve their life. … That's why I'm back here."
Leveling the playing field
As Belcher navigates his first year back at Central, he is working to implement programs to bolster the athletic program.
His goals include a program called "Inside Out Coaching" where coaches create individual purpose statements that will be developed into an athletic mission for Central.
"We want to win," Belcher says. "And we want to set goals for our kids to win. … But as coaches, that's not our sole purpose. What are we doing this for? For the betterment of kids. That's what you want to highlight to the parents and the community. That this is what our coaches aspire to do."
Belcher also wants to focus on developing Central's athletes into leaders on and off the court with the Captain's Council, a leadership development course provided by the National Federation of High School Sports.
"Because if you're working towards that, winning all of a sudden is a byproduct of it," Belcher says.
For Muñoz, a priority for the district is to make deeper connections with the 13 elementary and middle school districts that feed into the Phoenix Union.
"I think the thing that we've learned from our experience to try to negate the effects of open enrollment and recruiting coaches is trying to provide opportunities for our coaches to work with our feeder districts a little more closely in regards to providing clinics and camps and getting to the students earlier," Muñoz says.
In the past, parents would generally wait until their children reached the eighth grade to begin looking at options for high school. Muñoz says parents are starting the process much earlier now, as soon as the fourth or fifth grade.
Muñoz believes the Phoenix Union has the best access to students that should be coming into their district. They just have to be more diligent and strategic in getting them there.
"We are doing a lot of outreach at an early age to let parents see what we have here at our schools," Muñoz says. "We can provide the same levels of success as suburban school districts. Just give us an opportunity to display what we have here."
Belcher plans to establish a 10-week coaching internship program for middle school coaches to prepare them for coaching positions in high school and opportunities at Central.
As Espinoza steps into his role as head coach of the girls basketball team, he knows it will take a team effort along with some creativity to move the program forward.
"We all gotta try different things," Espinoza says. "We gotta make sure we have a successful program, but also a program where girls want to come and they want to stay. And they see us as coaching staff and know that we're going to be here for as long as we can and that we can build something great."
Taylor believes inner-city schools should invest in better facilities and equipment to not only attract athletes, but motivate the ones already there.
"If our sports were taken more seriously, then we would take it more seriously," Taylor says.
Success story
Chandler Hovik attended Phoenix Union's Cesar Chavez High School. He was quarterback of the football team and later returned as a coach. In 2018, he became the head coach of the football team at Central.
Hovik led the Bobcats to an impressive 9-1 record this season and their first trip to the state playoffs in 13 years.
"Knowing our kids and our environment, he knew how to reach kids and how to impact kids," Muñoz says. "And he's had one of the most successful seasons in a long time for Phoenix Union and football. … So, if there's a will, there's a way."
Hovik's journey is proof patience and perseverance can breed success.