Sunrise Mountain badminton concludes 2022 season
December 13, 2022 by Brenden Paul, Arizona State University
---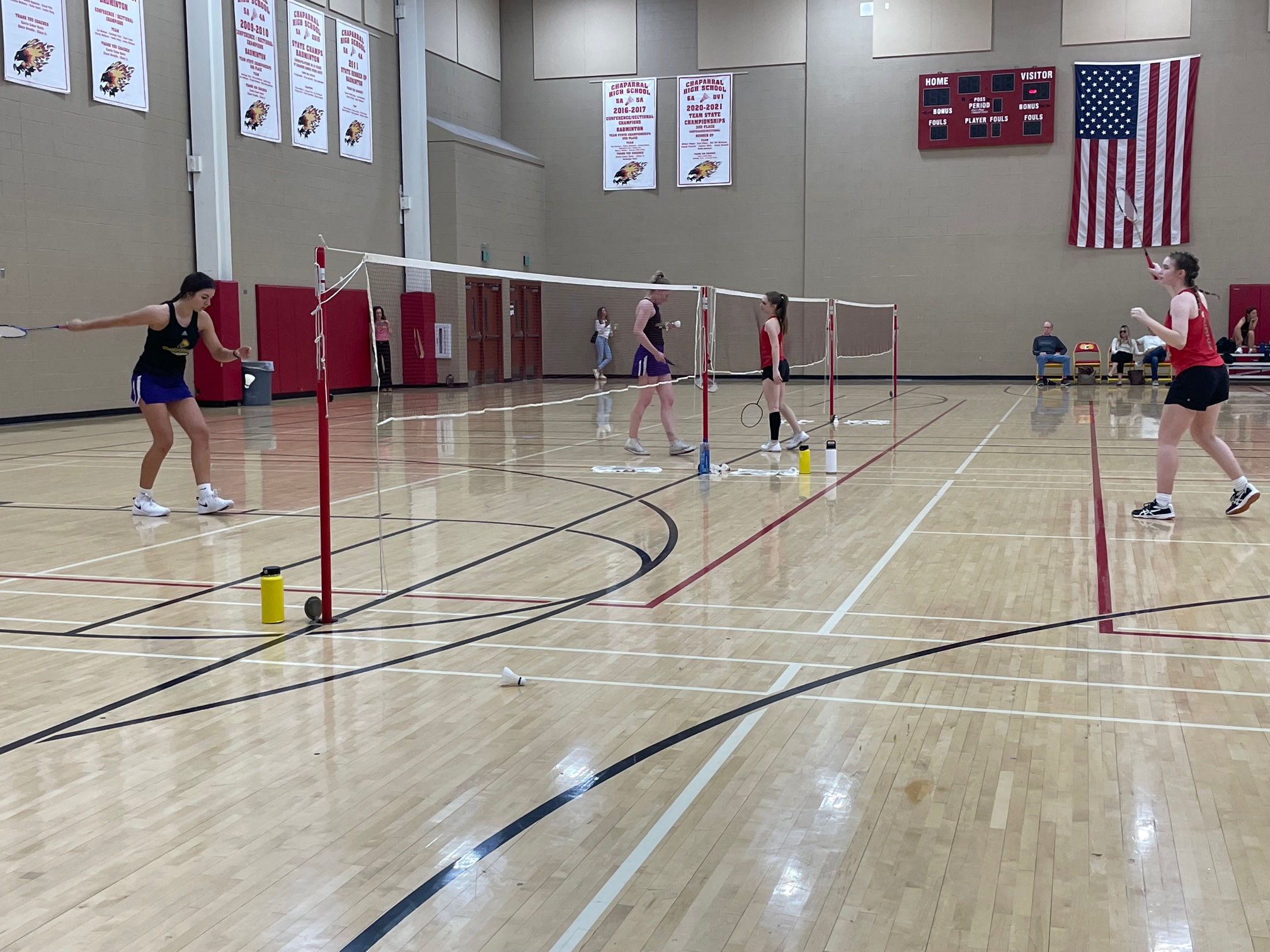 Brenden Paul is an ASU Cronkite School of Journalism student assigned to cover Sunrise Mountain High School for AZPreps365.com.
The 2022 Sunrise Mountain High School badminton season came to a close after the team state tournament on Oct. 25.
The season was filled with memorable moments for each one of the seven varsity participants. The Mustangs finished with a 13-1 overall record, 4-1 in their section. These marks were good enough for No. 2 in the section and No. 5 in the state.
The Mustangs were blessed with talented play across the board, including dynamic performances from their experienced cast, which featured senior Camille Martin making an appearance in the Division II Singles State Championship, junior Annabel Johnson and sophomore Ruthey Figg making an appearance in the doubles state championship, and senior Hattie Hearnen and junior Rylan Rhodes winning the Division II Doubles State Championship in dramatic fashion.
"I am very proud of my team," head coach Missy Carter said. "Having a doubles state championship team for the first time in my career was a really great experience not only for me but the girls on the team as well. It is clear that the girls put in the time and dedication needed for a championship. I am very excited about the future of the program."
The Mustangs started their postseason play journey with the Division II State Tournament at Independence High School Oct. 21-22, where senior Hattie Hearnen and junior Rylan Rhodes competed in the doubles competition as the No. 1 overall seed. Junior Annabel Johnson and sophomore Ruthey Figg also competed in the doubles competition, and senior Camille Martin represented the Mustangs in the singles bracket.
Johnson and Figg opened their vie for the crown in the play-in round, where they faced Millennium High School's Kennedy Massey and Lily Doerksen. The Mustang duo started off hot with a blowout 21-5 win in set one, but after a 21-18 set two win from Millennium, the two sides went to a decisive third set, where Figg and Johnson prevailed, winning 21-12.
The two went on to the official first round, where they earned a tough draw against No. 6 seed Verrado High School's senior combination of Paige Ginsburg and Lauren Thrasher. Figg and Johnson kept the match close but ultimately fell in two sets to the Vipers (21-18, 21-17) and ended their tournament journey.
Figg, the lone underclassman in the Mustangs varsity lineup, got great exposure to tough competition throughout the tournament and the season, giving her a lot of confidence in her game, and something to build on in her later seasons.
"This year as a player was really great and really challenging for me," Figg said. "It showed me certain things this year that I didn't see last year. I learned a lot and worked really hard."
Johnson learned a lot from her experience this season and found the season to be rewarding, despite a few challenges.
"This season presented me with challenges, such as my wrist problems, but I would say it was worth it," Johnson said. "I saw amazing competition this year and had amazing teammates to push me. Although badminton is a very mental sport, thanks to my coach and teammates I was able to get through it. Badminton is a sport I would love to do in college."
In singles, Martin handled Washington High School senior Nolia Thang in the first round winning two sets emphatically (21-17, 21-8). However, in the second round, Martin fell to Chaparral High School's senior Myra Duncan in two sets (21-11, 21-5), ending Martin's bid for a singles state championship.
The other doubles pair of Rhodes and Hearnen earned a bye in the play-in round as the overall No. 1 seed. They proceeded to defeat Campo Verde's Leilani Williamson and Victoria Crabbe with ease (21-7, 21-1) and Shadow Mountain's Clara Wardlow and Joanna Diaz without contest (21-9, 21-12) to earn a spot in the quarterfinals.
The pair ran through Prescott's Lauren Farley and Calli Naylor in the quarterfinals (21-16, 21-9) and Chaparral's Ellie Bucher and Chi Chi Bracker in a three-set semifinal match (22-20, 18-21, 21-14), setting up a showdown with Prescott's Riley Crockett and Elle Long in the finals.
The finals came with all the action the fans anticipated, as Rhodes and Hearnen won two hard-fought, nail-biting sets (22-20, 21-18) to earn the Division II Doubles State Championship.
"We worked so hard all season long, going undefeated and it really showed at the tournament," Hearnen said. "This overall badminton season has been one of my favorites and I'm so proud of everyone and how far we got."
This was an especially rewarding experience for Rhodes, who overcame obstacles with her mental game this season in order to win the championship.
"I always struggled with the mental game and this year I really had to show I was tough," Rhodes said. "My favorite memory of the season was winning state and having all the fun we had at practices and getting to know each of the players."
In the team state tournament, the Mustangs entered as the fifth seed in the 16-team field. In the first round, they faced off against Mesquite High School at home in Peoria. The Mustangs asserted dominance in the match, winning 8-1 overall. Rhodes at No. 1 singles dropped a heartbreaking three-set duel to Pravindi Gurusinghe (21-16, 19-21, 14-21), while Hearnen and Martin each responded with convincing two-set sweeps (21-11, 21-10, and 23-21, 21-13 respectively).
The bottom half of the singles lineup contributed in a big way as junior Hannah Winschel earned decisive 21-9 and 21-10 set wins over Keira Godek. Figg fell short in her first set, falling 21-18, but answered the challenge, winning sets two and three 21-14 and 21-17. To close out singles, Johnson ran through Danielle Malan (21-7, 21-6) to bring the Sunrise lead to 5-1 in the match.
In doubles, Rhodes and Hearnen set the tone for their squad, winning their two sets easily (21-10, 21-12). Winschel and Martin were equal to the task, winning their respective two sets 21-16 and 21-17, while Johnson and senior Mabel Dinnell closed the show earning identical 21-18 set victories.
After their 8-1 match victory in the first round against Mesquite, the Mustangs hit the road to Scottsdale to face the fourth-seeded Chapparal Firebirds. The match was anticipated to be a very close, back-and-forth contest. Unfortunately for Sunrise, the match fell short of expectations, as the Firebirds were able to sweep their way through the Mustangs winning all but one of the six singles flights in a two-set sweep, marking an unfortunate end to the Mustangs' outstanding season.
The Mustangs graduate three seniors – Hearnen, Martin, and Dinnell – this spring, but Coach Carter said she is excited for the younger talent on her team to continue to vie for the state crown.
"There is a lot of young talent that worked hard this season," Carter said. "I am hoping to see them come over the summer and put in the time to have another successful season next year."