Dampier thrilled his fans again
December 17, 2022 by Jose Garcia, AZPreps365
---
Saguaro's Devon Dampier thrilled his fans one more time.
The dual threat quarterback, sporting a Michael Jackson Thriller jacket, received this year's Ed Doherty Award, the Arizona high school football Heisman. After accepting the award, Dampier then donned a letterman jacket the Grand Canyon State Gridiron Club presents to its annual Ed Doherty winner.
Needless to say Dampier stole the show Saturday at Scottsdale Resort at McCormick Ranch. The Thriller jacket he wore actually belongs to his dad, Curtis, who along with his wife, Kesha, were the first persons Dampier thanked during his acceptance speech.
"I've been doubted a lot," said Dampier during his speech. "(While) growing up, a lot of people didn't think I could play (quarterback). So I've always had them two (parents) behind my back regardless. When you have that love that they show me every day it makes me want to grind even harder every day."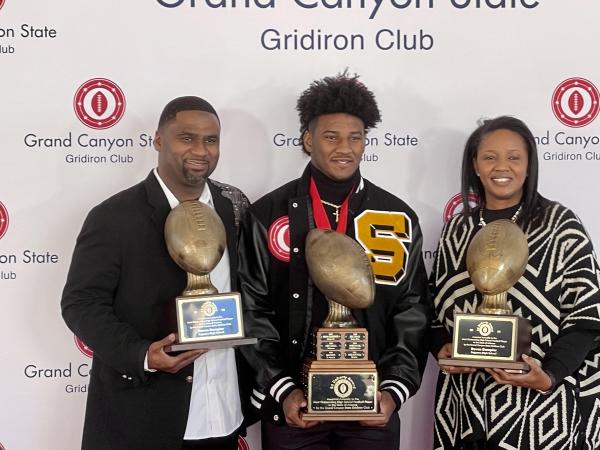 Devon Dampier thanked his parents, Curtis and Kesha, for their support during his Ed Doherty Award acceptance speech. (Photo by Jose Garcia/azpreps365)
Liberty's Navi Bruzon, American Leadership Academy Gilbert North's Adam Damante, Higley's Jamar Malone II, Pinnacle's Duce Robinson, Basha's Demond Williams, and Dampier were this year's Ed Doherty finalists. The Grand Canyon State Gridiron Club also recognized Fortune 500 CFO James Hatfield and Milan Coraggio-Sewell during the big event.
Coraggio-Sewell, who started a non-profit to help kids deal with grief, received the club's 2022 Impact Award, and Hafield, a college official, earned the Contributor to the Game Award.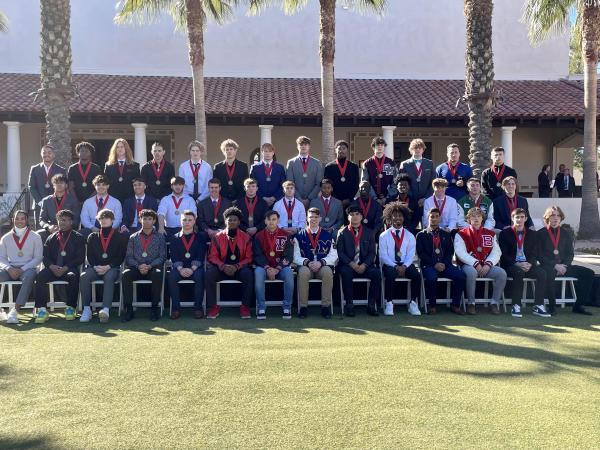 Most of the 50 Ed Doherty Medallion winners were in attendance during the award show Saturday at Scottsdale Resort at McCormick Ranch. (Photo by Jose Garcia/azpreps365.com)
Grand Canyon State Gridiron press release
Devon Dampier of Saguaro High School Earns 2022 Ed Doherty Award
PHOENIX, Ariz. – DECEMBER 17, 2022 – At the Ed Doherty Award Luncheon today, the Grand Canyon State Gridiron Club (GCSGC) announced that senior quarterback Devon Dampier of Saguaro High School in Scottsdale is named the recipient of the 2022 Ed Doherty Award. Members of the GCSGC Ed Doherty Award Selection Committee chose Dampier based on his outstanding performance throughout the 2022 season. Fifty-nine athletes were nominated for the award, which is the highest performance honor that an Arizona high school football player can earn.
Dampier's speech praised his family, teammates, coaches, the AIA, and even competing schools for his success. He was named on GCSGC's 71-player Week 3 Watch List™ released on September 6, 2022. Dampier returned to lead the Sabercats' defense of their 2021 Open title championship after becoming the full-time starter during last season's playoffs. A true dual threat as QB, Devon accounted for over 3,700yds of total offense, passing for 2,411yds and 21TDs, and rushing for 1,311yds and 12TDs as Saguaro grinded through a gauntlet schedule and earned a spot in the Open playoffs. He also handled punting duties, averaging 42yds per punt. Dampier's efforts delivered upset wins over Hamilton and Liberty, before falling 28-21 to Basha in the Open final to finish 9-4. He is committed to continue his football career at University of New Mexico.
In addition to Dampier, the top six finalists for the Ed Doherty Award included the following:
Navi Bruzon – Jr. QB – Liberty
As a junior, Bruzon led the Lions to an undefeated regular season and the #1 overall seed in the Open division playoffs. He completed over 70% of his passes for 3,041yds and 33TDs, and added another 409yds rushing and 6TDs over 12 games. The only blemish on a spectacular season was a one-point loss in Open semifinals to Saguaro, ending Liberty's year with a 12-1 record.
Adam Damante – Sr. QB – ALA Gilbert North
Damante had one of the most prolific passing seasons in Arizona's history, completing 304 of 439 passes for 4,769yds and 53 TDs, while adding another 545yds rushing and 7 TDs rushing. He led the Warriors to a 12-2 record and won the 4A championship over Snowflake. He finished his prep career with 8,772yds passing and 109 TDs, and will play for the NAU Lumberjacks next season.
Jamar Malone II – Soph. QB – Higley
Only a sophomore, Malone played like a seasoned veteran for the Knights this season passing for 4,017yds and 44 TDs, adding another 937yds and 12TDs. He helped the Knights beat rival Williams Field for the first time in school history and helped bring the school its first state championship with a win over Cactus in the 5A title game. The future is bright at Higley with Malone at the helm for two more seasons.
Duce Robinson – Sr. TE – Pinnacle
Robinson entered the season as the #1 recruit in the state and he lived up to the expectations with a historic season. Even when opponents schemed to stop him, Duce hauled in 84 catches for a 6A and school record 1,644yds and 14TDs, leading the Pioneers all the way to the 6A final. While his college choice is currently undecided, Robinson's impressive gridiron career ends with 175 catches for 3,036yds and 24TDs.
Demond Williams – Jr. QB – Basha
Williams was determined to erase the pain of last season's early exit from the Open playoffs and the junior QB delivered for the Bears all season long. He passed for 2,339yds and 23TDs, while also delivering 764yds on the ground and 5TDs. The Bears entered the Open playoffs as the #2 seed and with Williams at the controls, the Bears got consecutive wins over ALA Queen Creek, Chandler and defending champ Saguaro to win their first title in school history.
To learn more about the Grand Canyon State Gridiron Club and previous Ed Doherty Award winners, visit http://www.gcsgridiron.com/.
About the Ed Doherty Award
For 36 years, the Ed Doherty Award has been the State of Arizona's highest individual high school football honor and is awarded annually to the state's most outstanding high school football player by the Grand Canyon State Gridiron Club. The Ed Doherty Award recognizes the player whose performance best exhibits the pursuit of excellence with integrity. The winner of the award epitomizes great ability combined with diligence, perseverance, and hard work. In addition to on-field performance, the Ed Doherty Award recognizes the well-rounded accomplishments of community involvement, school pride, and academics.
Programs supported through funds generated by the Ed Doherty Award Luncheon include the annual Ed Doherty Award Luncheon are focused on community building programs, ONE TEAM™ Academic Performance Program, heat exertional illness training and emergency protocols, equipment fitting certifications for high school support staff, and many highly specialized programs designed to create and maintain the physical and mental well-being of high school student athletes in Arizona.
About the Grand Canyon State Gridiron Club
The Grand Canyon State Gridiron Club is the steward of the Ed Doherty Award and is the most meaningful advocate of high school football in the State of Arizona. The mission of the Grand Canyon State Gridiron Club is to represent Arizona amateur athletics by bringing national attention to the extraordinary qualities of our young people and serve in the pursuit of athletic achievement, academic advancement and greater social affinity.