Parker's illustrious coaching career and how his legacy lives on at Mountain View
December 26, 2022 by Kyle McCartney, Arizona State University
---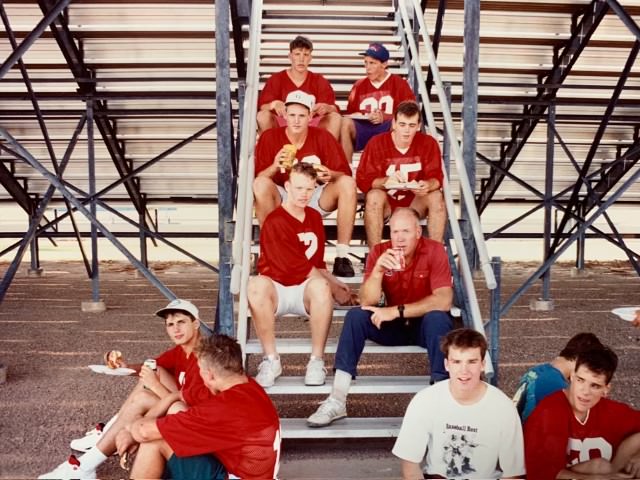 Kyle McCartney is an ASU student journalist assigned to cover Mountain View High School.
Jesse Parker began coaching at Mountain View in 1976, the year the school opened. He brought the Toros a state championship in 1978, and then three more before he left the school in 1994. Parker left an impact on every player he coached, and his mark on the Mountain View program has not been forgotten.
Parker passed away in 2017 at age 77. But with the amount of players and coaches he has interacted with, he is far from forgotten. He is remembered for his tough style, discipline and willingness to push players past their limits. His vision was more than just winning football games, though, as his biggest passion was molding football players into strong men.
"Don't get me wrong, football was important," said Roger Schenks, who played for Parker in 1990. "But being good men, behaving correctly and building mental toughness were preached also, and those are still things I use today."
Parker bounced around Arizona, and even spent time in Texas, but wherever he went, his calling card was his ability to turn programs around. He returned to Arizona in 1999 to coach at Gilbert High School, where he brought a team that had not had much success eight playoff appearances in a 10-year span.
The players that played for Parker all have their own stories about him and his greatness, but his effects spread to more than just the players. He served as a great example of how to lead football teams to his coaches, and those who he coached alongside still carry and implement his styles and philosophies.
"I remember he used to have kids memorize these poems, and you wouldn't believe it but every kid would have it memorized," said Angel Paffumi, who coached with Parker for all 10 of his years at Gilbert. "One of them was: 'Life is not interested in the storms that you encounter. Did you bring them to ship?'"
It has been over a decade since Paffumi last coached with Parker, but his ability to remember the poems speaks volumes to the impact that Parker had on everyone he encountered. He recalled keeping a notebook of Parker's sayings, poems and drills.
After his stint under Parker, Paffumi took a head coaching job at Mesa Skyline High School after leaving Gilbert, where he, similar to Parker, turned a losing team into a winning team.
"In my 30 years as a coach, nobody I've been around got more of their kids than Coach Parker," Paffumi said. "He was able to take a kid to wherever they thought their perceived wall was, and he would push them past that. After he had done that, his teams thought they could win no matter what."
The difference Parker made was clear-cut, and almost all of the teams that he left experienced a downturn in games won. Camelback High School, Texarkana High School and Gilbert High School all saw notable downturns in the immediate seasons after Parker left. The only school that did not see such a downturn was the school that he was the first ever coach at: Mountain View High School.
After 1994, the year Parker left, Mountain View won state titles in 1996, 1997, 1999 and 2002. The program that he had built from the ground up continued to succeed despite Parker departing elsewhere. The culture he had built for so long was strong, and his style had become the new normal for Mountain View.
"You know, you grow up in that area, and from a young age you want to be a Toro," said Schenks. "He was truly the leader of that program."
The number of players that ended up coaching when they grew up, whether within the Mountain View program or not, speaks to the passion these players had for football, more specifically Toro football. Players on the team today still talk about being brought up as Toro fans and always wanting to play for the team.
Despite the Mountain View community remaining strong, the team has not been back to state contendance for 20 years. In 2019, they brought in former Mountain View quarterback and Parker prodigé Joe Germaine, who won a state title for Mountain View alongside Parker in 1994.
"I am very grateful to have played for one of the best coaches in high school football history," Germaine said. "I mean, the man retired with the most wins in Arizona state history."
Germaine's first coaching opportunity came at Queen Creek High School from 2010-2012. In just his second season there, Germaine led the Bulldogs to an undefeated season and state championship. Germaine turned the program around quickly, just like his old coach.
Though the early success has not been there with Mountain View like it was with Queen Creek, Germaine has witnessed and contributed to a complete change in the program. They now find themselves with an entirely new front office, and with that came the addition of an official booster club. The president of that booster club? Wayne Syrek, yet another one of Parker's former players.
"We believe in the foundation Jesse Parker created so much that we are still willing to be a part of it 30 years later," Syrek said. "Coach Parker changed my life. The things that I learned then are helping me be a better business owner, husband and father today."
One of Parker's most unique impacts on high school football was the establishment of the "Coach Jesse Parker Legacy Foundation." The foundation gives out awards, donates to local teams and helps foster a more positive coach to player relationship.
The website for the foundation states that its mission is "to recognize coaches and educators who teach more than the classroom subject or coach the sport to inspire their students and athletes with life-long skills helping to establish a foundation of character to carry him or her into the future."
Every year the award is given to the coach that exemplifies these values the best. The award has been given out over a dozen times, and it comes along with a $1,000 grant to the school's athletic program.
The death of Parker was big news for the Mountain View community. A memorial service was held in the Mountain View High School auditorium a few days after the news of his passing, where students, parents, families and former players gathered to honor and mourn the loss of the beloved coach after he lost his long battle with cancer.
Parker's philosophies are kept alive by the foundation, former players turned coaches, and everyone who was close to Parker. This philosophy earned him 309 wins by the time of his retirement. Only seven Arizona prep coaches have passed the 300 mark.
Parker's accomplishments on and off the field cannot be understated. His players remember him for the way he inspired a community to rally behind a football team and created something special. The players that play today are reminded of that every time they step on their home turf: Jesse Parker Field.