Desert Edge caps 2022 in style
December 30, 2022 by Jose Garcia, AZPreps365
---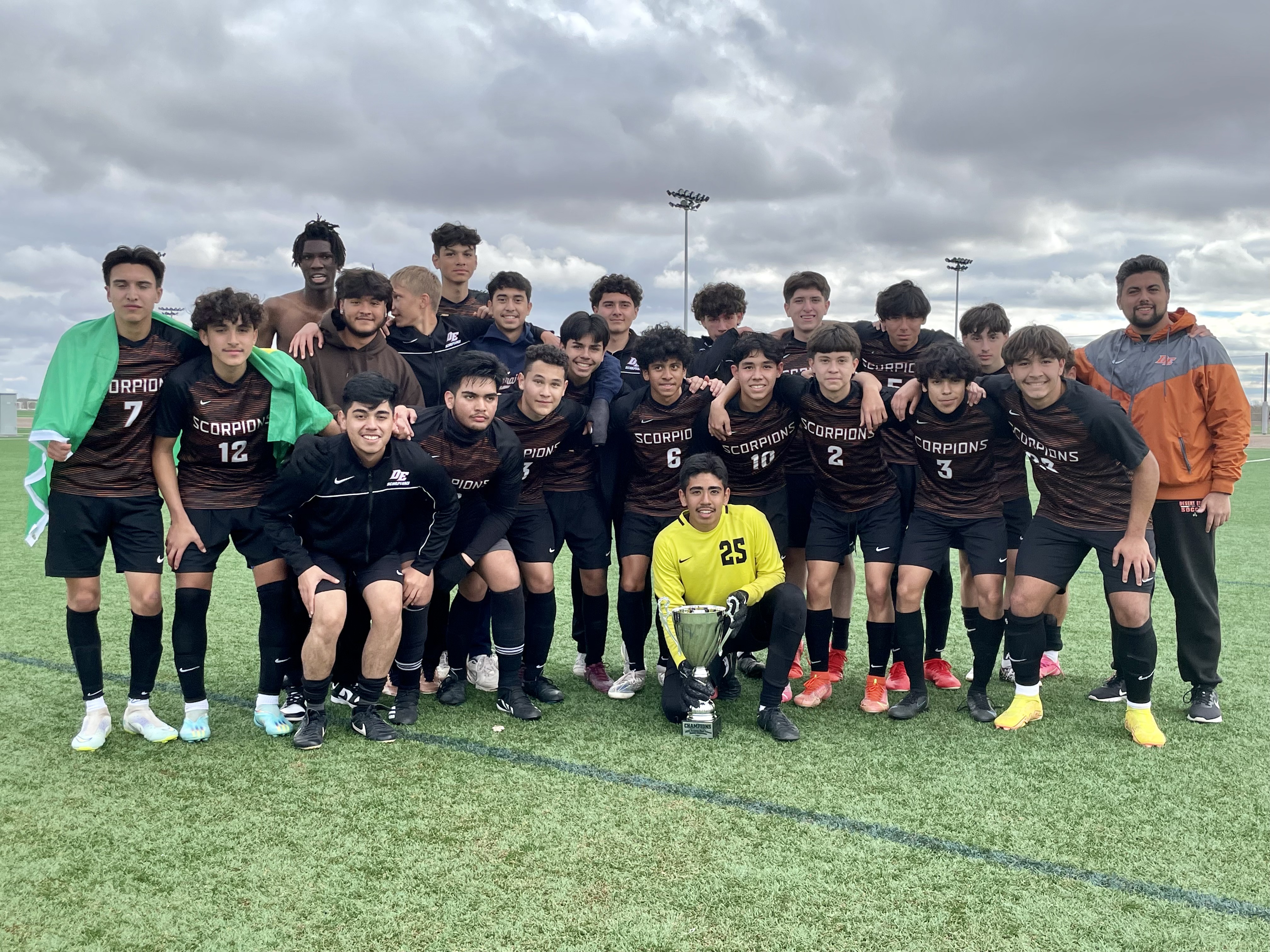 Desert Edge will head into the new year with a lot of momentum.
Credit its goalkeeper, Martin Alonso, for ending 2022 on a high note.
That's because the first-year starter blocked two shootout penalties to clinch the Gold Division championship of the Arizona Soccer Showcase. After Alonso blocked Arizona College Prep's fifth PK attempt at Bell Bank Park, Alonso and his Desert Edge teammates launched their New Year's Eve celebration a day early after winning the shoutout 4-3.
Friday's Gold Division title match saved its best for last, as it took 71 minutes for somebody to score first. Don't let Gabriel Afrigana's long frame and back line duties fool you.
The 6-feet-5 player can also dribble forward. Once the Division II recruit broke away from two defenders, Afrigana connected with CJ Bennett with a long, accurate pass that bounced once before Bennett put it away.
About four minutes later, Desert Edge seemed in control after an ACP player received a red card. But ACP also has a tall and talented defender, captain Murad Alhassen, as well as a veteran coach, Jeff Perry, who's experienced tense, down-a-man moments before.
With 40 seconds left in regulation, ACP struck to awaken its fans and chances of winning. A long free kick from ACP's goalkeeper wound up in the air again near where Alhassen was positioned.
Alhassen then headed in the tying goal. In the shoutout, Desert Edge felt somewhat demoralized once again after missing its first PK.
But the team didn't miss again, and Alonso came through after thwarting ACP's final two PK attempts.
"It feels good to be winning the championship," Alonso said. "I felt like I was my team's last hope, and I did it."
Desert Edge also reached the final of a division last year in one of the premier in-state regular season tournaments, the AZ Soccer Showcase.
But the team faltered in that match. This time it won probably its program's biggest soccer tournament to date.
Desert Edge will head to the second half of its regular season with a 9-2 record and hopes of winning the program's first playoff game. In its region, Desert Edge will still have to likely get by the favorite, 13-0 Verrado, which also won an Arizona Showcase division after defeating Coronado 4-1.
Desert Edge is under the direction of second-year coach Adam Zelmanowicz. The 30 year old started coaching just five years ago and guided Desert Edge to the playoffs last year.
He dedicated Friday's championship victory to his father, Harvey, a Vietnam War veteran, who passed away in April.
"I thought the team fought really hard today," Zelmanowicz said. "I couldn't have asked for anything more."
Desert Edge and Verrado weren't the only Arizona teams that won a division at the AZ Soccer Showcase also.
The Notre Dame girls also took home a big trophy.