North Canyon triumphs over Central in 10-goal thriller
January 13, 2023 by Will Scott, Arizona State University
---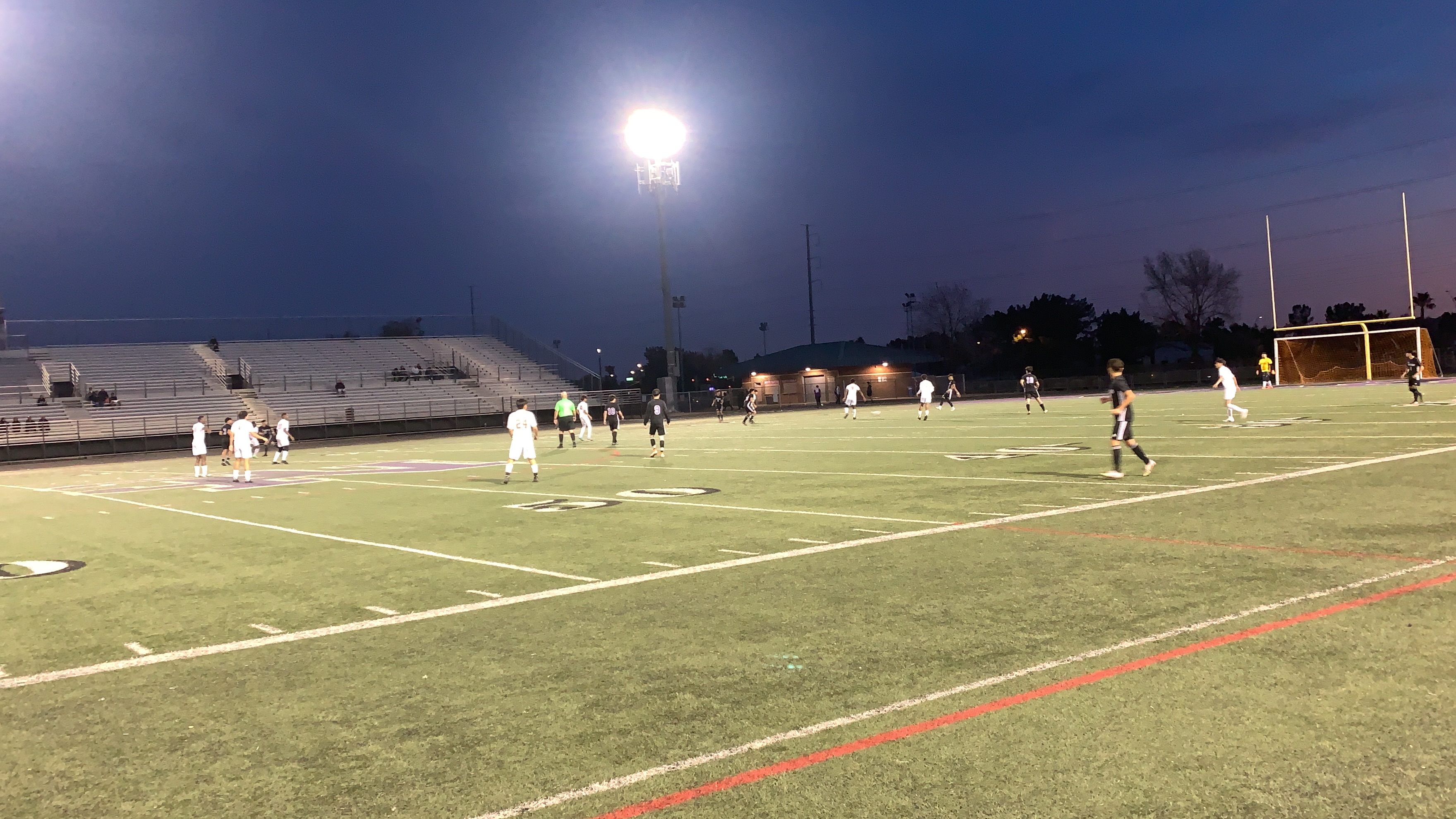 William P. Scott is an ASU Cronkite School of Journalism student assigned to cover Central High School for AZPreps365.com
No. 9 North Canyon boys soccer team defeated No. 24 Central, 6-4, in extra time in the first regional match of the season on Thursday, powered by four goals by senior Alexis Gutierrez in front of a jubilant home crowd.
Gutierrez scored a vital penalty shot in the second minute of extra time to give the Rattlers a 4-3 lead, despite attempts by the rowdy away support and the goalkeeper Christopher Gonzalez to put him off.
"It was all calm, all focused," Gutierrez said. "The keeper was talking to me, he thought he was gonna get in my head, but I got in his. I just buried it."
Central had done well to stay in the game, and managed to come back from a 3-1 deficit to force extra time.
Central started brightly, but faded as the first half went on, and eventually conceded in the 36th minute. Gutierrez was set free after a scramble on the edge of the box and finished comfortably in the bottom corner.
Central's Ismail Foza and Balter Alfredo gave impassioned speeches at halftime, but it was more of the same in the second half.
North Canyon scored six minutes into the half, after the second ball from a free kick found Aaron Gordian on the edge of the box, who finished well into the bottom right corner.
Central was without Alfredo during the free kick due to a yellow card, and his return to the game energized Central, which seemed to flip a switch.
Central's main tactic was to get the ball to Foza, who was causing the North Canyon center-backs all sorts of problems, despite several players marking him.
"All the games, when they see me running and scoring, they're gonna put three or four people on me," Foza said. "They can't guard me anyways. I'm still faster than them."
After several close chances, their plan eventually bore fruit in the 55th minute. Foza pressured a North Canyon defender into giving up the ball, his initial shot was saved, however the ball was recycled by Victor Zelayandia, and Alfredo found Foza in the box, who finished smartly with a backheel.
This sent the Central crowd into the raptures, and buoyed by the support, Central started to create chance after chance. Central center-backs Elias Byumbuka and Juan Hernandez were finding Foza with some excellent through-balls, and they were unfortunate not to score again.
By this point both teams had abandoned playing possession football through their midfield, and were hoofing it up to their forwards.
As the clock ticked away, Central had to commit more and more players forward, and Gutierrez took advantage, bursting down the left wing, cutting inside, and finishing well from the edge of the box. Gutierrez had identified Central's weakness and took advantage.
"Props to them. Their whole team was stacked, but their right side was definitely their weak link," Gutierrez said. "Every loose ball I tried to get an advantage and the goals came luckily."
Central was down 3-1 with only 10 minutes left.
They struck back in the 75th minute. Bilewane Sungura won the second ball after a free-kick, found Alfredo, who passed it across the face of the goal for Foza to bundle in after a flick-on by Hernandez.
Central's equalizer was certainly controversial. With one minute left, Rajabu Raymond won an aerial challenge, leaving the North Canyon player down holding his head. The referee continued play, and Raymond found Foza who crossed it in for Byumbuka to finish from close range, making it 3-3 and forcing extra time.
Tempers were fraying, and players were cautioned by the referee for arguing.
Extra time started well for North Canyon, with Gutierrez completing his hat trick from the penalty spot.
Central was unable to exert much control over the game, and the Rattlers extended their lead from a corner in the 89th minute, with Martin Castanada finishing.
Central replied after a short halftime break through Foza, after an exquisite ball from Byumbuka, who found him in miles of space in the box. This completed Foza's hat trick, who leads the team in scoring and had another effective game.
"I did pretty good," Foza said. "I missed a couple of goals I was supposed to score, but I did what I could. I feel proud of myself, and proud of the team."
Central pushed for another equalizer, but North Canyon was able to slow the game down and prevent any more moments of magic.
Gutierrez ended Central resistance with three minutes left after another coolly taken finish from the edge of the box, scoring his fourth goal and winning the game for North Canyon, 6-4.
This was Gutierrez's first game back after an injury layoff and he put on a show.
"It's been a while since I played. I've been out two games, this was my comeback game and I just wanted to win," Gutierrez said.
Central played well in patches, recording 19 shots to North Canyon's 13, but there was a lack of consistency, which new coach Dylan Beasley attributed to the Christmas break.
"Usually winter break causes most players to get a little lackadaisical when it comes to training. They have to travel for holiday and go see their family so they miss out on training," Beasley said. "So it's just getting back into the motions of it."
Central lacked intensity at times, something that frustrated Alfredo.
"I am happy but not satisfied," Alfredo said. "We should've won the game playing differently and raising our level. The break we had for Christmas affected us and we need to practice more."
Central have lost two games in a row after winning three in a row before the break, and their season hinges on them rediscovering their form.
"We can't lose two games in a row and then lose next week," Foza said. "We have to win these two games coming up."
Central (3-2) will play Metro Tech (4-2-1) at 6 p.m Tuesday.
North Canyon (5-1-1) will play at Betty H.Fairfax (0-5) at 6 p.m Tuesday.