Baker, Haagsma, Hysong named NFHS National Coaches of the Year for 2021-22
January 17, 2023 by Seth Polansky, AZPreps365
---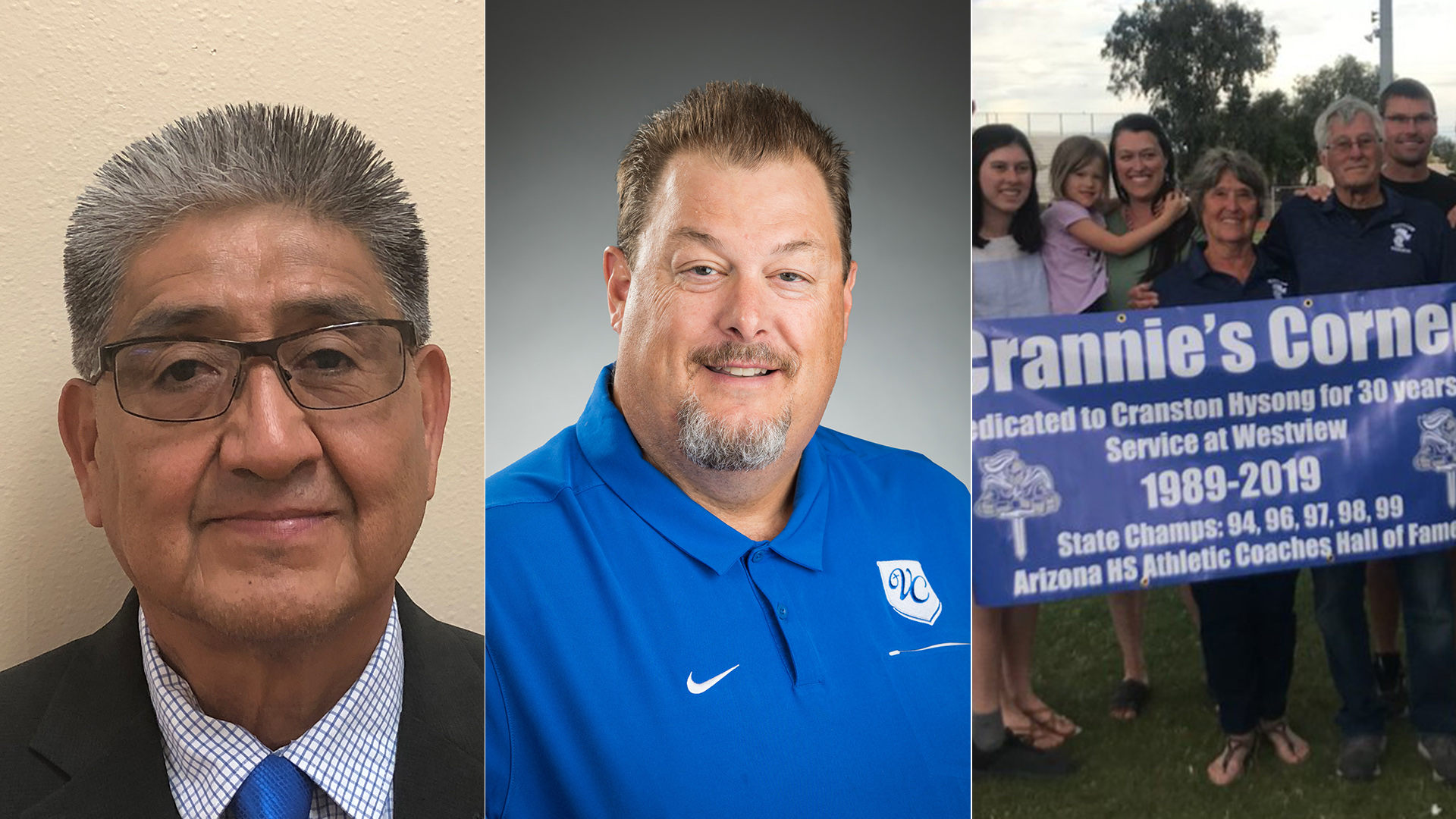 INDIANAPOLIS, IN (January 17, 2023)— Twenty-three high school coaches from across the country have been selected as 2021-22 National Coaches of the Year by the National Federation of State High School Associations (NFHS) Coaches Association.
Three coaches from Arizona – Rickey Baker of Hopi High School (boys cross country), Greg Haagsma of Valley Christian High School (boys basketball), and Sue Hysong of Westview High School (girls track & field) – were three of the national winners.
Baker has become one of the most successful boys cross country coaches in the nation since his arrival at Hopi High School in Keams Canyon in 1987. Three years later, Baker led Hopi to its first state boys cross country championship, and his teams didn't lose another state title until 2017 – a streak of 27 consecutive team championships. The 27 consecutive state cross country titles is a national record, and Baker's 1999 team scored a perfect 15, which means Hopi runners finished 1-2-3-4-5. Perhaps most amazing about the streak is that Hopi continued to win despite moving into different classifications over the years. Hopi won 14 1A/2A titles (1990-2000, 2007-09), six consecutive 3A titles (2001-2006) and seven straight Div. IV titles (2010-16). He has also coached Hopi's boys basketball team for 18 years, with a 2A state title in 1997, and the girls and boys track and field teams for the past 10 years. Baker was a 2021 inductee into the NFHS National High School Hall of Fame.
Haagsma has led the Valley Christian High School boys basketball team to the AIA state tournament 20 times since the 2001 season. He has coached the Chandler school to seven AIA state championships, including last year's Class 3A team that won the title with a 27-3 record. Haagsma has a 590-183 record in 25 years as high school boys basketball coach, and he has received numerous Coach of the Year honors. He also has served as the school's athletic director since 2013 and was selected 3A Conference Athletic Director of the Year in 2020-21. He also coached girls basketball for six years and led his teams to five state tournament appearances, and has been co-owner of Valley Christian sports camps since 1996. Haagsma believes that "educational athletics play an important role in the overall development of each student at the high school level. The experiences are part of the process by which our young men and women are being taught character qualities and are being molded into the adults that we desire they become."
"It is within athletics that [students] may learn how to function with others, to do their part and contribute to the whole," said Hysong. During her 40-year career, Hysong has coached 22 individual state champions and five relay team state champions. In 2011, Hysong was the first female inducted into the Arizona Track Coaches Hall of Fame, and she also has been initiated into the Tolleson District High School Coaches Hall of Fame. She was selected as Region Coach of the Year and NFHS Officials Association Boys Track & Field Official of the Year for Arizona in 2012. Hysong views athletic activity as an "additional classroom" to allow young people an opportunity to explore talents and meet individual goals.
The NFHS, which has been recognizing coaches through an awards program since 1982, honors coaches in the top 10 girls sports and top 10 boys sports (by participation numbers), and in two "other" sports – one for boys and one for girls – that are not included in the top 10 listings. The NFHS also recognizes a spirit coach as a separate award category. Winners of NFHS awards must be active coaches during the year for which they receive their award. This year's awards recognize coaches for the 2021-22 school year.
Other recipients of the 2021-22 national awards for boys sports are: Billy Bowen, baseball, Durant (Oklahoma) Silo High School; Greg Grant, 11-player football, Heppner (Oregon) High School; Brendan Patch, golf, Huntington Beach (California) Edison High School; Michael Hagerty, soccer, Yarmouth (Maine) High School; Richard Blanc, swimming and diving, Rancho Santa Margarita (California) Santa Margarita Catholic High School; Josh Munro, tennis, Kalispell (Montana) Glacier High School; Benny Mitchell, track and field, Taos (New Mexico) High School; and Jeffrey Matczak, wrestling, Kaukauna (Wisconsin) High School.
Other recipients of the 2021-22 NFHS national awards for girls sports are: Mary Klinger, basketball, Somerset (New Jersey) Rutgers Preparatory School; Jill Evers, cross country, Kent City (Michigan) High School; Frank Gallant, golf, Springfield (Missouri) Catholic High School; Tim Godby, lacrosse, Milton (Georgia) High School; William Pfeifer Jr., soccer, Moon Township (Pennsylvania) Moon Area High School; Mark Watt, softball, Lincoln (Nebraska) Southwest High School; Michael Rose, swimming and diving, Brookfield (Wisconsin) East High School; Kirsten Ruchaber, tennis, Portland (Oregon) Jesuit High School; and Iona Stookey, volleyball, Worden (Montana) Huntley Project High School.
The recipient of the National Coach of the Year Award for spirit is Debbie Kishpaugh of Pendleton (Oregon) High School. Dan Shine, an ice hockey coach at Arlington (Massachusetts) Catholic High School, was chosen in the "other" category for boys sports, and Terri Simonetti-Frost, a field hockey coach at Thomas Worthington High School in Worthington, Ohio, was chosen in the "other" category for girls sports.
The NFHS receives nominations from its member state associations, which often works with the state coaches' association in its respective state. The state association then contacts the potential state award recipients to complete a coach profile form that requests information regarding the coach's record, membership in and affiliation with coaching and other professional organizations, involvement with other school and community activities and programs, and coaching philosophy. To be approved as an award recipient and considered for sectional and national coach of the year consideration, this profile form must be completed by the coach or designee and then approved by the executive director (or designee) of the state athletic/activities association.
In addition to the Arizona trio earning national honors, nine other AIA coaches took home Section 7 Coach of the Year. Winning are: Casey O'Brien (Sunnyside boys soccer), Kelsey Higgins (Chaparral Spiritline-dance), Brock Farrel (Highland football), Bill Lang (Ironwood Ridge girls volleyball), David Mehlhorn (Valley Christian boys track & field), Kim Dever-Straub (Desert Mountain girls tennis), Brandon Southall (Northwest Christian girls cross country), Bryan Smith (Moon Valley wrestling), and Doug Honkamp (Horizon girls golf).
The NFHS is divided into eight geographical sections. They are as follows: Section 1 – Northeast (CT, ME, MA, NH, NJ, NY, RI, VT); Section 2 – Mideast (DE, DC, KY, MD, OH, PA, VA, WV); Section 3 – South (AL, FL, GA, LA, MS, NC, SC, TN); Section 4 – Central (IL, IN, IA, MI, WI); Section 5 – Midwest (KS, MN, MO, NE, ND, SD); Section 6 – Southwest (AR, CO, NM, OK, TX); Section 7 – West (AZ, CA, HI, NV, UT); and Section 8 – Northwest (AK, ID, MT, OR, WA, WY).
The NFHS Coaches Association has an advisory committee composed of a chair and eight sectional representatives. The sectional committee representatives evaluate the state award recipients from the states in their respective sections and select the best candidates for the sectional award in each sport category. The NFHS Coaches Association Advisory Committee then considers the sectional candidates in each sport, ranks them according to a point system, and determines a national winner for each of the 20 sport categories, the spirit category and two "other" categories.
A total of 870 coaches will be recognized this year with state, sectional and national awards.
State winners for Arizona include: Kete Meskill (Perry girls soccer), Desiree Houg (Perry Spiritline-cheer), Bobbi Yoder (Prescott badminton/other girls sports), John Waltz (Perry boys tennis), Andrew Reed (Rock Point girls basketball), and Tony Ramseyer (Mountain Pointe boys golf).
###
About the National Federation of State High School Associations (NFHS)
The NFHS, based in Indianapolis, Indiana, is the national leadership organization for high school sports and performing arts activities. Since 1920, the NFHS has led the development of education-based interscholastic sports and performing arts activities that help students succeed in their lives. The NFHS sets direction for the future by building awareness and support, improving the participation experience, establishing consistent standards and rules for competition, and helping those who oversee high school sports and activities. The NFHS writes playing rules for 17 sports for boys and girls at the high school level. Through its 50 member state associations and the District of Columbia, the NFHS reaches more than 19,000 high schools and 11 million participants in high school activity programs, including more than 7.6 million in high school sports. As the recognized national authority on interscholastic activity programs, the NFHS conducts national meetings; sanctions interstate events; offers online publications and services for high school coaches and officials; sponsors professional organizations for high school coaches, officials, speech and debate coaches, and music adjudicators; serves as the national source for interscholastic coach training; and serves as a national information resource of interscholastic athletics and activities. For more information, visit the NFHS website at www.nfhs.org.
MEDIA CONTACTS:
Bruce Howard, 317-972-6900
Director of Publications and Communications
National Federation of State High School Associations
bhoward@nfhs.org
Chris Boone, 317-972-6900
Assistant Director of Publications and Communications
National Federation of State High School Associations
cboone@nfhs.org
Nate Perry, 317-972-6900
Manager of Media Relations
National Federation of State High School Associations
nperry@nfhs.org
Olivia Jennings, 317-972-6900
Coordinator of Social Media and Communications
National Federation of State High School Associations
ojennings@nfhs.org