2023 football conferences set; regions next
January 18, 2023 by Jose Garcia, AZPreps365
---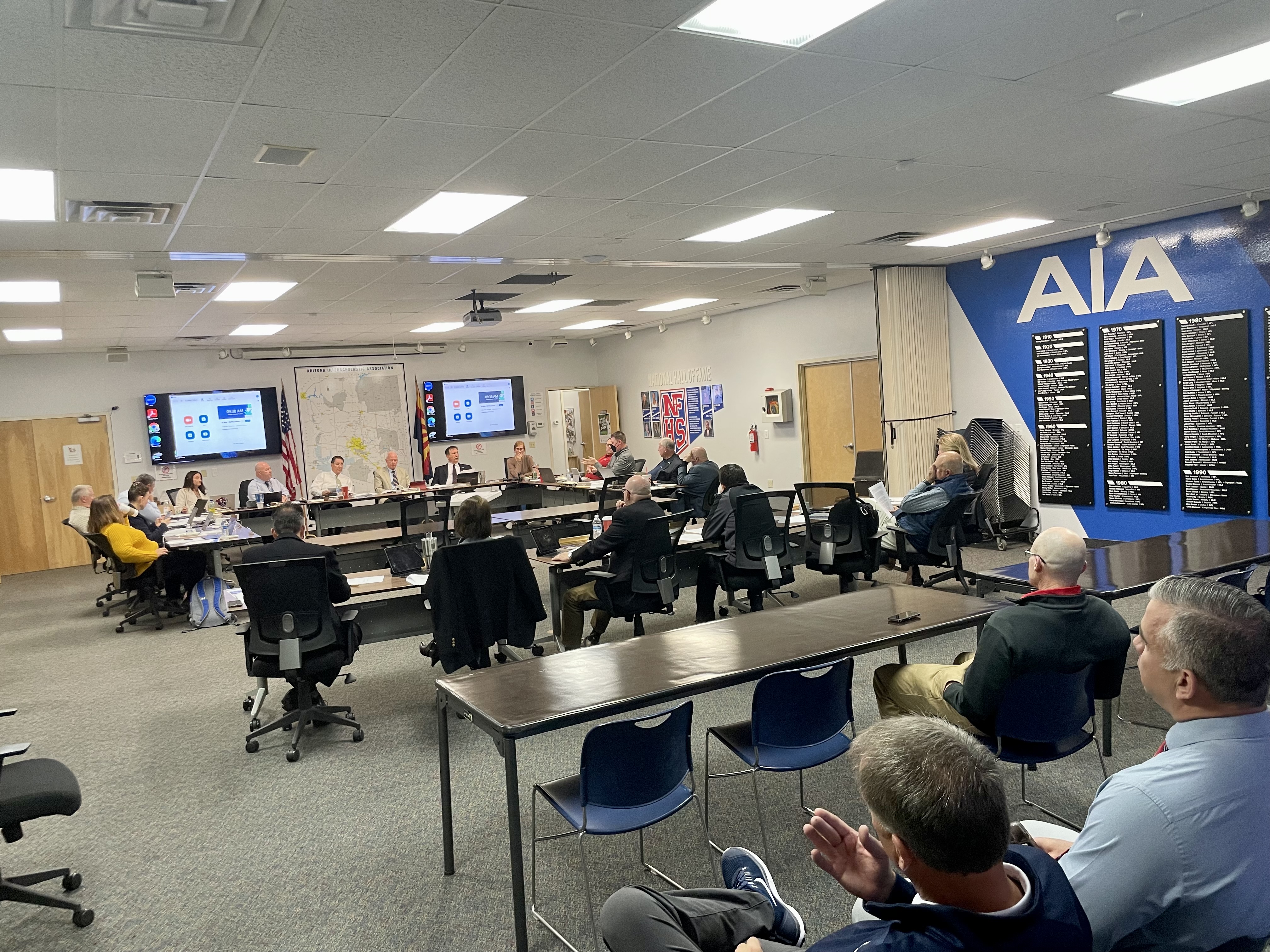 The conference placements for the 2023 football season were finalized during the Arizona Interscholastic Association's executive board's monthly meeting.
Up next in the annual football reclassification process is placing teams in regions. The deadline for the conferences to post their initial region alignments is Jan. 24.
Teams, if they chose to, can then appeal their initial region placement. The board approved seven of the 24 conference appeals that were presented Tuesday at the AIA's Phoenix office.
Conference appeals approved
Benjamin Franklin (4A to 3A)
Benson (3A to 2A)
North (6A to 5A)
Palo Verde (3A to 2A)
Phoenix Christian (3A to 2A)
Sahuarita (3A to 4A)
Trevor Browne (6A to 5A)
Appeals denied
Agua Fria (5A to 4A)
Barry Goldwater (5A to 4A)
American Leadership Academy Queen Creek (6A to 5A)
Desert Sunrise (4A to 3A)
Ganado (3A to 2A)
Glendale Prep (2A to 1A)
Ironwood Ridge (5A to 4A)
Maricopa (5A to 4A)
Monument Valley (3A to 2A)
Morenci (3A to 2A)
Northwest Christian (4A to 3A)
Page (3A to 2A)
Rio Rico (4A to 3A)
Seton Catholic (4A to 3A)
Wickenburg (3A to 2A)
Window Rock (3A to 2A)
Winslow (3A to 2A)
Transfer recommendations headed for Legislative Council vote
The board approved three transfer recommendations for a Legislative Council vote.
The first one would allow students who transfer for athletic purposes to miss only their teams' first regular season tournament. The second recommendation targets sub-varsity athletes who transfer to compete on varsity with their new schools.
If approved, they will be allowed to compete during the regular season but not in the postseason. Lastly, the AIA wants to close a loophole that saw student athletes transfer during their season of sport and play immediately at other schools.
Those athletes were mostly sophomores and juniors who didn't try out for their teams as freshmen, AIA assistant executive director Joe Paddock said. The Legislative Council meeting is scheduled for March 3 at the AIA's office.
School violations
The following are rule violations schools self-reported and punishments the AIA recommended and board approved.
An advisement is a word of caution. A warning places a school in jeopardy of being placed on probation if another violation of any rule or regulation is committed.
A school will not be eligible for the Overall Excellence Award during the warning period. Schools placed on probation can't participate in the postseason and receive any award for achievement in that sport.
They are also not eligible for the Overall Excellence Award during the one year probation period. Schools can appeal their probation.
Probation for:
Cross country and track field programs of Mingus. A runner who wasn't cleared to compete did so in a Mingus jersey during the cross country championships. According to Mingus' rule violation report, the runner's parents 'took it upon themselves to have' their daughter compete without knowledge of the school's athletic director and coaches. As part of the school's corrective action, the school is keeping the student from competing only during the first portion of the upcoming track and field season.
Warning for:
Shadow Mountain girls basketball. The head coach was ejected prior to a game and kept an assistant from coaching the team, resulting in a forfeit for the team.
Horizon Honors boys soccer. Two players tried out without a valid physical on file.
Cactus girls soccer. Some players participated in JV and varsity games without Register My Athlete clearance.
Santa Cruz boys soccer. The coach refused to leave the field after receiving a straight red card.
Advisement for:
Yuma Catholic boys basketball. A JV player participated in all four quarters of a JV game and also three quarters of a varsity game.