Salpointe over Flowing Wells 5-1
January 24, 2023 by Andy Morales, AZPreps365
---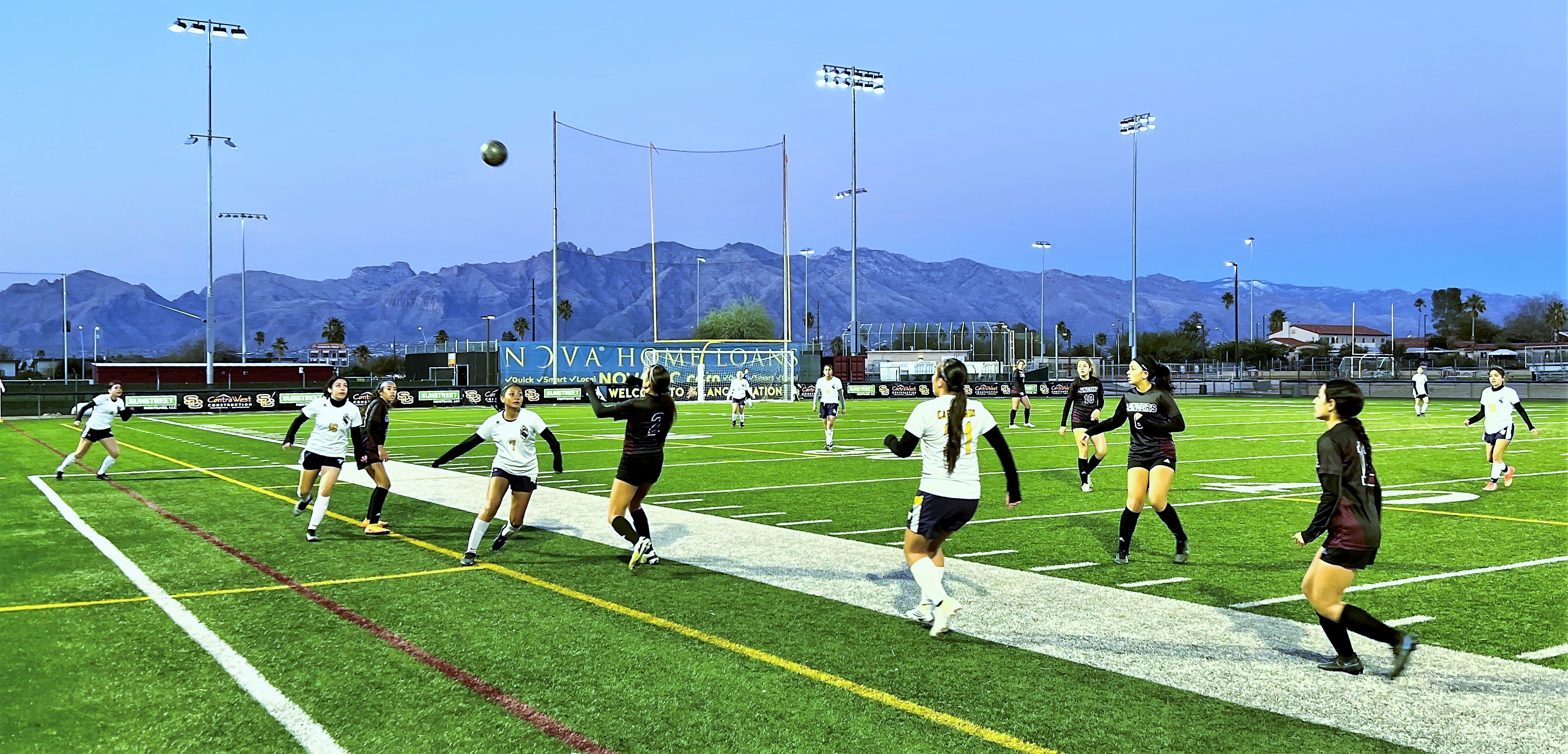 Salpointe improved to 5-1-1 after beating Flowing Wells 5-1 Tuesday night at home to open region play for the 4A Conference defending champion. The Lancers lost 10 seniors to graduation last year, with a handful of those players leaving with three state championships to their names (2019, 2021 and 2022). This season, the Lancers are currently ranked No. 5 in the 4A Conference with a little over one week left in the regular season.
No. 24 Flowing Wells fell to 3-5-1 on the year. The Caballeros have now lost three in a row and the team is in danger of missing the Play-In Tournament slated for Thursday, Feb. 9. Teams ranked No. 9 to 24 make up the field of the Play-In phase. Flowing Wells jumped out to a 1-0 lead on Salpointe on a goal from Ruby Garcia in the 5th minute but that was one of only two shots on goal the team would record on the night.
Salpointe came up with 29 shots and Kealia Nansen tied things up in the 14th minute on a pass back in after a corner kick. Mandy Tran scored of a of a direct kick from 40 yards out in the 25th minute and Odessa Barattieri scored one minute later for a 3-1 lead. Anjeli DesRosier placed a ball high and over the frontline and the keeper in the 37th for a 4-1 lead and Jayda Cormier hit Barattieri in the 47th to end the scoring.
Three of the top five ranked teams in the 4A Conference are from Southern Arizona with No. 1 Walden Grove (7-0) and No. 2 Sahuarita (8-1) joining No. 5 Salpointe. The big match of the week features No. 3 Prescott (7-0) hosting No. 4 Lee Williams (8-0) Thursday night. Lee Williams beat No. 6 Flagstaff (7-1) on Jan. 12.
Salpointe will put its high ranking on the line Wednesday night with 3A Conference power Sabino (7-1) coming in and Flowing Wells will host No. 8 Sahuaro (7-2) Thursday night.
The first round of the 4A Conference playoffs is set for Wednesday, Feb. 15.