No. 13 Dobson girls basketball host Open matchup, boys to host Queen Creek in 6A play-in
February 5, 2023 by Judah Brody, Arizona State University
---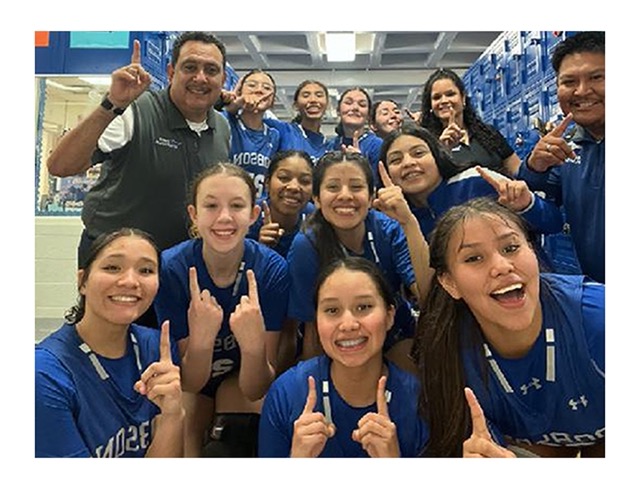 Rick McConnell, head coach of the Dobson varsity boys team, doesn't usually hear much crowd noise, because he's so focused on the court. When his team hosted North, the girls team changed that.
"All of a sudden we had this tremendous cheering group behind us and I figured it out. It was the girls team," McConnell said. "They knew how to cheer and what to say, and they were really good."
For weeks, the squads have been playing each other in a last-team standing water-spraying game and one day the girls waited for the boys to finish practice and got some of them out.
Senior Jashawn Kinney and his crew woke up at 6:30 a.m. in order to get them back.
"It didn't end up working though ... They made sure they were in the gym earlier than we were," Kinney said on Friday before both teams played Westwood. "So, tonight after they come back from their game, they might expect a couple of us trying to get 'em out."
No. 13 Girls to host No. 20 Notre Dame Prep in Open Tournament
Dobson girls basketball tipped off their season with a 57-6 victory over Copper Canyon and never looked back. They finished 15-2 in conference games and clinched the 6A Valley East title on Friday with a win over Westwood.
In the new AIA Open State Championship Tournament, teams in conferences 4A-6A will be placed in a tournament of 32 seeds. Dobson will play Notre Dame Preparatory at 7 p.m. on Tuesday, Feb. 7. If eliminated in the first two rounds of the open tournament, they will play in the 6A state tournament beginning Feb. 15.
"It provides great competition and also allows other teams a chance to make the postseason who would not ordinarily make it," girls head coach Henry Bribiescas wrote in an email.
The Mustangs arrived at this moment by pulverizing anyone who dare stand in the way of their quest to stack wins. Lopsided victories included margins of 85- and 57-points, leading to an average point differential of +24 against conference teams.
Mesa's Thursday loss to Westwood allowed Dobson to win the title outright with a better regional record (9-1) by beating Westwood on Friday. They split their two games against Mesa, who finished 8-2 regionally, which included a thrilling one-point Dobson victory on Jan. 7. Westwood, last year's 6A East Valley Champion, fell five spots short of entering the Open tourney with a respectable 10-6 conference record.
After their loss to Mesa, they bounced back to beat their next four opponents by a combined 111 points. Junior Ahdiyah Chee leads the team in points scored this season.
"She provides instant offense, stability and hits big shots when we need it most," wrote Bribiescas.
Last year Dobson beato Mesa in the first round of the 6A tournament, 43-35. Mesa enters the Open Tournament one seed back of Dobson at No. 14.
"Mesa and Dobson has become quite a rivalry in the past few years!" wrote Bribiescas. "Our games provide great entertainment for fans and always come down to a dramatic ending! I am not a fan of playing a regional team in the playoffs, especially in the first round as we already see each other twice!"
The only other blemishes on their otherwise spotless record came from mostly out-of-state schools in tournaments and Hamilton, who beat them 49-47 in a non-regional match.
No. 17 boys matched up with Queen Creek for 6A Tournament Bid
Dobson boys basketball ran the gauntlet of the 6A East Valley and will try to earn a ticket to the tournament via a play-in game for the second straight year. They finished 9-8 in conference and 3-7 in regional games.
They will play No. 26 Queen Creek on Tuesday, Feb. 14, at 7 p.m. at home. Even if they lose it is still possible for the Mustangs to get into the 6A state tournament if enough 6A teams make it past the second round of the open tournament.
Kinney wants redemption from last year's loss to Boulder Creek, 79-50, the senior's only taste of the playoffs.
"This time I get another shot at it. So that's pretty much been the goal of my team, to make the tournament, make a run and try to do something that hasn't been done here," Kinney explained.
The Mustangs won six consecutive non-regional games after going 2-2 in the Phoenix Coyote Classic to start their season. Including tournaments, they went 4-6 in games decided by less than eight points and 3-3 in games decided by three or fewer.
"Our team does a really good job of leaving whatever happens in a game there and looking onto the next team ... Even though there's those last-minute losses, we had control of what we wanted to do in those last few seconds. Some shots fall, some shots don't," Kinney said.
To close out tournament games Dobson's offense must complement their stellar defense better. McConnell admitted that his team is undersized relative to some of their opponents, which has led to a few defensive dogfights.
"Our kids have been tough-minded. I think they go into [games] understanding that they don't have a lot of margin for error. You know, you have to kind of take that underdog's role," McConnell said.
McConnell said his usual starters this year were senior Justin Begay, junior Anthony Bolton, senior Zayonte Bolton, junior Donovan Beard and Kinney. Zayonte Bolton led the team in rebounds and Beard led in points and assists with 370 and 55, respectively.
He added that junior Mason Sundberg has emerged off the bench as a smart playmaker who brings offensive firepower to the Mustangs. Other bench players have also changed the makeup of the team because "our kids can't sustain the 32 minutes of defensive pressure all the time."