Strong second half powers ALA Gilbert North to 62-55 win over Gilbert
February 8, 2023 by Brevan Branscum, Arizona State University
---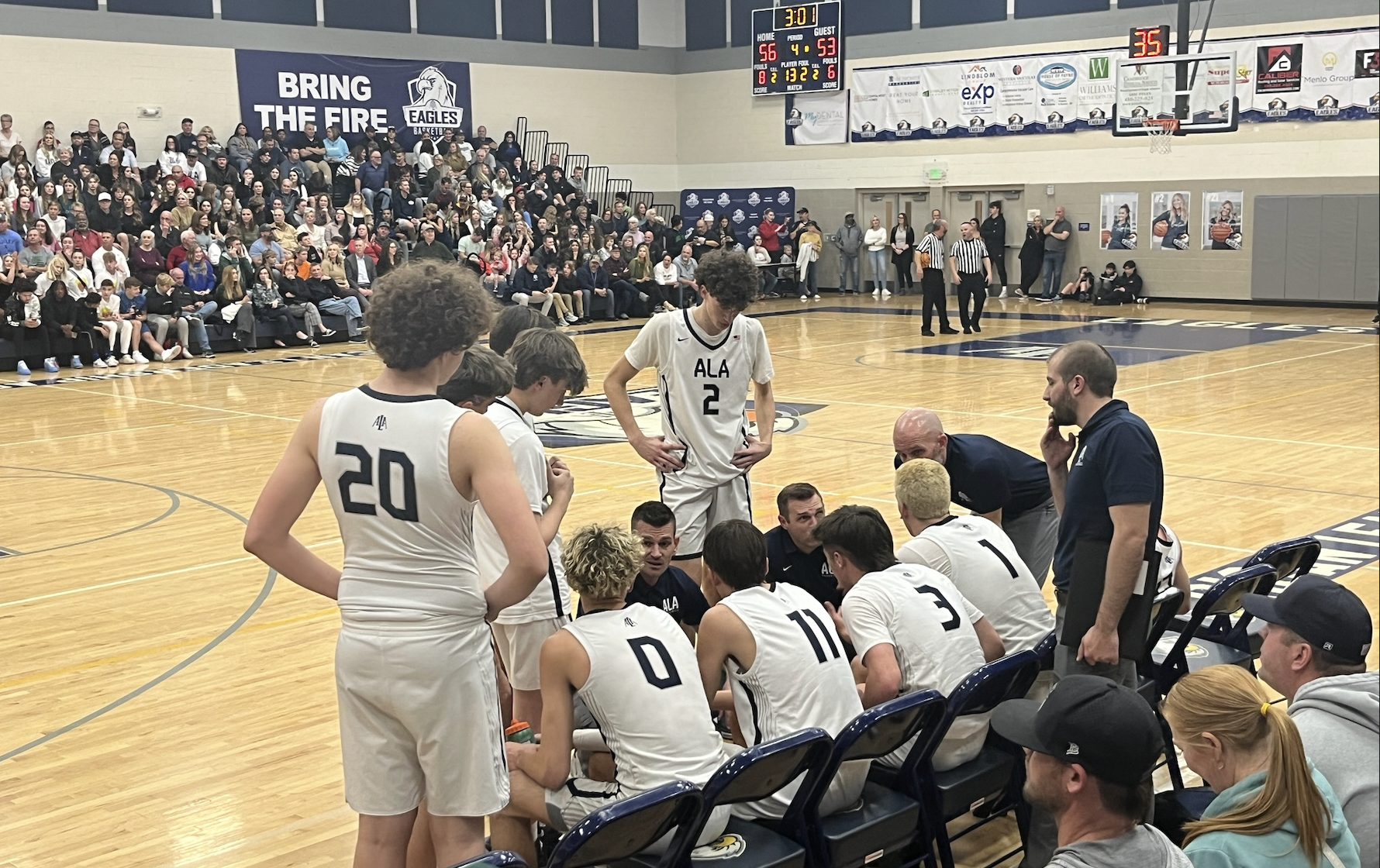 Brevan Branscum is an ASU Cronkite School of Journalism student assigned to cover ALA Gilbert North for AZPreps365.com
The massive crowd in attendance was dead silent as the No. 2 ranked team in the Open State Tournament was down eight at halftime with seemingly nothing going their way.
Two quarters later, that same crowd who was silenced again and again in the first half was storming the court, giving high fives to players and chanting goodbyes to the other team.
Their team was advancing.
ALA Gilbert North rode a big second half to beat crosstown rival Gilbert 62-55 Wednesday night and advance in the Open Tournament. Senior point guard McGuire Andrus led the way with 20 points.
It was Andrus' nine points in the third quarter that sparked a 16-5 run to give the Eagles their first lead since the very beginning of the game.
"We sat down and we said, 'who wants it?'" Andrus said of their halftime regroup. "And we wanted it more."
Andrus said they're "known as a second half team" and that their comeback started on defense, which led to easy looks on offense. Of course, Andrus catching fire helped out as well.
"I just shoot the ball and hope it goes in."
Elsewhere, Dylan Novak, Owen Bell and Brandon Phelps all pitched in with 13 points each. However, it was Phelps, who usually has a limited role, bringing the biggest spark of energy off the bench that pushed the team over the edge.
"I just contribute to what I can with the minutes I get, and I happened to get a lot of minutes today," Phelps said about his approach coming off the bench.
It's no fluke that Phelps got extra minutes tonight. His personal 7-0 run at the end of the third quarter and into the fourth gave the Eagles a six point lead that they didn't let go of the rest of the game.
One of the best players on their state championship winning football team, he brought a different type of energy to help the basketball team on their championship quest.
"I have this thing called football called 'Playoff Brandon,' and I guess I just turned on 'Playoff Brandon' for basketball."
Above all the key contributors on the court, it is head coach Dave Novak who is at the center of the team's energy. He even got a technical in the midst of the frustrating first half.
"These players are unbelievable," Dave said. "They stepped up when we needed them. McGuire Andrus is that guy, Dylan stepped up with some hard drives, it was awesome."
He was right in the middle of the post-game fan storm hyping up players and celebrating with fans.
After complimenting Gilbert's aggressive and hard-fought game, Dave credited the team's defense in the second half.
"We just play it smart as possible," the coach said about his defensive game plan. "We set up different defenses to make them think."
The Eagles' team defense with their 2-3 zone and strong individual defense made a big difference in the second half. They unofficially finished with 12 steals – five of them coming from Dylan – and five blocks.
Dylan hit a layup with a minute to go to push the lead to nine and effectively end the game. In a moment that can't be mere coincidence, he got a technical foul for his following celebration.
Like father, like son.
ALA Gilbert North will host No. 18 St. Mary's on Friday, Feb. 10 at 7 p.m. If they win, they will move on to play again next week. The loser will be moved to the 4A State Tournament.