Pinnacle defeats Dobson 77-71 in thriller
February 16, 2023 by Judah Brody, Arizona State University
---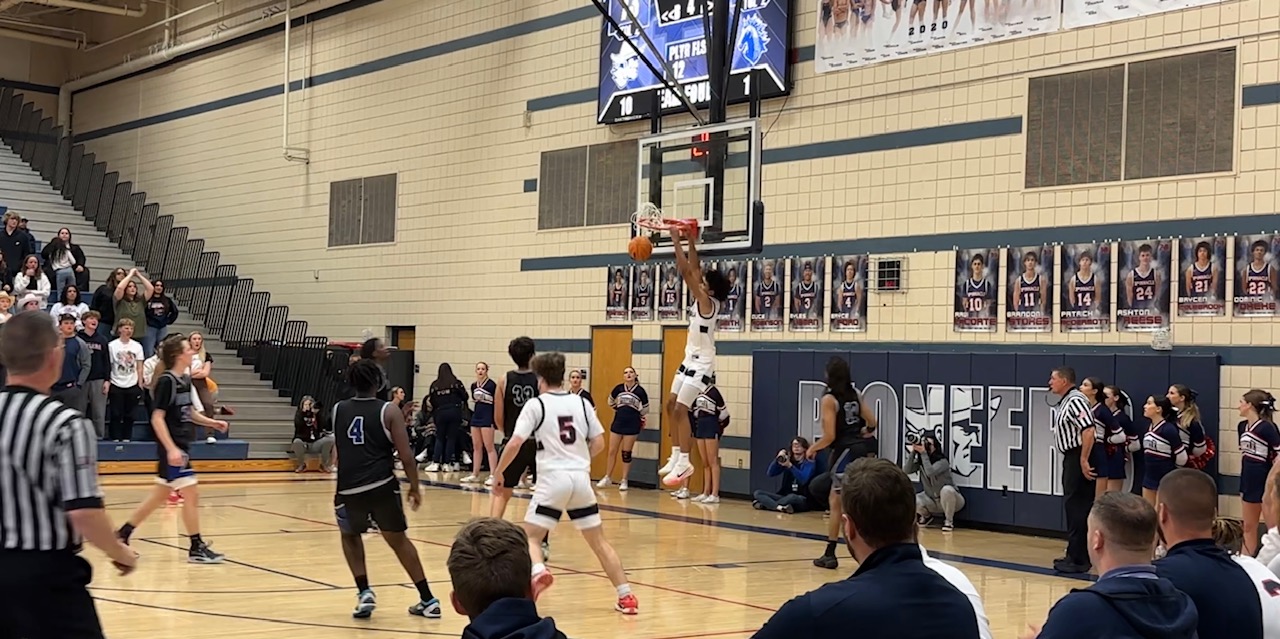 Judah Brody is an ASU Cronkite School of Journalism student assigned to cover Dobson High School for AZPreps365.com.
No. 4 Pinnacle never let No. 13 Dobson take the lead in the 6A tournament first-round matchup and won 77-71 on Thursday at Pinnacle High.
The Mustangs shortened their deficit to four points late in the fourth quarter, but the attempted comeback fell short, with senior starter Jashawn Kinney on the bench after fouling out late.
"Our kids battled. Once they got a feel that they had a chance to win it, I think it really helped us. You know, we were tough, but it was a tough loss for us, obviously," Dobson head coach Rick McConnell said.
Senior Ashton Reese had himself a night. He dunked on Dobson twice in the span of a minute in the fourth quarter and scored 33 total points. Seniors Bryce Ford and Duce Robinson scored 14 and 10 points, respectively, for the Pioneers.
"[Reese is] super athletic. If he gets to the open court, you know he's gonna boom it every time," said Braylon Johnson, who scored 11 points for the Pioneers.
The Pioneers kept their game plan simple according to Johnson.
"Move the ball, get open shots, knock 'em down," he said, before commending the Mustangs' screens, movement at the ball and effort in one-on-one situations.
Reese made two free throws to end scoring in the first half. He began a 7-0 point run for Pinnacle with a 3-pointer that opened the second half, but Dobson answered right back with an 11-0 run of its own to make it a 49-43 game. A little later, Reese made an easy layup and right after, Mustang Donovan Beard's missed 2-point shot was rebounded by teammate Zayonte Bolton. Zayonte passed to his brother Anthony who drained a 3-pointer to make it a four-point game at 73-69 with roughly 40 seconds left in regulation.
"We just had to get the ball going on offense and we didn't really do that. They got a couple transition buckets and that kind of closed us out, it was tough," said Dobson junior Mason Sundberg, who scored eight points and got a bloody lip.
Johnson dunked to extend the Pinnacle lead by two before Zayonte matched him with a 2-pointer of his own, after a missed 3-point shot by Anthony Bolton.
Beard led the Mustangs in scoring with 24 points. Anthony and Zayonte scored 12 points each. Justin Begay and Sundberg added eight each and Kinney contributed five. For Zayonte Bolton, Begay and Kinney, it was their last game as Mustangs. Anthony, Beard and Sundberg are all juniors and will return next year.
"Our senior kids hustle and they really play hard and for them, I think it was bittersweet, but they need to be proud of themselves," McConnell said.
Despite Dobson's height disadvantage and lack of big men, they played fierce defense throughout the night and season, which is McConnell's 40th coaching Dobson.
"I really liked our defense this year, this game we didn't really show our starting seven, but throughout this year our defense has won us our close ballgames," Sundberg said. "I just think if we can take that into next year we can go farther."