Desert Mountain House twins born with a dog mentality
February 20, 2023 by Sydney Stremming, Arizona State University
---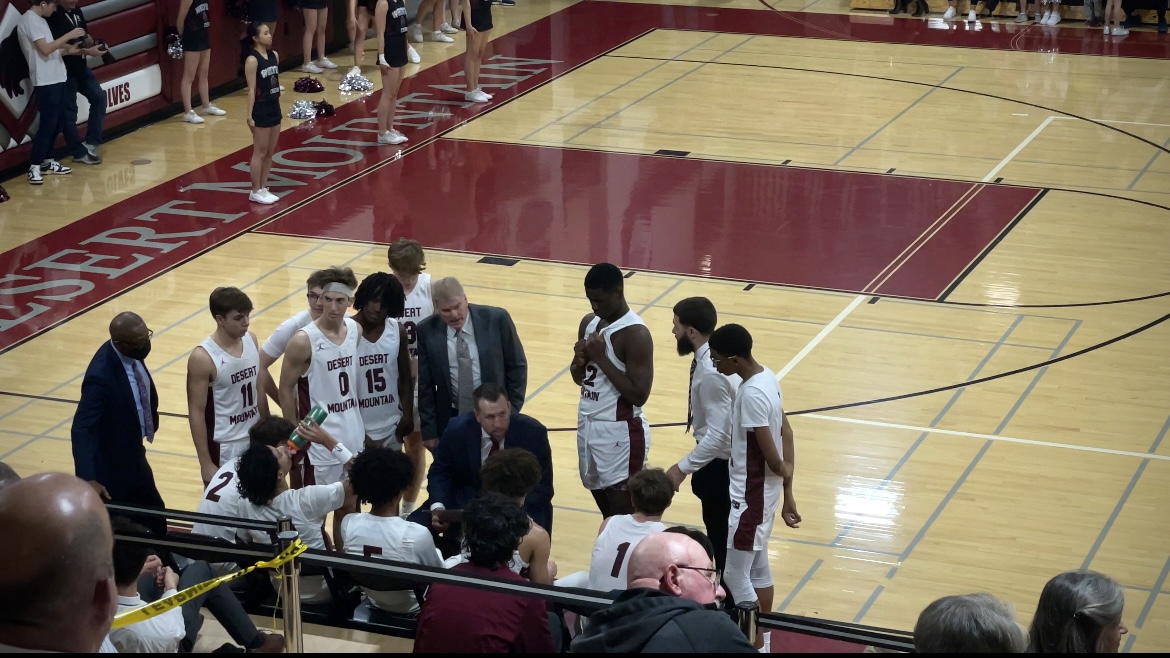 Sydney Stremming is an ASU Cronkite School of Journalism student assigned to cover Desert Mountain High School for AZPreps365.
With basketball in the bloodline, freshmen guards Kaden and Kalek House have a crazy work ethic that seems to be second nature to them.
Influenced by their father, Eddie House, and their uncle, Mike Bibby, the twins agree that they grew into the sport naturally. They started their career at the YMCA Little League, and now they are headed into the fourth round of the Open Division. Although they don't remember much, they said their first memory of basketball was playing with their cousins in the living room.
"We didn't really understand, we were just having fun," Kalek said.
Having a twin on the court is a unique advantage that many athletes don't ever experience. Kaden said the two of them do everything together and are "kind of like the same person."
"It's like just like having a built-in best friend that always has your back," Kalek said.
There may be a twin connection, but they both agreed they can't actually read each others minds on the court.
"I feel like it is kind of like a twin connection on the court," Kaden said. "We have just been playing with each other for so long that we know exactly what the other one is going to do, and when they are going to do it."
Senior teammate, Zach Anderson looks back on how far he and the twins have come over the years. Meeting them at a local Lifetime gym when the twins were in third grade, he said they have played together ever since.
"I just thought they were some kids at the gym. I had no idea that I would end up making a playoff run with them in my senior year of high school," Anderson said.
Taking partial credit, Anderson said he is the one who proposed the idea for them to play at Desert Mountain. Kalek said after his cousin, Mike Bibby Jr. got the assistant head coaching job that it was a pretty easy decision to play for Desert Mountain.
Describing the twins "insane" work ethic, Anderson said he wishes he could go back in time and have the dedication they have as freshmen.
"They are on a different level from other freshmen," Anderson said. "They are great team guys and are super personable and charismatic, everyone on the team loves them."
Bringing a winning mindset and culture to Desert Mountain, Kaden said he feels like everyone puts a lot of pressure on him, but he doesn't really care. Focusing on himself and what he can control on the court is where he puts his mind at "because I think if you start focusing too much on other things, it will start messing with your head."
Kaden said what helps him and his brother before games is their father's pre-game talks.
"He tells me I have to go out there with a dog mentality, to not let anyone push me around, and to be the best player on the court at all times," Kaden said.
With a long road ahead for the twins, they agreed they would prefer to go to the same college, but Kaden said "honestly, we just want to go where we can play the game." For now, they said they are focusing on improving their game and mindsets.
With their freshmen season coming to an end, Anderson said he has seen the twins confidence grow "day and night" from the beginning of the year.
"They have a team behind them that is super supportive and trusts them, and they trust us so I expect nothing less than them to keep killing it on the court," Anderson said.
Moving forward in the Open Division, No. 13 Desert Mountain will face No. 1 Perry at Highland High School in the fourth round of the Open Division on Friday, Feb. 24.