#6 Millennium upends #2 Perry in Open
February 23, 2023 by Les Willsey, AZPreps365
---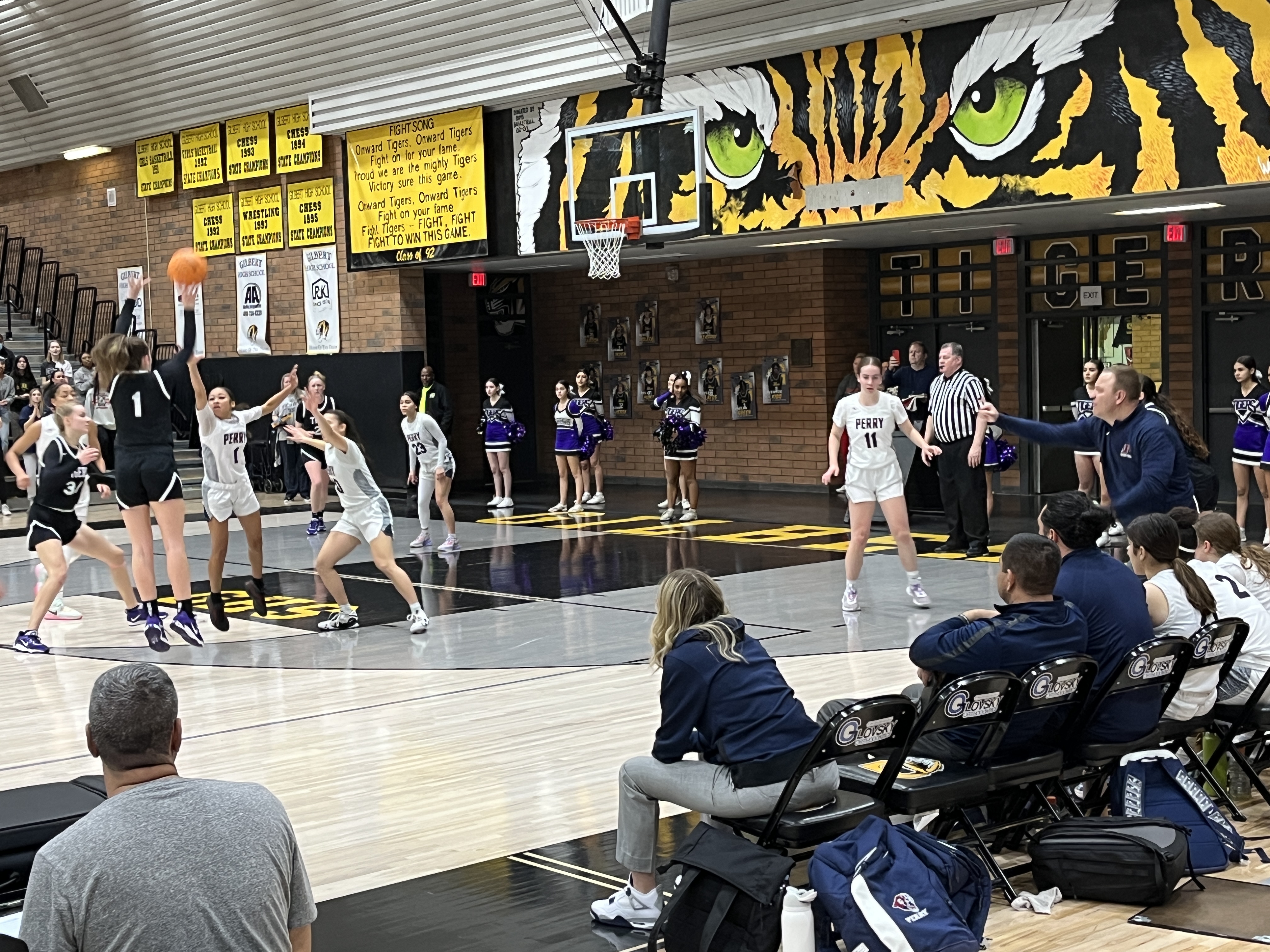 The Open Division girls hoops semifinal between #6 Millennium and top-seed Perry was decided in the final three minutes on Thursday night at Gilbert High.
It was the Millennium triumvirate of Elli Guiney, Mia Amundsen and Alayna Boss taking the spotlight in that interval powering the Tigers to a 45-39 victory over the Pumas.
The wins advances Millennium (20-8) to the inaugural Open Division championship game. It's the fifth year in a row Millennium has reached a title game. The Tigers have won the last four 5A Conference titles (2019-2022).
Millenium's opponent in the March 4 Open title game at Veterans Memorial Coliseum is #1 seed Desert Vista, which knocked off Xavier Prep 78-63 in its semifinal. Perry entered the contest with an 18-game winning streak. The Pumas finished 26-3. Their only loss to an Arizona school was to Millennium Thursday night. The other two losses were in an out-of-state invitational in December.
Millennium and Perry were tied a final time at 34-all after Perry's Halena Hall tallied on a putback with 3:22 to play. With 2:48 left, Millennium nabbed the lead for good with 2:48 left with Amundsen sinking a three from the right corner. Perry senior Khamil Pierre (team-high 21 points) scored the Pumas final five points via a putback and three free throws.
Boss, who played solid defense helping defend Pierre, made her only basket with 1:33 left. It was a three and put Millennium up 40-35. Perry got within three once more (40-37) after two Pierre free throws. Millennium sealed the victory making 5 of 6 free throws (three by Guiney and two by Amundsen) in the final 52 seconds. Guiney finished with a game-high 26 points and Amundsen just five. However, those five points were in the final three minutes helping Millennium protect its slim advantage.