Salpointe three-peats for the first time
February 24, 2023 by John Theriault, AZPreps365
---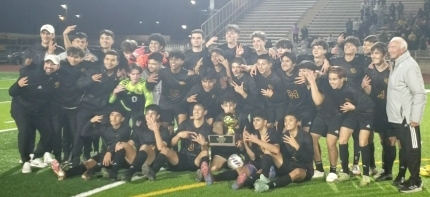 The third time was also a charm for the Tucson Salpointe Catholic boys soccer team.
Making their' 14th appearance in state finals history, the Lancers scored four goals in the final 14 minutes enroute to a 4-1 victory over Scottsdale Saguaro in Friday's 4A boys championship at Glendale High School.
With the win, Salpointe won its 10th crown in school history, including a three-peat, a first for legendary coach Wolfgang Weber, who previously won back-to-back titles twice.
"It's nice to talk about the 10 (titles) and the 14 times in the finals, but what is really important is that these guys have done this three times in a row, and I am immensely proud of them," a happy Weber said.
The three-peat didn't look like a sure thing through the first 66 minutes of action as both teams took turns claiming the momentum.
In fact, for much of the first half the Sabercats had the Lancers on their collective heals, needing some fine saves by sophomore goalie Jadir Beltran to keep the game scoreless at intermission.
It wasn't until 13:40 remained in the second half when Salpointe Catholic finally found the back of the net.
And it was the team's dynamic duo, senior Nico Valenzuela and sophomore sensation Leo Gutierrez, who ignited the offense.
Valenzuela sent it up the right side to a streaking Gutierrez, who fed it right back to Valenzuela, who was 10 yards out in front of the net. Valenzeula then buried the first of two goals to take the 1-0 lead.
The goal stung the Sabercats, but losing goalie James Hepola (broken hand) was more painful.
Just over a minute later the spiral continued for Saguaro when Salpointe's defender Marco Torres booted a free kick from midfield toward the Sabercats' goal. The ball subsequently bounced up and over the goalie for a 2-0 Lancers' lead.
But with under five minutes left to play, Saguaro showed new life when senior Wade Crum launched the ball from midfield and into Salpointe's goal box. That's where Brendan Stafford then punched it past Beltran, cutting the lead in half, 2-1, with 4:24 left in regulation.
Gutierrez, however, put the final dagger into the Sabercats, blasting his 34th goal on the season just 15 seconds later. That put the game out of reach at 3-1. Gutierrez now has an incredible 63 goals in his first two seasons.
"That's the tough part," said Saguaro's dejected coach, Nagui Sabbagh. "You play a good team, you've got to finish your opportunities. Sometimes that's the way it is. Soccer is that way,"
Valenzuela closed out the scoring with 1:48 showing on the clock with a laser from 25 yards out in traffic.
"I love these guys," Valenzuela said. "There's nothing else I can really say. "I have a cousin on the team. My brother is one of the coaches and I love him to death. I love Wolfgang. It's all family."