Alchesay girls claim back-to-back 3A state championships
February 25, 2023 by Brian M. Bergner Jr., AZPreps365
---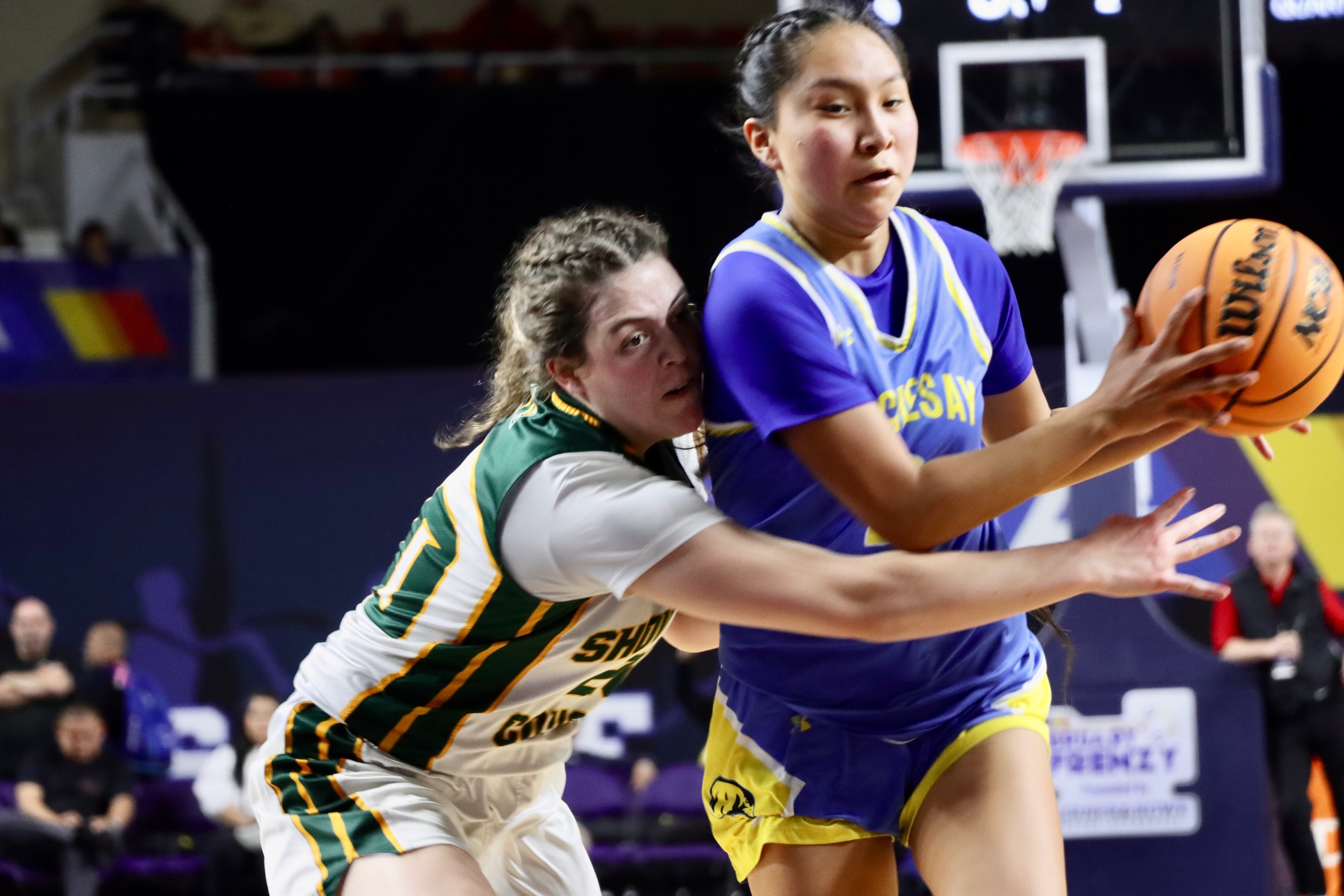 3A Girls Basketball State Tournament Bracket
PHOENIX — Jenieth Sanchez scored 18 points, grabbed eight rebounds and led Alchesay girls basketball to back-to-back 3A state championships, defeating Show Low 52-35 on Saturday afternoon.
"It's a dream come true," Alchesay head coach Rick Sanchez said while holding the team's state championship banner, waiting patiently for his turn to cut the net down at Arizona Veteran's Memorial Coliseum.
"Most teams don't get the chance to win a state championship, but the Lord blessed us with two! I've got great girls and we want to do this every year, because I've got girls that can play," Sanchez touted.
The Falcons (24-11, 8-6 3A North) shot just 33% to open the contest and found themselves behind early, but sank four 3-pointers in the second quarter to spark an 18-9 run for a 30-18 halftime lead and never trailed again.
Alchesay, winners of eight of their last nine games, led by as many as 22 in the third quarter before dropping it into cruise control on their way to a second state title in as many seasons.
The No. 8-seeded Falcons upset No. 5 Window Rock 44-36 on Friday night to earn a spot in the 3A title game at what is known as the Madhouse on McDowell, with 5,000 strong cheering on their favorite Alchesay club Saturday.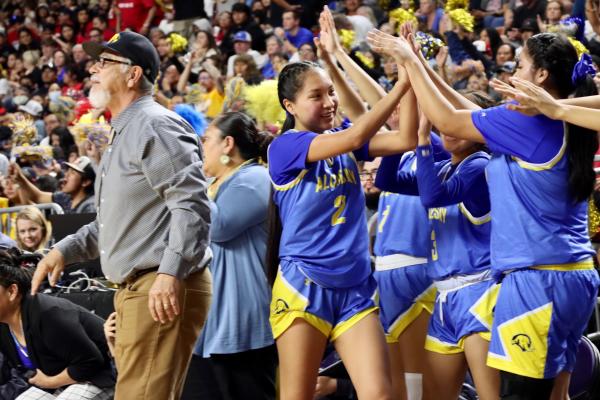 Jenieth Sanchez (2) is high-fived by several teammates after coming out of the 3A state championship game in the fourth quater. Alchesay beat Show Low 52-35 on Saturday, Feb. 25, 2023, in Phoenix. (Jose Garcia/AzPreps365)
Sanchez said she felt "blessed" to be able to win back-to-back titles, a great way to go out as a senior, she said.
"I'm so happy right now," said Sanchez, who averaged 10.1 points per game this season.
The senior added that her club's first-quarter shooting woes were nothing to be concerned about, adding that their experience winning last year's title helped them get through it.
"[That experience] helped me calm my nerves, keep my head in the game and stay focused on what I need to do," she said.
Sanchez was 6 of 14 from the field, including two 3-pointers, but was 4 of 5 from the free-throw line and had four steals and four assists in the win.
"All season she's done that for us. She is one of the leaders of the team. And when she's determined, she makes it happen," coach Sanchez (no relation) said of his senior. "She plays hard, I love it."
Jazlyn Nosi, a junior, scored 10 points on 5 of 9 shooting from the field and grabbed eight rebounds.
Nosi said that Saturday's state title was an "amazing" experience to live through, and tipped her cap to Show Low.
"Show Low was going to come out aggressive and we were ready to do the same," Nosi said. "We got onto it in the second half and starting shooting better and having more confidence."
Alchesay was 13 of 24 from the field with five 3-pointers in the second and third quarter combined, outscoring Show Low (24-10, 8-3 3A East) 32-15 during that timeframe.
The No. 6 Cougars, winners of eight straight games coming into Saturday's finale, recorded huge wins over No. 3 Yuma Catholic in the Elite 8, 46-39, and No. 10 Chinle in the state semifinals, 41-35.
Alex Swanson scored 11 points on 4 of 8 shooting from the field including two 3-pointers, while Aubie Wilson had nine points and eight rebounds for Show Low, which committed 25 turnovers and shot just 24.5% (12-49) from the field for the entire game.
Alchesay scored 24 points off those 25 Show Low turnovers.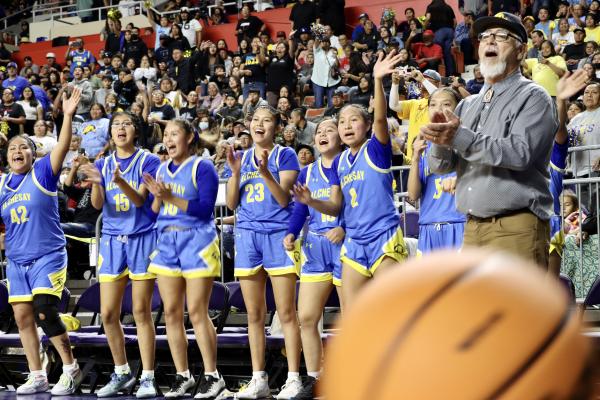 Alchesay's bench and coach Rick Sanchez had a lot to cheer about toward the waning minutes of the 3A title game. (Jose Garcia/azpreps365)
Broadcasting legend Floyd retiring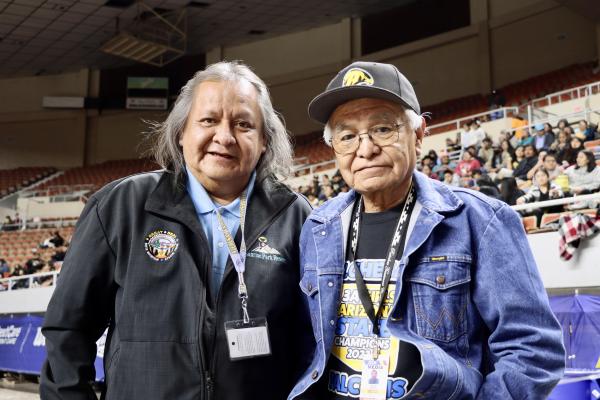 Floyd Massey's (right) golden voice is retiring. He broadcasted his final Alchesay basketball game during the Feb. 25 3A championship game at Arizona Veterans Memorial Coliseum. He went out a winner, as Alchesay defended its 3A title. Massey's niece, Shyann Massey, was a senior foward on this year's Alchesay team. One of Massey's 'idols,' Jerry Gloshay Jr. (left), has been broadcasting games with Massey for the past 12 years. Congratulations Mr. Massey on your legendary 30-year career. Your fans throughtout the state saltue you for your contributions. You will be missed on the airwaves of KNNB Radio. (Jose Garcia/azpreps365)
Brian M. Bergner Jr. has covered professional, collegiate and high school sports for more than 20 years. Follow him on Twitter @AzPreps365Brian. Have a story idea? Email Brian at bbergner@azpreps365.com.