Chaparral defeats gamely Casteel in PKs to clinch crown
February 25, 2023 by John Theriault, AZPreps365
---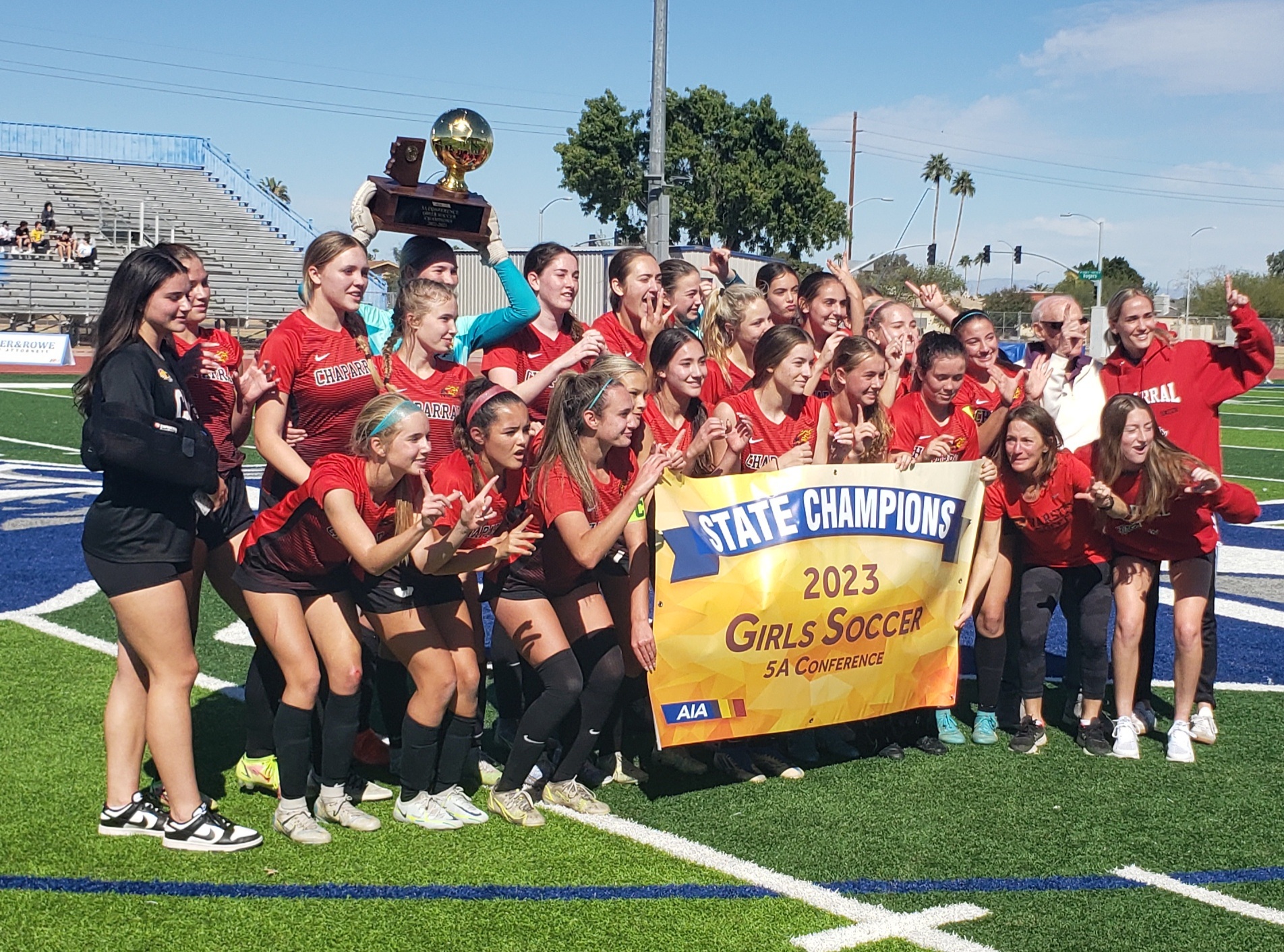 After losing to Scottsdale Chaparral in its season opener, Queen Creek Casteel coach Jason Hammonds told Firebirds' coach Robyn Carlson, "We'll see you in February."
Fast forward to Saturday afternoon's 5A girls soccer state championship match at Mesa Dobson High School, there they both were.
And eerily similar to the opener, the season finale finished with an identical 2-1 score, also in favor of the No. 2 seed Firebirds.
This one, however, turned into an epic match, with the result hanging in the balance through 110 minutes of soccer and five rounds of penalty kicks.
In that fifth round of kicks, Chaparral senior Faith Secrest found the back of the net, securing the school's eigth title and first since 2021, when it completed a five-peat.
"When you get to the championship game, you have to leave it all out there, and they did that," Carlson explained. "When someone made a mistake the next person was there backing them up."
The Firebirds actually took the lead in the first stanza when midfielder Morgan Cohen netted a goal from the Colts' doorstep less than nine minutes into the match.
But just seven minutes later, No. 4 seed Casteel tied it up in fine fashion.
A rush up the right side by Washington State signee Nathalie Lewis led to a pass to the goal mouth where frosh KJ Skinner was waiting. Skinner's point blank offering, however, was turned away by Chaparral netminder Ciara Ulreicht-Power.
But the rebound caromed to Casteel's Aria Cain, who buried it to the low left side. Suddenly, it was all knotted at 1-1.
Thanks in large part to the brilliant goalkeeping of UIreicht-Power, it remained that way the duration of the match until the penalty kick session.
The senior came up with several huge saves at very crucial times, keeping her team in the hunt.
One of those came with just 10 seconds left in the first golden goal period. A direct kick from 35 yards out by the Colts' Ava Fike was turned away by Ulreicht-Power.
Fike was at it again in the second golden goal session when she fired a direct kick missile from 32 yards, which a diving Ulreicht-Power got a hand on, directing it just wide left. A final attempt with just 10 seconds left in the second golden ball period by Fike was stopped in traffic to force penalty kicks.
"There were moments in the game when (Casteel) was on our side a lot," an elated Ulreicht-Power said. "They were beating on our defense, but then we kept stepping it up, pushing it back on then we had it on their side a lot."
For the Colts, Hammonds said he couldn't have been prouder of his team's performance and said they executed exactly as they planned.
"There's nothing more I could have asked from them," the coach said. "The frustrating part is that it came down to forces outside of what we can control."