Xavier Prep notches 2nd soccer three-peat
February 25, 2023 by Les Willsey, AZPreps365
---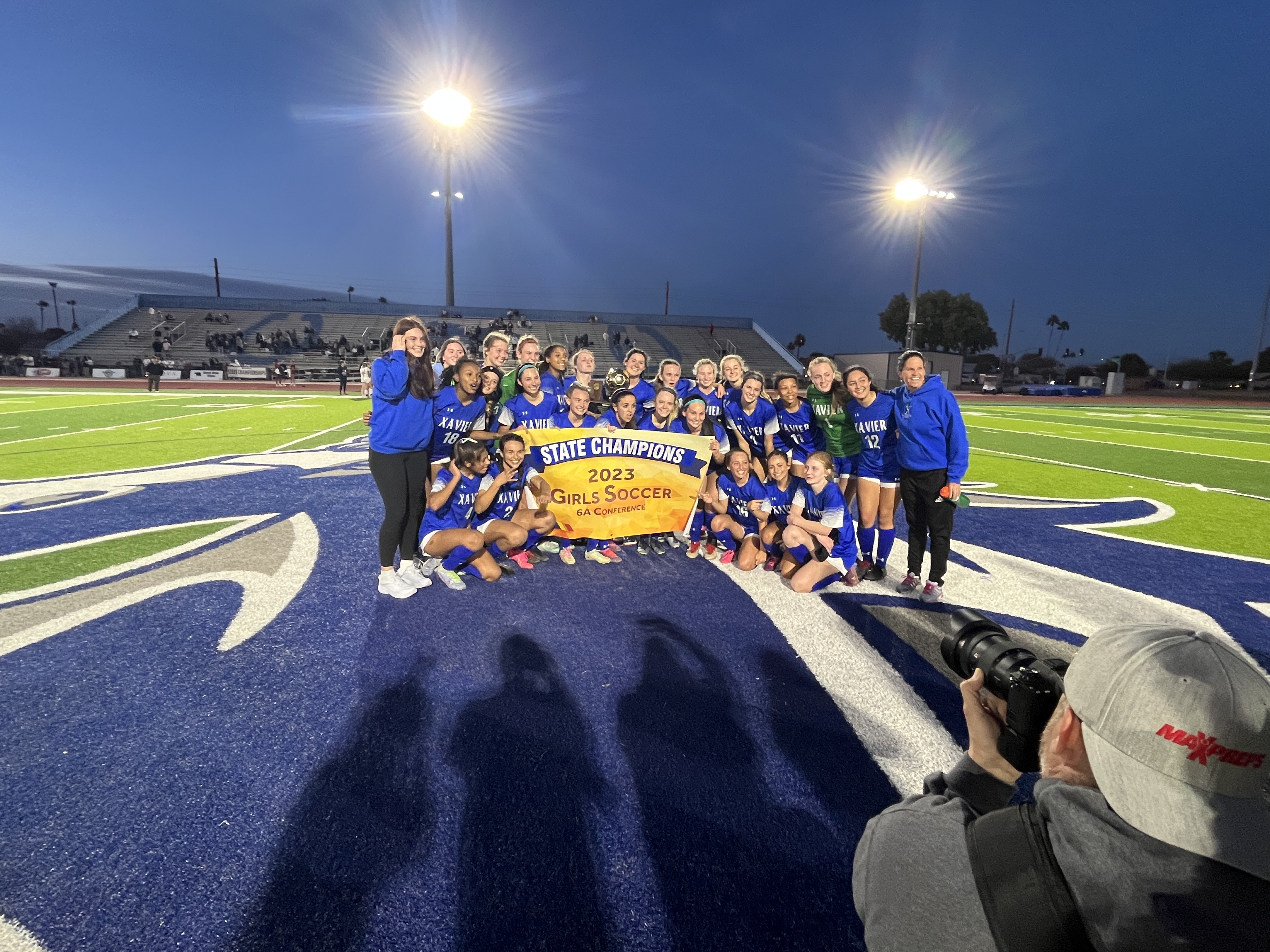 There've been several opportunities in recent years for Xavier Prep soccer to collect a three-peat. It's not easy, but the 2022-23 edition realized that accomplishment for the second time in school history on Saturday afternoon.
Xavier scored four goals, including the final three snapping a 1-1 tie in a 4-1 triumph in the 6A girls title match at Dobson High School. Xavier's offense was at a high level in its four playoff games this season piling up 19 goals.
The victory capped an unbeaten season for the Gators (16-0) and was the 13th state soccer title in the 30 seasons it's been a sanctioned high school sport in the state. The only other girls soccer three-peat at the big-school level belongs to Xavier as well. The Gators won in 1993-95. Xavier's attack offense was at a high level in postseason as it piled up 19 goals in four playoff games.
Perry (17-4) finished runnerup for the second year in a row and fifth time its 15-year history. The Pumas have yet to win their first girls soccer title.
"A real strength of this team is its chemistry," Xavier coach Bard Chura, who has piloted eight of the Gators titles, said. "It's great to see how tight this team is. They've been bonding all season. The true character of the team was answering their first goal so quickly."
The game's first goal was scored quickly. Xavier's Larkin Thomason found the back of the net in the fifth minute. The Gators 1-0 advantage held up nearly to halftime, but was foiled by a goal deposited in the 33rd minute by Perry's Ashlyn DeLemos.
Perry wasn't able to build on its goal's momentum. Xavier responded in the 37th minute using the first of two goals from senior forward Eva Allen. Allen bumped the lead to 3-1 in the second half in the 48th minute. Xavier capped the scoring late in the second half courtesy of junior midfielder Lourdes Lauterborn.