Twenty years later, Horizon is a champ once again
February 25, 2023 by John Theriault, AZPreps365
---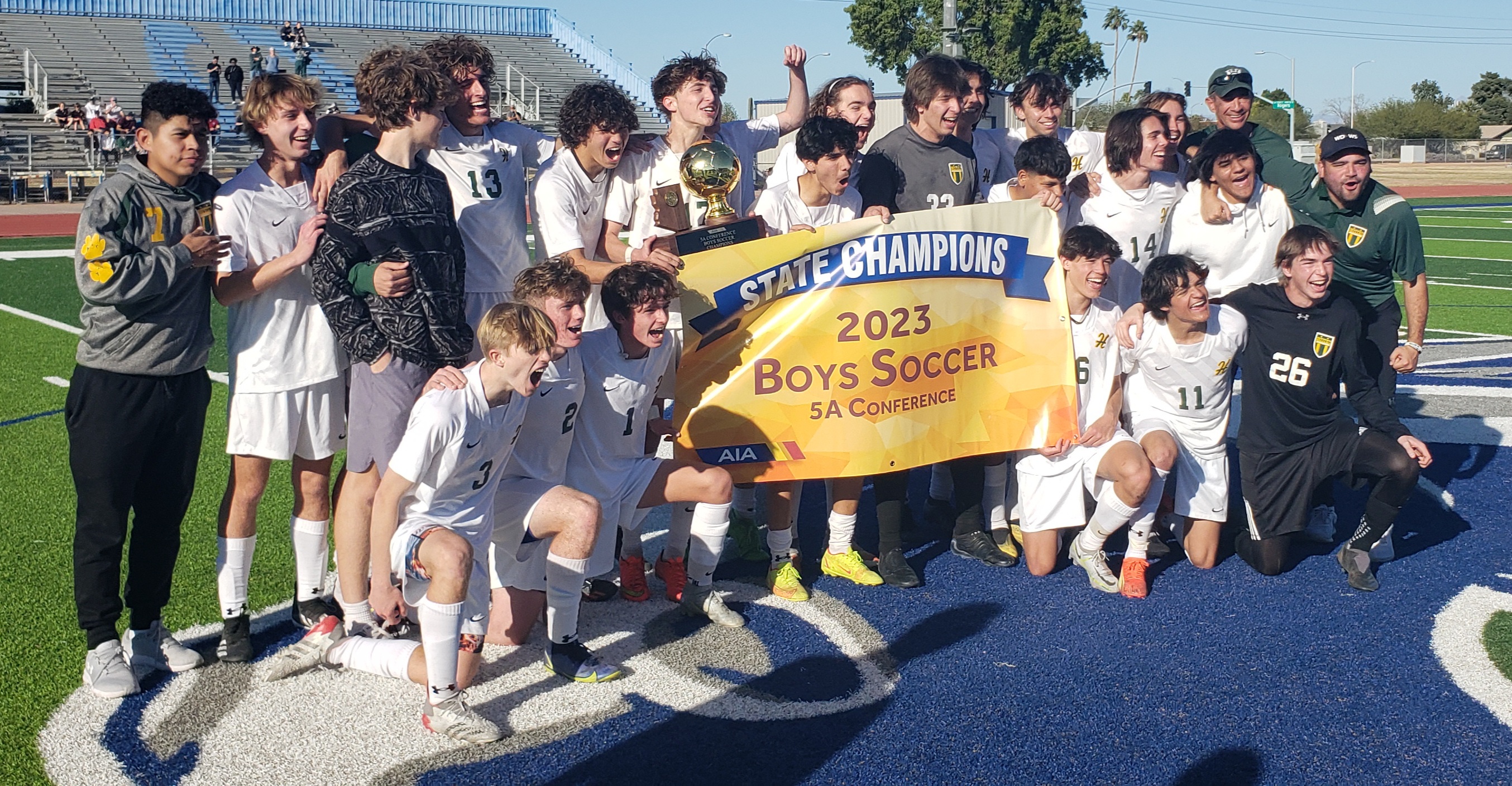 Good things usually come to those who wait.
But 20 years?
For Phoenix Horizon boy's soccer coach Rafael Saragosa, the wait was absolutely worth it.
The longtime coach watched his No. 3 seeded Huskies execute a relentless, high-energy attack against No. 1 seed Glendale Ironwood Saturday afternoon in the 5A championship at Mesa Dobson High School.
Horizon won 4-1 and its third championship in school history. The previous two were in 1987-1988 and 2002-2003 seasons.
"It feels just as good as it did twenty years ago," a pleased Saragosa said. "I felt like if we could rise to the occasion we could have a good chance."
It started to rise up with less than 14 minutes into the match when junior Justin Lozoya scored in traffic in front of the Eagles' net, giving the Huskies a 1-0 lead.
But just 3:46 later, Ironwood's Bryan Romero booted a free kick past Horizon's diving goalkeeper to knot it all up at 1-1.
The Huskies then went up for good, however, when Luca Nieri-Lang scored from close range with 16:26 before halftime. Suddenly, Horizon was back in front, 2-1.
In the second half it became the Isaiah Benjamin show.
The Huskies' senior first extended the lead to 3-1 during a blast that saw him parallel to the ground from 20 yards out but found the back of Ironwood's net midway through the second half.
He also delivered the knockout punch with 8:43 left to play when his header beat the Ironwood goalie for the final goal.
"We played our best. We did what we needed to do to put it away," Benjamin stated. "I think we just wanted it more. It's been 20 years. We wanted it for our coach, for our team."
For Ironwood Hall of Fame coach Tim Beck, his team's unfortunate outcome wasn't hard to dissect.
"We got beat by a better team today," he said. "They were the better team and we picked a bad time to have our worst performance of the season."
The two teams finished tied 2-2 near the end of the regular season, but Saturday belonged to Horizon.
"I thought in the first half we were playing a little scared. Once we got past that, once we saw we could score and have some success, I think that went away," Saragosa added.