Salpointe over Walden Grove 2-1 to win the 4A state championship
February 25, 2023 by Andy Morales, AZPreps365
---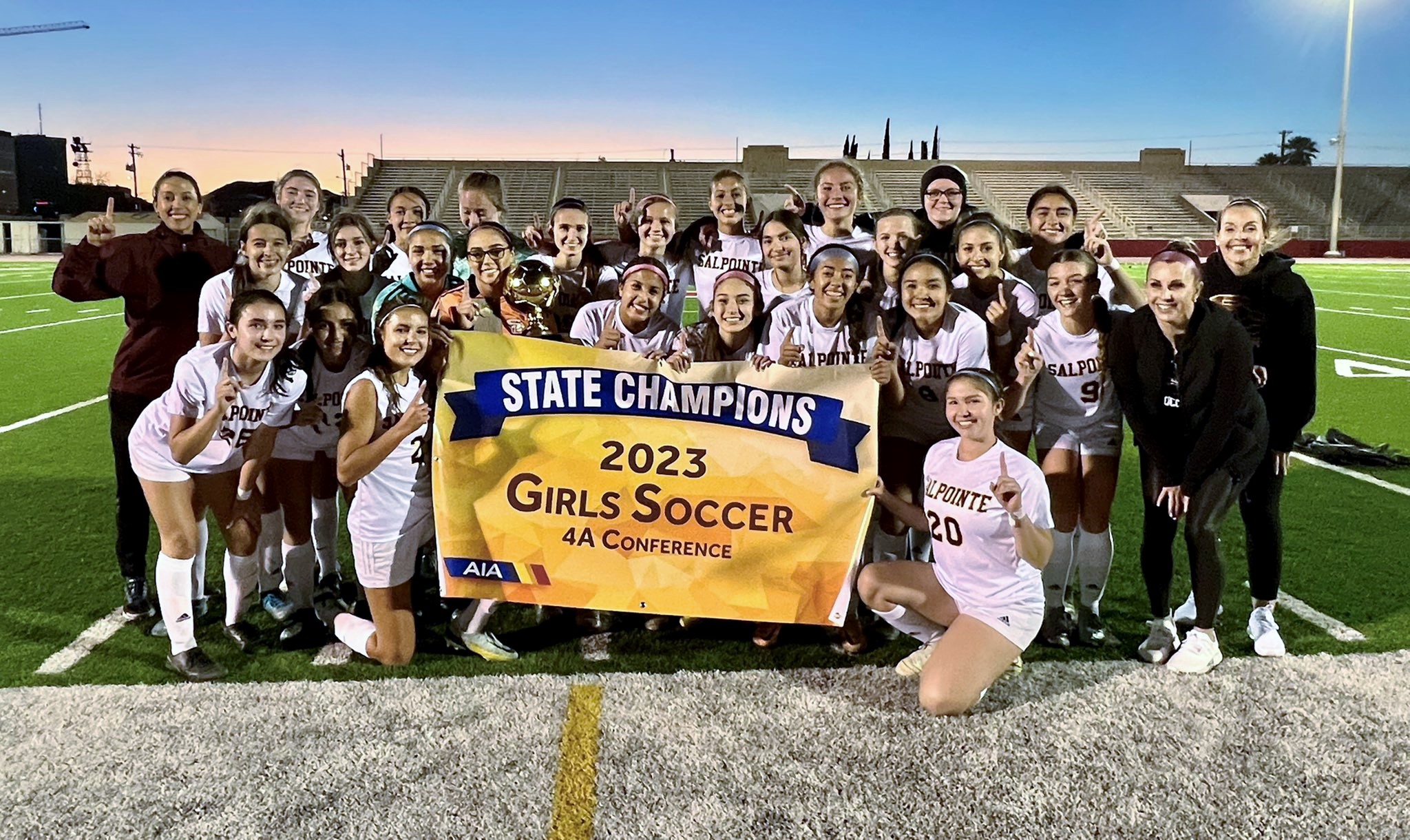 No. 2 Salpointe beat top-seeded Walden Grove 2-1 Saturday night at Tucson High to win the 4A state championship, the tenth state title in program history. Head coach Kelly Pierce won two as a player (1998 and 1999) and this is her fifth championship as a coach dating back to 2018. Generally regarded as one of the top programs in Arizona, the Lancers have yet to enter the postseason as the top seed but the team has figured out a way to come out on top including Saturday night.
"We've been saying it's how we finish not how we start, and again, trying to get these young kids to understand that every single day because everybody performs against us," Pierce explained. "So maintaining that consistency, I guess it's pretty difficult, but they did it."
Walden Grove (19-2) beat Salpointe 2-0 in the regular season and the program earned the top seed this winter with a roster full of freshmen and sophomores including projected Southern Arizona Player of the Year Vivien Villarreal who finished her first campaign on the pitch with an incredible 34 goals and she got things started for the Red Wolves Saturday night when she took the ball down the side, past several defenders, before crossing across her body to Madison Landman in the 9th minute.
The Red Wolves had a chance to add to their lead with a PK in the 13th minute but Lancer keeper Jasmine Delgado read the attempt perfectly and she deflected the offering off the post to her right for the save. Salpointe tied things up in the 15th when Cristina Conlon found a seam on top and she stepped through it for a goal and it looked like the match was headed to overtime with the back-and-forth attempts and misses the rest of the way until Emma Veliz found Rylen Bourguet for the clincher in the 65th.
"We had some conversations at halftime and I know some felt intimidated," Pierce added. "Some of them are freshmen, a lot of them. They felt the pressure and they're really talented team, especially 21 (Vivien Villarreal) and I think the players did a pretty good job following what we planned. They showed up no matter who we put in and where we put them on all different positions. We trusted them as a coaching staff."
The victory moved the Salpointe record to 16-2 -1 on the year and Piece picked up her 114th career victory in the process. Walden Grove won a state championship in 2015 and the Red Wolves have been a constant contender under Troy Bosley over the last three seasons with a quarterfinal finish in 2021, a semifinal finish last year and now a runner-up finish. With only three seniors on the roster, expect Bosley to have his team right back.
"We're going to take in all the celebrations on the other side, and it's going to fuel our fire," Bosley said. "We lost in the semifinals last year and this year we almost made it. I'm going to take in this loss but we're excited for the future. We're going to be here again."
Salpointe keeper senior Jasmine Delgado with a huge save in the 13th on a PK. If That goes in Salpointe is down 2-0 and it's a different game. pic.twitter.com/qFHz56bpk3

— Andy Morales (@AndyMorales8) February 26, 2023