#8 Deer Valley's late bucket upends #5 Mesquite
February 27, 2023 by Les Willsey, AZPreps365
---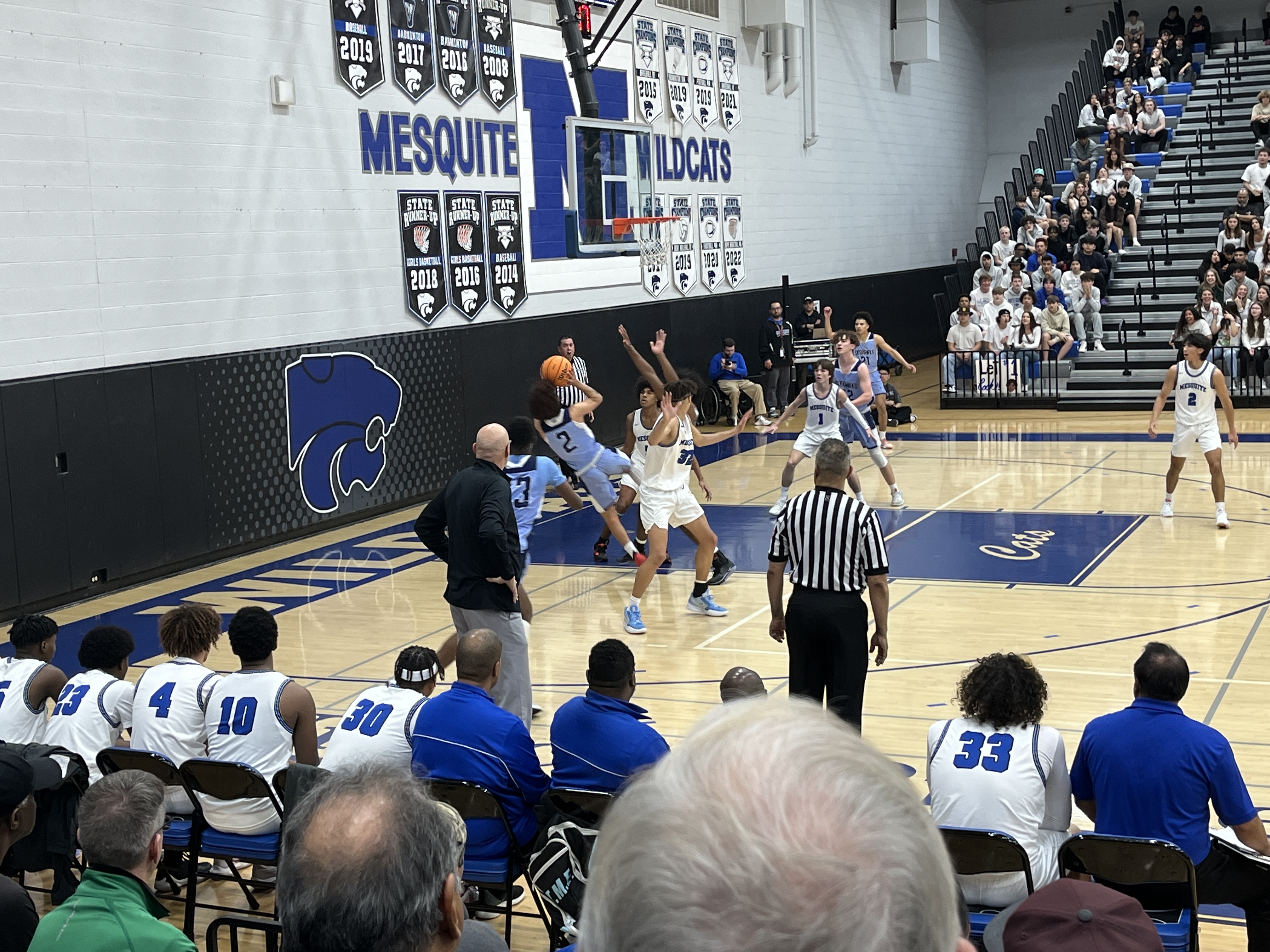 Eighth-seed Deer Valley earned a berth in the 4A boys basketball title game on Tuesday night. It did so eliminating defending champ and fifth-seed Mesquite on its home court as time expired.
Deer Valley's Travis Vasquez scored on a layup on a frenzied final possession giving the Skyhawks a 67-66 victory over the Wildcats at Mesquite High. The 4A championship game is set for Thursday night. It matches Deer Valley (22-7) against second-seeded Peoria at 8 p.m. at Veterans Memorial Coliseum. Peoria (27-4) earned a spot in the final with a 67-53 triumph over third-seeded Bradshaw Mountain. Deer Valley has finished runner-up in each of three previous boys championship games it has appeared - 2006, 2018, and 2019.
Vasquez, a junior, was the last to possess the ball with Deer Valley down, 66-65. Deer Valley's Eric Perkins rebounded a missed Mesquite free throw with 4.7 seconds left. Perkins raced up the floor and delivered a nice pass from the top of the key to Vasquez streaking to the basket. Vasquez beat the defense for the game-winner with no time left.
Mesquite took the lead for the final time (66-65) after junior Jaylen Wollangk made one of three free throws. Wollangk originally was to get two free throws, but a Deer Valley lane violation added an extra one.
Mesquite senior guard CohenJ Gonzales tallied 24 points, including nine in the fourth quarter to lead Mesquite and all scorers. A 9-0 Mesquite run over a two-minute span in the middle of the fourth saw the Wildcats flip a three-point deficit to a 61-55 advantage with 3:19 left.
Vasquez and senior guard Jayden Sleeper answered combining for a 7-0 run and 62-61 lead with 1:28 to go. Vasquez, who took the ball hard to the basket all night, made a layup. A layup by Sleeper followed by his three from the baseline 36 second left finished the run and tied it at 65.
Deer Valley finished with four players scoring in double figures, led by Sleeper's 19 points. Next were Jaydon Cameron (14), Jonah Altimirano (13) and Vasquez (11) - his points off the Skyhawks bench. Mesquite freshman Desean Middlebrook was the other Wildcat to score in double figures, finishing with 15 points. The other three Mesquite starters were just shy of double figures - Devone Pless (9), Jamar Trotter (7) and Michael Calvin (7).