Salpointe is off to a 3-0 start
February 27, 2023 by Andy Morales, AZPreps365
---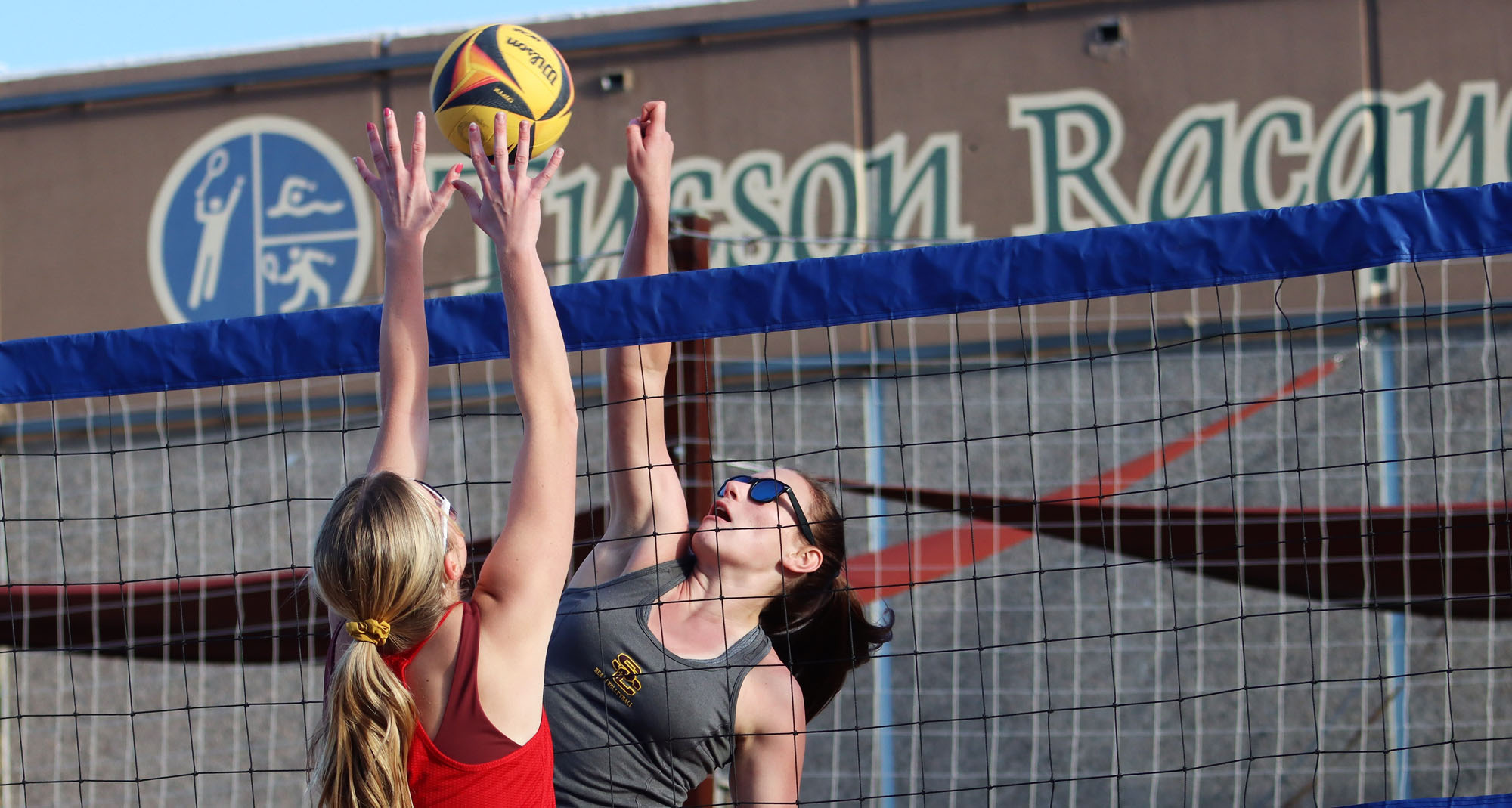 Salpointe improved to 3-0 on the year after the Lancers defeated Seton Catholic 5-0 at the Tucson Racquet Club on Monday. The Sentinels are now 0-2 on the year. The Lancers are building on a 65-match win streak dating back to a state semifinal loss to end the season in 2019. The streak includes back-to-back state championships in 2021 and 2022 after the season was cut short in 2020 due to COVID restrictions.
"Experience. I mean, we're older, wiser, we have a couple girls that have won state championships before. So they have some experience," is how Salpointe head coach Heather Moore-Martin described her current squad when asked.
"The hardest part of coaching beach, I think is finding the right pairs," Moore-Martin added. "I told the kids today I felt really good about a few of us and then there was a few pairs that I thought needed some adjustments, so we're looking to make those adjustments in the upcoming weeks."
The program has produced plenty of next-level talent with former Lancer Carly Lowry getting things started by competing in beach volleyball for San Francisco and then the University of Arizona. Peyton Lewis took second place in pairs with Abby Russell in 2019 and Lewis recently graduated from a successful beach volleyball career at Pepperdine. Russell and Alex Parkhurst won the pairs championship in 2019 and the duo are now upperclassmen on the current University of Arizona Beach Volleyball roster. 2021 runner-up pairs Brandy Kisbaugh and Andrea Owens are playing indoor with Kisbaugh at UNC Ashville and Owens at North Texas. Emma Hugeback and Jalynn Ransom came up big for the Lancers last year and Hugeback is competing in beach volleyball for Concordia Irvine and Ransom is currently a standout for Pima.
In addition, former Lancer Claire Dunn played beach volleyball for Abilene Christian until the sport was dropped by the college this year and Madison Sundholm played for Cal. Current senior standouts Frankie Pieroni and Rylen Bourguet will also be taking their talents to the next level with Pieroni playing indoor for Alaska-Anchorage and Bourguet competing in beach for Arizona State next year.
Seton Catholic is in its fifth year competing in beach volleyball and the current Sentinel roster consists of four freshmen in the top five pairs and the team found it difficult to get things going against the more seasoned Lancer squad with Salpointe featuring six seniors and three juniors in the mix to go along with freshman Caroline Muehlebach.
Salpointe will host Marana (1-0) on Wednesday and Seton Catholic will play Northwest Christian (2-0) on March 6 at the Victory Lane Complex in Glendale.
SALPOINTE 5, SETON CATHOLIC 0
1: SAL Megan Muehlebach/Frankie Pieroni over Katie Thiele/Caleigh Krumbach (21-7, 21-16)
2: SAL Sophia Hernandez/Caroline Muehlebach over Ellen Tyrrell/Louse Hall (21-7, 21-10)
3: SAL Scarlett Isaacson/Gabby Monge over Sophia Fisher/Elizabeth Steinkamp (21-4, 21-4)
4: SAL Jordan Faircloth/Alyssa Robles over Jamie Gryskiewicz/Nicole Kupferer (21-3, 21-7)
5: SAL Sophia Marquez/Minda Prideaux over Chloe Schein/Alysa Williams (21-2, 21-6)