Hot-shooting Peoria a win away from its goal
February 27, 2023 by Jose Garcia, AZPreps365
---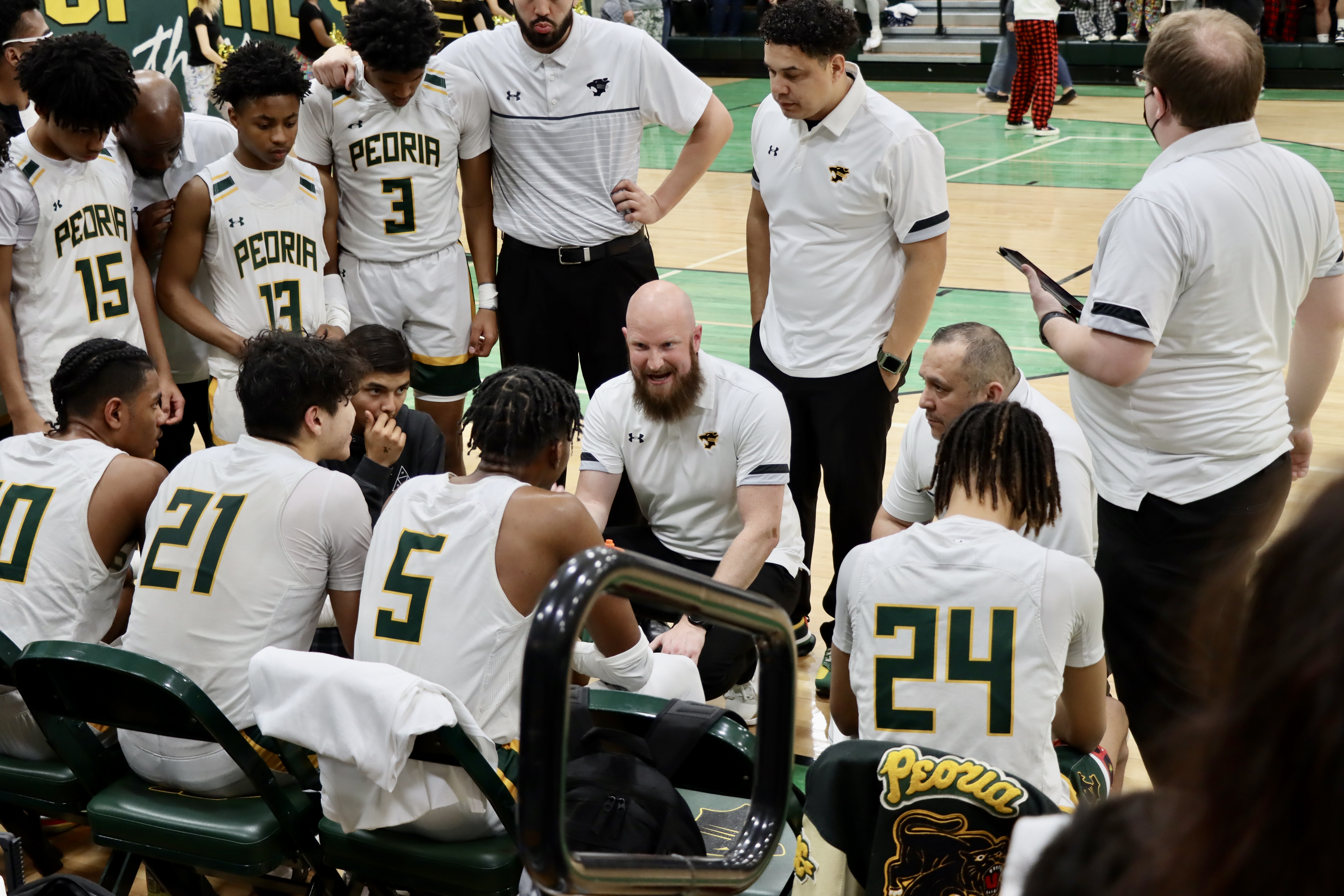 Send its four seniors out as winners in their final career home game.
Check.
Shoot lights out from beyond the arc.
That's a resounding yes.
Clinch a state title game berth.
Check.
After soundly defeating visiting Bradshaw Mountain 67-53 Monday in the 4A state semifinals, Peoria is a win away from crossing off its final wish—a state title. In 2020, the Panthers also played for a ring, but they are aiming for a win this time around.
"Exactly how we scripted it up," said Peoria coach Dr. Patrick Battillo about Monday's game plan. "(Bradshaw Mountain) packs the paint, so we had to be ready to make the right read, the right kick and knock the shots down."
The only Peoria player remaining from the 2020 squad, Andrew Camacho, is all grown up.
The quick-trigger senior and his teammates hardly misfired from three point land (12 total treys) against Bradshaw Mountain. Right after the game ended, Peoria's players celebrated with their fans and families on the court.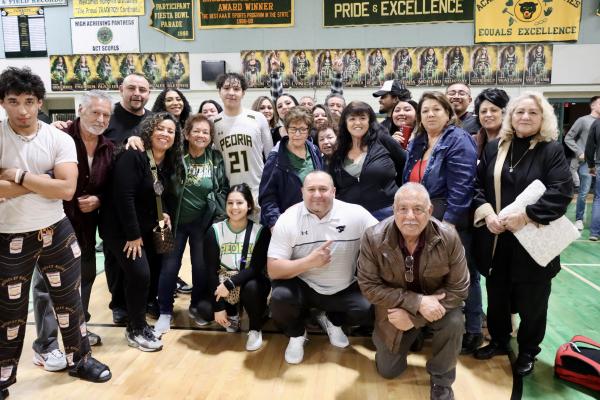 Peoria senior Andrew Camacho (No. 21) celebrated his team's state semifinal win in his final career home game with his family. (Jose Garcia/azpreps365)
"It means everything," said Camacho about winning his final home game and adding 22 points to his 1,800-plus point career. "It's very sentimental having the last home game. Now we get to go to the (Arizona Veterans Memorial Coliseum) and hopefully bring it (title) home."
Another talented senior, the versatile Calvin Windley, hit five threes and finished with 19 points.
Peoria wanted to push the pace and press and did so successfully, leading wire-to-wire. Peoria's six threes in the third quarter erased any thoughts of a comeback by an opponent that had a breakthrough year.
Bradshaw Mountain won 20 games for the first time in likely more than 20 years. Credit first-year coach Cain Atkinson, his staff and squad for an outstanding job representing the Grand Canyon Region this season.
In Thursday's 8 p.m. 4A final at VMC, 26-4 Peoria will face a familiar opponent, West Valley Region foe Deer Valley, which the Panthers defeated twice in the regular season.
"Words can't describe (the championship berth)," Dr. Battillo said. "The grind started the day after we lost to Mesquite in the playoffs last year. To get to this moment and this game, and to win the way we did and have an opportunity four years later to be back, a lot of programs can't do that. But we are not done, and it won't be a success if we don't go and finish it off."
Solid team win tonight! C/O 23 @drew_camacho21 led the way with 22pts, 5rbs, 9asts, & 2stls. C/O 23 @calvin_windley_ added 19pts & 2rbs. C/O 25 @caden11bass had 16pts, 2rbs,2asts, & 2stls. C/O 25 @ChrisBrookins_2 had 4pts, 8rbs, 5asts, & 4stls! Now on to the Championship!

— Peoria High School Boys Basketball (@PeoriaBoysBball) February 28, 2023