Speedster Elias Murray anticipating breakout year within Dobson baseball
March 1, 2023 by Judah Brody, Arizona State University
---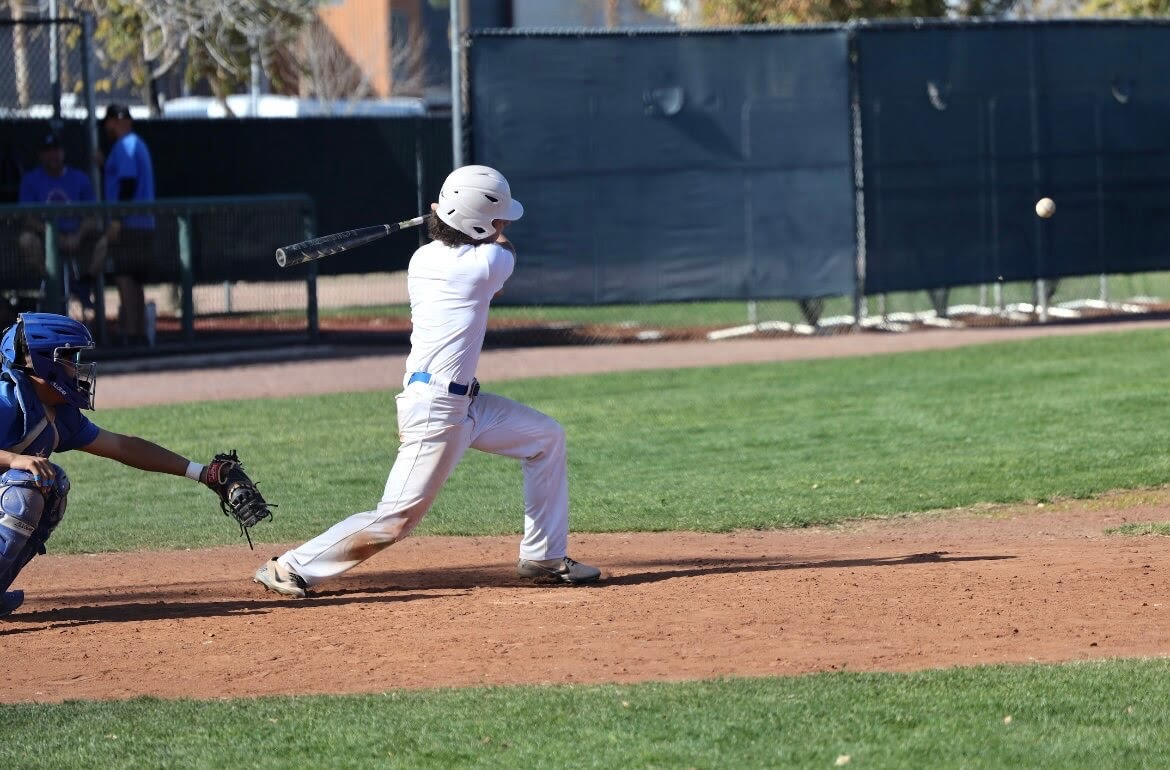 Judah Brody is an ASU Cronkite School of Journalism student assigned to cover Dobson High School for AZPreps365.com.
Speed kills. It's one constant across many different sports, as Dobson High baseball and football player Elias (uh-lai-uhs) Murray learned growing up.
"Ever since I was little, I've been the fast guy on the team," Murray said. "I'd say it's probably my biggest weapon on the field."
He started out in T-ball at age 6 in Maine, before moving to Arizona at age 8. In high school, with his mom and dad supporting him, he made another move, from catching to the outfield. He's played on varsity since his freshman year, and now in his junior season, Murray has cemented his spot as starting centerfielder for the Mustangs, and batted leadoff in their first game.
"He brings his football mentality to that position and that spot where he's ready to go for that first pitch," first-year Dobson head coach Christopher Estilow said. "My mentality is, if the pitcher's just gonna lay one in there, we might as well hit it as hard as we can and see what happens."
Murray wants to hit, but is willing to lay bunts down and use his speed to get on base, so he can steal second. He stole two bases, hit two singles (1 RBI), scored two runs and drew a walk during Friday's 21-6 loss to Seton Catholic Prep in 4 innings.
"I think that I've grown a lot over the years. I think that this is gonna be a year where I get to showcase the skills that I've developed," Murray said.
He also plays safety and receiver for Dobson's football program, on varsity since his sophomore year. In 2022 he played in six games, recording 15 total tackles and 77 recieving yards off 13 receptions.
"Elias can really track down anybody, he can outrun anybody on the field and get them," Dobson senior and varsity baseball captain Diego Silva said.
Whether it's in center field or deep downfield, he track balls down with precision. This year he's emerged as a leader for both teams thanks to his radiating positivity.
"He's always positive and he's always trying to get everyone to work hard ... [Around campus] he's always smiling," Silva said.
Whenever he's in a slump, he knows his teammates will have his back no matter what. That stays constant through baseball and football, and he called the "bonds and brotherhood" that came from football as his favorite part of playing it.
"Honestly I prefer that [football is before baseball], because football gets you in much better conditioning and physical shape," Murray said. "So I'm already at that type of conditioning I need to be at [for baseball]."
He considers baseball his main sport and has aspirations to play in college. He says learning to balance the mental and physical aspects of baseball is what he enjoys most about it.
Through the Mustangs' first four games Murray had 3 hits and 3 walks, with only 13 plate appearances. Dobson (0-4) is still searching for its first win this year.
"We just learn from today and move to tomorrow," Estilow said after a 15-0 loss to Marana, their first game. "The big thing we use is, 'If something bad goes wrong, we forget it. Flush it. Move on.'"